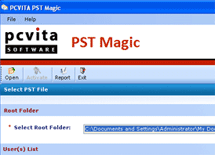 Why your MS Outlook PST files loading time is consuming? Though it might have several reasons, the most highlighted reasons are PST files disperse and PST files oversize. You might have PST files in part or separately in different location. So, the best solution is to combine Outlook PST files into a single PST file securely using the most flexible software.
Try PCVITA PST magic, to start combine Outlook PST files immensely in bulk at a time.Download the free windows binaries installer, try and test the functionality while combine the disperse PST files efficaciously without any troubles.
How to combine PST files Outlook: Simple is the process, clearly you need no extra technical skills to accomplish the combine PST files operation. The steps to get rid of how to combine PST files Outlook are simple. As a prior step, make sure you have installed the software correctly while securely, the functionality to combine Outlook PST files is simple. Starts the application and browse the PST files, besides you can either split a large PST files as well.
Try and test PST magic Demo
Download PST merge free demo version for testing and evaluation purposes. It has a constraint functionality of 50 items combine at a time. For the entire combine PST files, you must purchase or buy the full version. Choose order now, with best buy at $99.00 only.
Start combine the disperse PST files into a single file, by opting the check option "merge only" and start the process and done. But, for further queries or troubles contact our technical experts for any assistance over 24x7online.