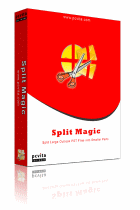 You can download Outlook PST splitter freeware to evaluate split Outlook PST file process. This freeware will allow you to split only first 50 items of selected PST file. The reason why this free Outlook PST splitter is limited to just first 50 items of PST file is the evaluation purpose. Most of the tools, which come for free, are meant to provide a glance of complete process and this Outlook PST Splitter freeware is also meant for same, you will get a glimpse of split Outlook data file process with it.
For carrying out complete splitting of unlimited Outlook PST files, you need to purchase the Full Version of this Outlook PST Splitter software named PCVITA Split Magic. You make a long term investment by purchasing this Outlook 2010 PST Splitter tool because it can be used through life. After one usage, even if you get the requirement to use this after long time, its quality won't be affected, you will get better results of same quality
Qualities That Make This Tool More Efficient:-
Split by Size- With this quality of the tool, you can split PST file according to a desired size.
Example: A user has one PST file of 1 GB size and he has defined 256 MB size then, the software will create 4 PST files of 256 MB each.


Split by Year- With this quality, you can split PST file by year.
Example: A user is maintaining his Outlook database in PST for 3 years i.e. 2009 to 2011 and now he wants to separate the database of each year then, the software will create 3 PST files for each year, one for 2009, one for 2010 and one for 2011.
Split by Date- With the help of this quality, you can split PST file according to date.
Example: A user wants to divide his Outlook PST of year 2011 half yearly then, he can select the middle date of this year and software will create two PST file half yearly.
Additional Benefit!
Software is available at no cost with trial version that demonstrates the method of splitting. The demo version of Outlook PST Splitter freeware allows the users to split just 50 files at time.
If you need to split more then you have to purchase full version this advance software. Full license of this software is available at $49 only.