VCard Magic is a unique Outlook to VCF Converter developed by experts at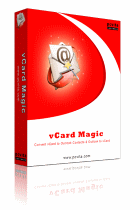 PCVITA to convert PST files of Microsoft® Outlook to VCF format. vCard Magic has a powerful yet simple and easy to use GUI. Outlook to VCF conversion hasbeen simplified by this powerful utility tool.
You must be aware that VCF format is supported by most of the latest mobile gadgets such as Blackberry, palmtops, iPods, smart phones, etc., to store and manage the details of all your contacts. Your search for such Outlook to VCF file converter ends up here.
Enjoy the Benefits of Basic Cost Only: You can use our Free Demo version for up to five contacts only to convert Outlook to VCF files and give it a test run before purchasing the fully functional comprehensive version for just $49.
How to Convert Outlook to VCF File(s)?
vCard Magic utility tool converts Outlook to VCF contacts into universally accepted Outlook to VCF format or better known as vCards. This appreciative and unique utility tool convert Outlook to VCF files within minutes, and you are ready to use all these vCards with any of the latest gadgets of your choice by importing them into the gadget.