PDF Edit Restrictions Remover to Avail Back Editing Facility
PDF files are used by Adobe on any platform which makes it possible to read data anytime. However, sometimes you are unable to perform important functionalities on PDF files because of restrictions which fail all your attempts in performing precious functionalities such as editing, printing, copying etc. In order to edit data from respective PDF files, use our intelligent PDF Edit Restrictions remover solution exactly named as PDF Restrictions Remover software.
Are you an author who is desperate to edit certain episodes from your latest book before publishing?
Have you created an e-book who wants to make immediate changes in data?
Starting @ 29 USD
A Difficult to Handle Situation!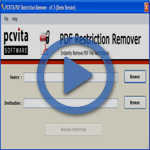 Suppose you are editing a book which is in PDF file format, before its publication you were rushing towards making several important changes in book. Next day, when you tried to open PDF files, you are unable to open book owing to which you are unable to make required changes in PDF documents. However, PCVITA PDF Restrictions Remover software helped to remove edit restriction PDF files easily.
Avail Maximum possible benefits:
An ideal PDF edit restrictions remover which provides back golden chance to remove edit restrictions from unlimited PDF files.
Software includes removing other restrictions from PDF files too like printing and copying
It is an apt solution to remove read only restrictions swiftly from PDF files
Without installing Adobe reader's any of the version, deletion of owner security from PDF file is guaranteed
Free Download Demo & Get full license edition !
Free of cost trial run of our software let you learn the features and important functionalities in the tool. Freeware demonstration edition supports removing restrictions but will watermark 'Firm Demo' in all the pages. Be clarified about features and important proceedings. Comprehensive edition will restrict all the functionalities from PDF files and saves all the data in the least possible cost $29