PCVITA vCard Magic is not just like any other vCard import to Outlook tool, it is a complete solution in its own and a valuable utility you are in search of. It is a standalone one of its kind utility in entire market which can easily and efficiently performs vCard import to Outlook conversion and vice-versa in just no time.
How vCard Magic is Unique?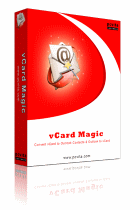 Bulk vCard imports in three easy steps mastered even by novice.
vCard Import to Outlook 2010 contacts in batch
Allows vCard Import to Outlook 2007 contacts in bulk
Carries vCard Import to Outlook 2003 contacts conversion whether contacts are multiple or single
GUI is very simple, so novice can perform import
Where problem lies? vCard import to Outlook in bulk is always a challenging task ever since Microsoft Inc. launched Outlook as its mail client. What so ever be the Outlook release whether 2000, 2002, 2003, 2010, it is suffering from one serious flaw or disability of not importing multiple vCard contact files to Outlook and vice-versa.
What to do? If you are frustrated enough from single mode functionality of Outlook and want to give your business a serious boost by not wasting your valuable time in importing contacts one at a time then this is the end of your search as you are at right place now.
PCVITA vCard Magic: Your Personal Genie
Pioneers of System Utilities solutions PCVITA team has strong roots in system software considered this starving user need and comes up with vCard Magic tool i.e. vCard import to Outlook software which enhance your Outlook mail client capabilities making it your own personal genie. Your wishes are its commands.