Outlook
Convert Datto to PST & Open Datto Saas Protection Mailbox in Outlook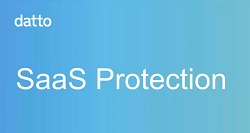 Backupify/Datto Saas Protection is an application by Datto that provides simple, secure and automated backup of cloud apps like G Suite, Office 365, and Salesforce. It helps an organization tackle data loss and meet legal and compliance needs easily.
Datto Saas Protection allows an admin to export an archive of emails, contacts, and other items to keep at a local storage media. The export functionality provides the admin with a ZIP file containing all kinds of export items.
When it comes to emails, Datto Saas Protection or Backupify exports them into MBOX files. Once you extract the ZIP file, you will get multiple MBOX files containing different mailbox emails. You can read MBOX files using Thunderbird easily. However, if you wish to view them in Outlook, you must first convert Datto to PST.
Our Intent – Providing a Method to Export Datto to PST
In this blog, we will understand how to export Backupify to PST so as to import Datto Saas Protection email data into Outlook. It does not matter if the exported data is from G Suite, Office 365, or Salesforce. As long as it's MBOX file, the steps provided in the article will be able to convert them into Outlook PST format.
What Folks at Datto Says About Backupify MBOX File?
In multiple Datto knowledge base articles, you will come across a message that recommends you use the MBOX file in Thunderbird or opt for third-party converters to convert them to PST.

So, Datto Itself Says – Use Third Party Tools to Convert Datto to PST
This is because it does not provide any native means of converting the MBOX files of Datto to PST format. Using a professional alternative is the only way to go about it if you want healthy PST files easily readable in Microsoft Outlook.
And therefore comes our recommendation – PCVITA MBOX to PST Converter. A fast, secure, accurate, and automated conversion application to convert Backupify / Datto Saas Protection into PST format. Rest assured, you will be able to access the resultant PST files in Outlook 2019, 2016, 2013, 2010, 2007, 2003, and even some free PST viewer tools.
How to Export Datto Saas Protection to PST with converter?
Make sure to download the free version of the tool before executing the step by step process.
Simple Steps to Export Datto to PST:
Step 1: Run tool for Datto conversion and click "Add File"
Step 2: Import MBOX file(s) of Datto
Step 3: Preview email messages
Step 4: Click "Export" to start converting Datto to Outlook PST
For screenshots and more explanation of the steps, users can opt for the elaborated method. The software guide of the converter can also explain the whole process in perfect harmony.
1. Install and start the conversion utility on Windows machine
2. Clicking the Add File button will open the following window. Here, choose the MBOX file and click Next to import multiple MBOX files of Datto into the software.
3. The software will display the emails in a preview pane. Here, either choose the emails individually and right-click for Export option or opt for next step for bulk conversion.
4. Click on the Export button from the ribbon bar for bulk exporting Datto Backupify into PST format.
5. Select PST format from the list of options and change the location where you want to save the converted Outlook PST files.
6. Click on the Export button to start converting the Datto Saas protection exported data into PST files.
Once the files are successfully converted into PST format, you can choose to import them into any Outlook version. The steps to do so are provided in the next section.
Import the Converted PST Files Containing Datto Data into MS Outlook
Run MS Outlook, go to File >> Open & Export >> Import/ Export option.
Choose import from another program or file >> Next button.
Select Outlook Data File (.pst) >> Next button.
Browse and import the converted PST file along with other desired options.
Click on Finish.
The import process is successful and now you can access all the Datto exported data in MS Outlook without any worries.
Conclusion
Datto provides Backupify / Datto SaaS Protection application to manage the G Suite, Office 365, and Salesforce data. The backup functionality of this app exports all the mailboxes in multiple MBOX files. To access this data in MS Outlook, Datto itself writes about using a third-party app to convert Datto to PST. In this blog, we provided one such tool that can easily convert Datto Backupify files into PST, EML, MSG, PDF, NSF, and HTML format.