Office 365
Export Distribution Group Members Office 365: A Complete & Accurate Solution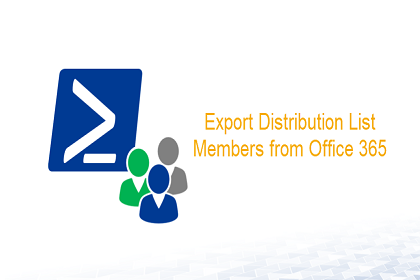 Is your organization looking for a method to export distribution group members Office 365? Are you finding it hard to get a feasible or trustworthy approach for the same? Then, without any doubt, this is the right place you are looking for. Microsoft Office 365 is the cloud-based application and it offers the best services. Users can easily access their data from anywhere at anytime if they have an internet connection. Apart from this, Office 365 has presented a prominent feature named as 'Distribution Groups'. With the assistance of all Exchange Online distribution groups, resource sharing has become easier among different users or members. Therefore, in the upcoming section, we are going to discuss a complete solution that will help to export all distribution group members Office 365 without any loss of data. Before that, let us consider the following scenario to make it very clear:
Hello everyone! I have a distribution list that contains more than 8000 members. If I execute a PowerShell script, only 1000 will be displayed out of them. I tried many times but failed and I do not know what to do now. Please suggest me a suitable method to export distribution list members from Office 365. Any help or leads will be appreciated.
Manually Export All Distribution Group Members from Office 365
Method 1: Using EAC (Exchange Admin Center)
To transfer the distribution group from Office 365 mailboxes using the manual procedure, users can use these two methods. Here, you can follow the set of instructions to implement any method:
Initially, you must have to confirm the distribution groups whether a host on the cloud. If so, then you log in as an admin to Exchange Admin Center (EAC) to export group members to CSV file. Please follow these steps:
In the Exchange Admin Center (EAC), select recipients and then, groups
Under the group's tab, choose Distribution group that you need to export
Navigate to More button and select export data to a CSV file
In the export data window, choose the desired column name and press export
Finally, you can successfully export the distribution group members
Method 2: Use PowerShell Commands
It is always advisable to execute the following commands to get a proper list related to MS Office 365 distribution list members. Please have a look:
Run the below command to connect with Office 365 PowerShell:

To list all distribution group members, run the below cmdlet:

To acquire a list of group members, execute the following command:

Export Distribution Group Members to CSV File Format
This PowerShell method helps to obtain members from a distribution list and then, export all its members to CSV format.

Now, you can interchange the factor with the actual group name.
Move All Distribution Groups or Members to CSV
In this technique, first you have to fetch all distribution list by running this cmdlet Get-DistributionGroup and after this, you can extract all members by repetition of every group using Get-DistributionGroupMember PowerShell script. The below command will transfer all groups and members to CSV file: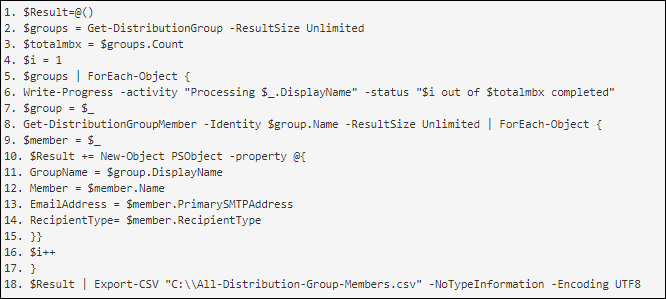 Limitations of Manual Technique
There are several reasons behind calling it an irrelevant solution as described below:
You need to follow each command very carefully. A wrong step leads to the removal of the data
These manual approaches are very complex and lengthy process.
You should be aware of technical things and should devote very much time to accomplishing a task.
A Step-by-Step Migration Using Trusted Third-Party Tool
After considering the drawbacks associated with manual measures, it is highly recommended to opt for a trouble-free solution. One such application is Office 365 mailbox Export software. With this utility, it becomes easy to export all mailboxes from Office 365 to different file formats (EML/ PST/ MSG). It also provides a distinct feature of Admin Login for multiple Exchange Online accounts. It also equips date filter option and supports all latest versions of Windows OS. In addition, here is a basic list of steps to perform migration from Office 365 mailboxes:
1. Launch Office 365 Export tool on your local system
2. After that, you can click on the Login button
3. Now, enter all the login credentials for Office 365. Then, choose Sign In button to export Office 365 mailbox to Outlook PST
4. Then, select the file type in which you want to transfer Office 365 emails and browse the location
5. At last, a prompt will display the successful export of PST from Office 365 account
Final Thoughts
Office 365 is the best cloud-based suite that comes up with so many facilities. At certain times, users or organizations want to export distribution group members Office 365. For this, they search for an instant solution, as the security of data is much important. Thus, in order to resolve their problem, we have discussed all possible manual ways to export distribution list members from Office 365. However, manual methods are very tedious to accomplish the entire process. Therefore, a user is advisable to take help of a professional solution, i.e., Office mailbox 365 Export, which helps to transfer all Office 365 mailboxes in bulk.