Outlook
How to Export Emails from Entourage to Outlook: A Complete Guide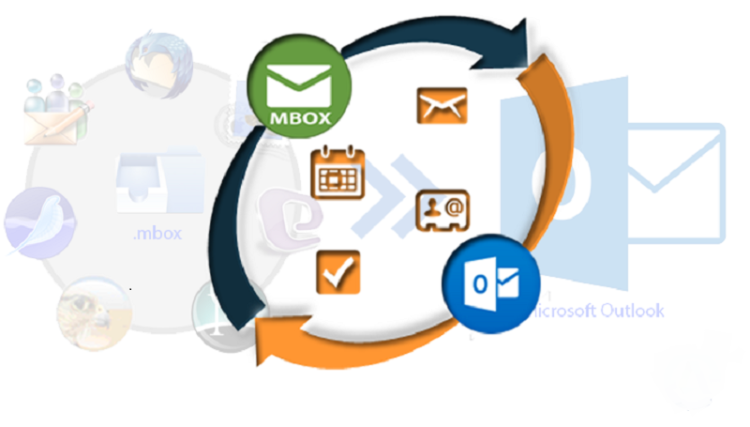 Summary: To export emails from Entourage to Outlook, there is a requirement of converting Entourage data into PST format. Therefore, in the below-mentioned section, we have explained a step-by-step method using which the user can export Entourage emails to Outlook PST in an easy manner.
Migrating from one email client to another is a common scenario nowadays. This generally happens when the current application is unable to cater to user needs. Entourage is a Mac-based email client that was developed by Microsoft for Mac OS 8.5. Now, it has been discontinued. Due to its discontinuation, people are switching to another email client such as Outlook. Outlook is a reliable and feature-rich email client that offers multiple functionalities to its users. Now, the question arises how to export from Entourage to Outlook? Read the article to know the solutions.
"I was using Entourage email client on my Mac system. Now, I have switched from Mac to Windows OS. Moreover, I am using Outlook on my Windows system. I need to access my Entourage emails on Windows Outlook. There is any simple and reliable way using which I can open and view my Entourage emails on Windows Outlook. Please suggest a solution for exporting entourage database to Outlook easily."
"I am currently using Mac OS (Sierra) 10.12. The problem is I recently switched to MS Outlook 2016 from my old Entourage email client. However, it is proving to be difficult for me as I am not that strong technology-wise. Thus, now I require an easy way to export emails from Entourage to Outlook for Mac. Thank you!"
Both these scenarios require conversion of Entourage data. However, the platform to do so differs. That is why we are providing solutions for both Window and Mac users to carry out the required conversion error-free.
Extract Mailbox Files from Entourage Application
The initial process in any email migration scenario is the preparation of data. Without data, there can be no conversion. Hence, users need to export Entourage emails first. Follow the steps to do so:
In the Entourage email application, go to File menu and hit the Export button.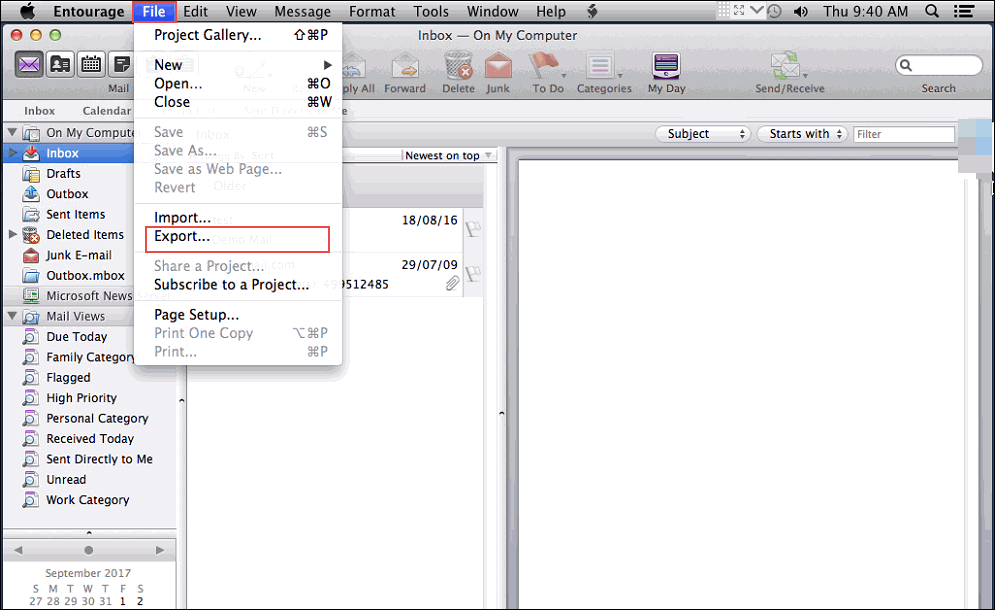 Here, go for items to an Entourage archive and select All items.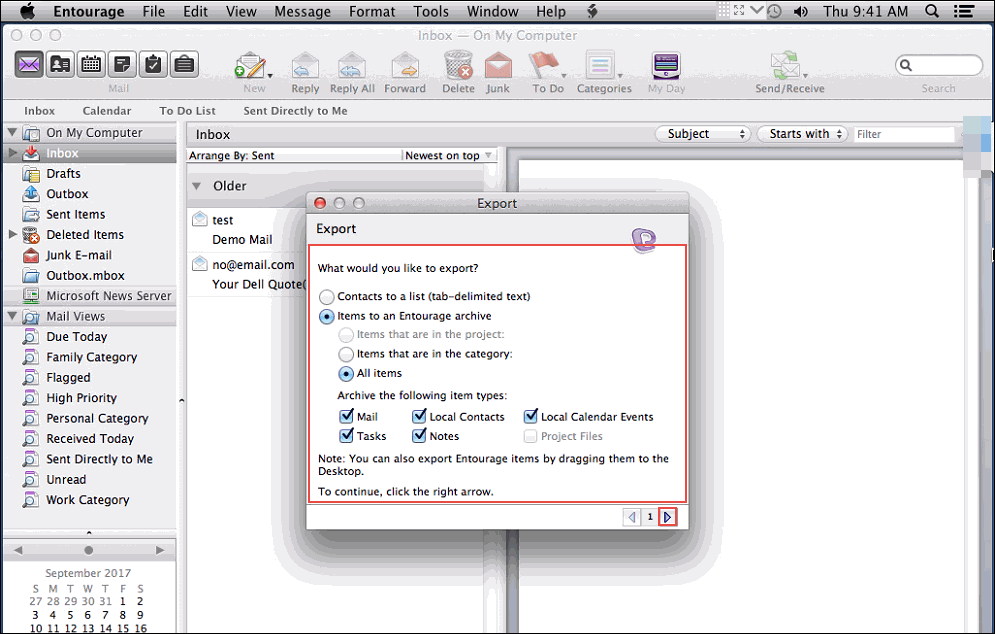 Now set the destination location to save file and hit the Save button.
Users can right click on this saved Entourage rge file and click on Show Package content to copy all the MBOX files stored within it.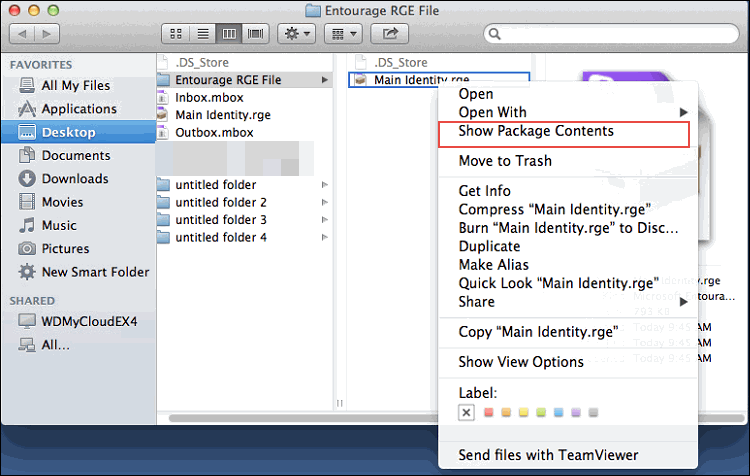 Another way to get these MBOX files are by directly dragging and dropping the mailbox folders from Entourage to desktop.
#Mac – Export Emails from Entourage to Outlook
Choosing a solution among many is always a challenge. But when there is a lack of trusted and reliable methods, the choice becomes easier. A unique utility that specializes in email conversion on the Mac machine is what the users want. And Mac MBOX Converter fulfills that role exceptionally well. Not restricted to just naive conversion rules, this smart tool provides a feature-rich environment for the customizable export process.
Steps for Exporting Entourage to MS Outlook:
Use "Add File/Folder" to add Entourage files.

Click on "PST" button and set the saving location.

Apply the "Advance settings" & "Filters".

Click on "Export" to start Entourage to Outlook conversion.
Once the process is complete, navigate the set location to access the PST files.
#Windows – Exporting Entourage Files to Outlook
The users can easily export Entourage Mail to PST file by using MBOX to PST Converter. The software allows the users to convert multiple Entourage data files into Outlook PST file format. Moreover, the utility is compatible with Windows 10/8.1/8/7 and all the below versions. The tool allows the user to export emails from Entourage to MS Outlook without data loss.
The utility offers multiple features, some of which are given below:
Allows the user to Export Entourage to Outlook in bulk mode
Permits the user to preview emails along with the attachments before conversion
Compatible with Windows 10/8.1/8 and all the below versions
MS Outlook is not required to export Entourage Email to PST
Easy-to-use interface using which the users can work with the tool in a trouble-free way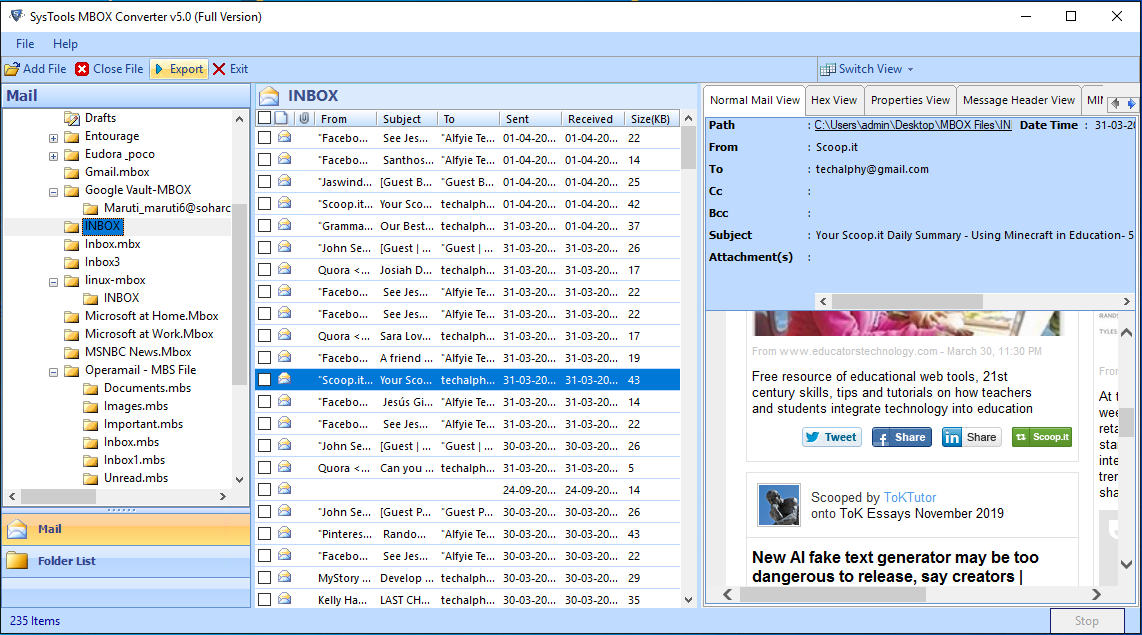 Steps to Export Emails From Entourage to Outlook
To export mail from Entourage .rge to .pst for Outlook 2016, 2011, 2019, simply follow the given step-wise process:
First, move the extracted Entourage files to Windows platform via any storage media (say, USB).
Now, launch the Windows tool and select "Add File" button.
With MBOX files selected, hit the "Next" button to browse and select the Entourage files.
Once the files are scanned, the software will display Entourage emails and attachments. After that, click on the "Export" button.
Select "PST" as file format and choose to export all the MBOX files or only selective ones.
After that, set the destination location and hit the "Export" button.
On completion of the process, use the native Import/Export option to access the PST files and its content easily inside MS Outlook.
Final Words
Microsoft Outlook is one of the most preferred email clients by the users. Nowadays, due to discontinuation of Entourage applications, people are switching from Entourage to Outlook. However, email migration is a tedious task which can lead to data loss if not handled well. Therefore, through this post, we have explained a trustworthy and instant solution to export emails from Entourage to Outlook in a hassle-free way.
FAQs
After exporting my Entourage files, how do I view what's inside the archive?
On Mac, you can right-click on it and select the 'Show package content' option to view the content of Entourage archive.
On Windows, you can simply double -click on the folder to open it.
How do I make sure that none of my attachments are lost in the process?
You do not require to do anything. Simply follow the steps given in this article and you will have all your Entourage emails in Outlook with attachments.
Does the article explain exporting to Mac Outlook or Windows Outlook?
It explains the step-by-step process for both Mac & Windows users separately. You may choose what to follow as per your system requirements.