Email Migration
Best Way to Export Mail from Eudora to Outlook 2016/ 2010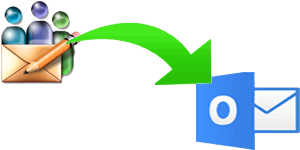 Eudora is an email client, which supports both Windows and Mac Operating Systems. It comes up with so many useful features and permits users to execute the cross-communication. This desktop mail client is not used nowadays. Even though its light mode version is still in use. On the other hand, Outlook is a secure and reliable email application that saves all data in PST file format. Moreover, it offers various features and functionality that attract more users towards it. Therefore, in this blog, we are going to discuss a solution to export mail from Eudora to Outlook. Before that, first go through the given scenario that will help to make the conversion process easy:
"I have Eudora in my Mac machine and I use it for all sorts of communication like exchanging of data and send or receive the most important documents. However, the main issue is that my other clients do not use Eudora. This creates trouble for me and for them as well. As they have to transfer every mail, I send them and they revert me already because of this. Most of the clients are using MS Outlook; therefore, I am also thinking about switching my data to PST format. Now, I do not know that how to export email from Eudora to Outlook PST, please suggest me."
Why User Prefer Outlook Over Eudora?
Under this, we are going to discuss why user prefer the MS Outlook over the Eudora? Thus a Eudora is an outdated email client and does not facilitate any advanced features. In this term, users perform the conversion procedure of Eudora to MS Outlook. Furthermore, there are some more reasons that user need to export mail from Eudora to Outlook.
MS Outlook organizes your mails in a proper manner.
Integrates with several applications & devices.
Outlook facilitates offline access to the emails.
Provide more functions like calendar, notes etc.
 An understandable interface for a novice user.
Professional Way to Export Mail from Eudora to Outlook
Users can opt any third party tool for getting the satisfactory outcome. One such software is "MBOX (data) to PST Converter Tool" that helps to transfer Eudora address book to Outlook. Furthermore, it allows migrating inbox.mbox, Sent.mbox, deleted Items.mbox and so on into PST file. It facilitates an understandable and attractive interface to the user. So, even a novice user can also perform the conversion procedure without taking professional help. Moreover, some of the unique features of this reliable software are listed below.
 Allows migrating MBOX data to PST files and folders in bulk.
 Export all mail items from opted .mbox folders or files.
Installation of MS Outlook is not needed for the conversion.
Facilitates to export in various formats like EML, NSF etc.
It export mail files with attachments in an effective way.
Supports all versions of Windows 10/8.1/XP/7 and so on.
Working Steps to Export Email from Eudora to Outlook
To transfer Eudora address book to Outlook, the manual solution is considered to be cumbersome and does not provide the positive outcome. Thus, a novice user is unable to perform the migration procedure manually. In the above section, we have already discussed the features of the reliable software. Here we are going to discuss the working steps of the tool, which helps a user to perform the migration process. Simply follow the given steps to export mail from Eudora to Outlook successfully.
Step 1: First, you have to download or install the application to convert MBOX to PST format.
Step 2: Now, add MBOX file.
Step 3: Here, in your screen, two options are shown these are:
Default profile configured
Select file(s)/folder from file system
Step 4: under this, you have to go with the "select .mbox files and folders from file system" option to export Eudora Email to Outlook.
Step 5: Now, hit on Next for the continuation of the export Eudora mail to Outlook conversion procedure.
Step 6: After completion of the above step you can now, preview .mbox Mails with Attachments.
Step 7: Migrate the opted files and folders and hit on the Export tab. And Select the migrated PST file or folder and transfer MBOX to Microsoft Outlook.
Step 8: After the completion to Export Email from Eudora to Outlook conversion process user can able to view their emails into Outlook, that is exported successfully.
Bottom Line
After going through the entire blog, it can be determined that Eudora has somehow lost its value and importance in today's era. Thus, at the certain time, users want to opt for another platform so that they can easily access their mailbox of Eudora in an efficient way. PST is one such format and thereby, we have described the method to export mail from Eudora to Outlook 2016, 2013 and 2010 without any data loss. Else, users can take help of a reliable third-party tool. It is one of the best methods that help to move all MBOX files and folders into PST format in bulk. Furthermore, we have covered the step-by-step procedure to export Eudora Email to Outlook conversion.