Migration
A Reliable Solution to Import Apple Mail to Thunderbird Windows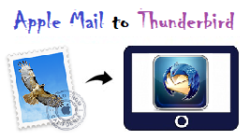 Do you require a quick yet effective way to import Apple Mail to Thunderbird? Is the search regarding Thunderbird on Windows platform? No need to panic. Fortunately, your search ends here! In this article, we are going to discuss a step-by-step procedure to migrate Apple Mail to Mozilla Thunderbird on Windows in a hassle-free way.
Email is an integral part of any communication domain. From personal gossips to professional agenda – it is used for everything. And the variety of different email clients available for multiple OS makes this emailing task much simpler.
So what if a certain individual or organization decides to switch their OS? In case of Mac Mail users, this scenario poses a BIG problem. Because unfortunately Apple Mail is ONLY available on Mac platform. In such scenarios, the bulk of concerned users go for Windows Mozilla Thunderbird. Being a free email client and carrying extensive features, switching from Apple Mail to Thunderbird Windows is actually a logical choice. After the choice is made, let us move onto the next question.
How to Import Apple Mail to Windows Thunderbird?
Do you know? Apple Mail supports MBOX format to store mailbox data which is also compatible with Mozilla Thunderbird application. Well if both supports the same format, it should be so convenient to simply move MBOX file from Mac machine to Windows and use it in Thunderbird. IT IS NOT. I agree, there seems to be some addon for such purpose but when it comes to reliability- it fails miserably.
And whats the point of importing emails when there is no guarantee of the result to be accurate and original? Therefore, in the upcoming section, a no-nonsense 2-step procedure is covered that one can use to migrate Apple Mail to Mozilla Thunderbird for Windows.
Two Step Procedure For Accurate Import
Step 1: Locate the Apple Mail .mbox files and move to Windows
The default location of Mac Mail .mbox files is:
~/Library/Mail/V(x) where x is the version number associated with your Mail(2-6).
Otherwise, you can simply Drag-n-drop entire mailboxes to desktop in order to create an .mbox file.(Relevant if you only want to import selective mailbox like Inbox.)
When you have the required MBOX files, put them in folder and use any storage media(usb, cloud) to move them in Windows system(One with Thunderbird installed).
Step 2: Import Apple Mail to Thunderbird Windows
Now, instead of wasting your time on some unreliable add-on which fails to even conserve the email contents/properties, we will focus on what actually works!! Thunderbird Import Wizard provides accurate and precise results.
The Thunderbird Import Wizard is designed to add MBOX to Thunderbird without any hidden limitations. The best thing about this tool is that it can transfer MBOX file of any email program without any trouble. There are chances of data loss while exporting emails to MBOX file manually. However, it will never happen with this software, it guarantees 100% error-free data. Moreover, there is no change in the folder hierarchy while importing MBOX data in Thunderbird.

A Complete Process of Thunderbird Import Wizard Tool
Launch the software and click Add File or Add folder option accordingly
After adding all the file or folders, you need to choose Open button
Now, apply Date filter and select Identity/Profile to import data in
In the next step, click Import option to proceed further
Once the process is complete, a confirmation report will generate
Finally, you can successfully view Apple Mail contents in Thunderbird.
Software Interface: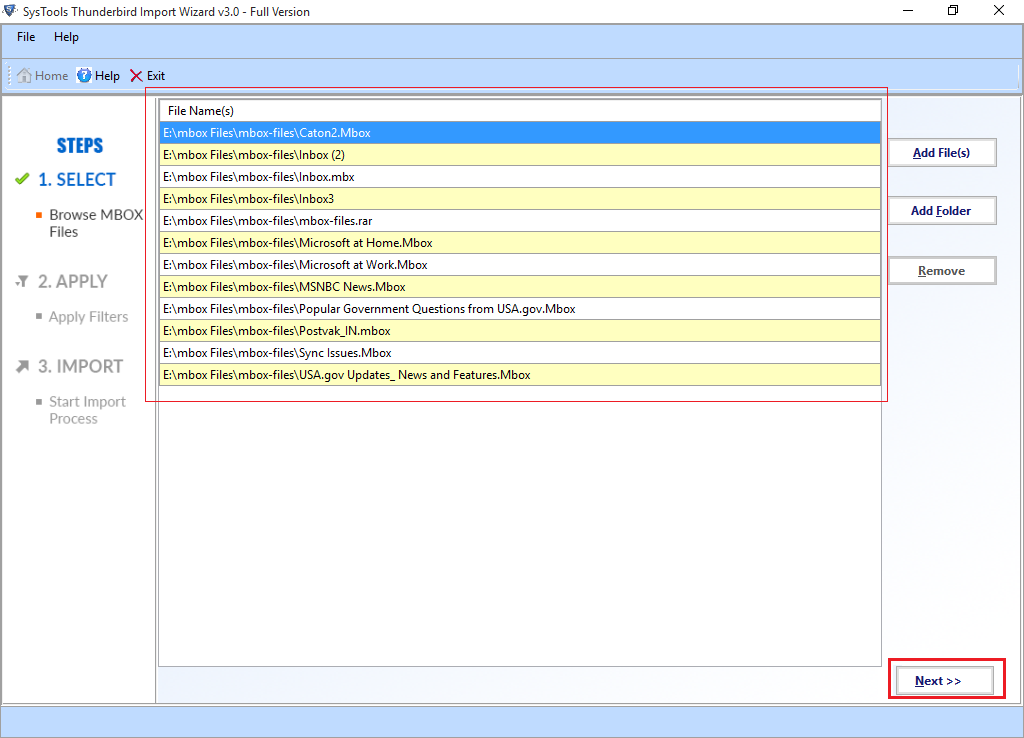 Why Use Apple Mail to Thunderbird Import Wizard?
Something to consider: "I was trying to figure out a solution to move data from my Apple Mail to Windows based Mozilla Thunderbird. To do the same I tried some free add-on first. But, it provides an unsatisfactory result, i.e., empty folders. After a long search, I found this Thunderbird Import Wizard tool. I must say that it is a fantastic software that offers satisfactory results without any risk or data loss. – Peter Barris"
This software implements a NO "HIDDEN" limitations policy. What you see is what you get. There will be no empty folders, no broken images, no altered content and headers after process completion. Just pure and original MBOX data
Some of the key benefits of using Thunderbird Import Wizard are discussed below:
Allows a user to importApple Mail to Thunderbird in bulk
Migrate MBOX emails with attachments in Mozilla Thunderbird
Option to import only required data using Date-based Filter
No issues with size of MBOX files while importing MBOX file
Retains on-disk folder hierarchy during migration process
Compatible with all latest versions of Windows i.e., Win 10 & below versions
Problem Solved
Migration is logical only if it protects against data loss and preserve original formatting. Apple Mail and Thunderbird both supports MBOX format to save data still manual migration creates major problems such as data corruption, empty folder, data loss, etc. Thus, in order to have an instant and reliable solution, the user is recommended to use a professional solution, i.e., Thunderbird Import Wizard. It is an efficient solution to import Apple Mail to Thunderbird Windows without any data loss.