MS Outlook
How to Import Becky Mailbox to Outlook?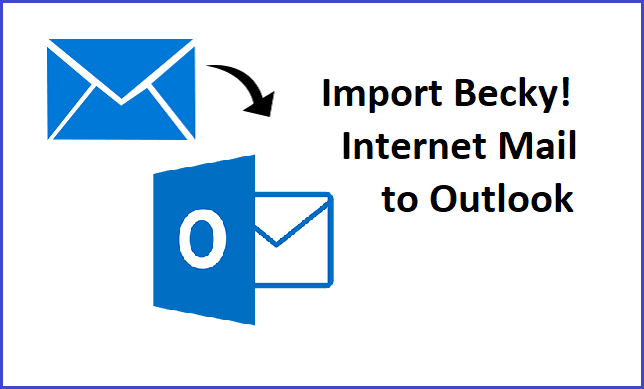 Becky is compact! Becky is powerful! Becky is feature-rich! But Becky is not Outlook. If you are one of those users who wish to import Becky emails into Outlook without risking data loss, you have come to the right place. Stay tuned and learn how you can perform Becky to Outlook migration in just 2 steps!
Becky Internet Mail is a no-nonsense email client that has every feature of a good email client. It is one of the longest-running and most successful email products around the globe. You can find a Becky email client for your Windows 95 PC to the latest Windows 10 system. Multiple features such as templates, reminders, filtering manager, mailing lists, query, agents, etc make Becky a very powerful tool to manage your emails and personal information.
Meanwhile, MS Outlook has gained an insurmountable reputation for being a powerful and dependable email client for commercial users. A vast array of features such as strong spam filtering, security protocols, fast search, integration with Office 365 and Exchange server and the trust of Microsoft largely impacts the success of MS Outlook.
But enough about these two email clients. Today, our main focus is to demonstrate the steps using which you can easily import Becky Mailbox to Outlook application. So let us start with the first step.
Step 1: Prepare the Becky! Mailbox for Migration
The first step in any email migration scenario is to prepare the mailbox data for the process. Fortunately, Becky provides a built-in Export option that simplifies the entire migration. The complete process is as follows:
Run Becky Internet Mail on your system.
From the File menu, select the Export option to open the Import/Export Format window.

Now select the UNIX mbox radio button and click on Ok button.

Choose where you want to save the Becky mailbox.

Within a few seconds, all your emails will be transferred to the designated location in no-extension file(s). This file is known as MBOX file.
Once we have the Becky mailbox files, it is now time to convert it into the official file format of Outlook i.e., PST format. This is due to the fact that Outlook does not support the Becky mailbox format. Thus file conversion needs to take place to make the Becky file readable in Outlook.
Step 2: Importing Becky to Outlook
For importing Becky Emails to Outlook, a specialized conversion program is necessary. It is suggested to use PCVITA MBOX to PST Converter for this task. This software can convert multiple MBOX files from Becky to Outlook PST irrespective of its file size. It also ensures that all the email properties along with attachments and inline media remain placed as they were before the migration. Moreover, multiple advanced features such as selective email conversion split PST option, mailbox preview, batch, and bulk processing, etc enhances user experience and let you migrate Becky mail data as per requirement.
Download Tool
Becky to PST Purchase
Now
Steps to Convert Becky Mail to Outlook:
Step 1: Run PCVITA MBOX to PST Converter.

Step 2: Click "Add File" to import Becky mailbox files.

Step 3: Preview the emails with proper formatting.

Step 4: Click "Export" to start Becky to Outlook PST migration.
Once you have all the files successfully converted to PST format, all you need to do is import them in Outlook 2019, 2016, 2013, 2010, 2007 or 2003 as per your requirement. The process to do so is as follows:
Open Outlook and select Open & Export option from the File menu.
Choose Import from a file and select Outlook PST format.
Browse and select the PST file created after Becky Mail conversion.
Proceed and click on Finish to load the Becky file in Outlook.
This concludes the entire process of importing Becky Internet Mail mailboxes to Outlook application. You can follow the given step by step method sequentially and migrate your emails from Becky to Outlook email client. PCVITA provides the free demo version of the suggested software. Hence, you can make sure that everything works properly before investing your time and money in it.