Excel File
How to Import Excel Contacts to Mac Address Book? Know Here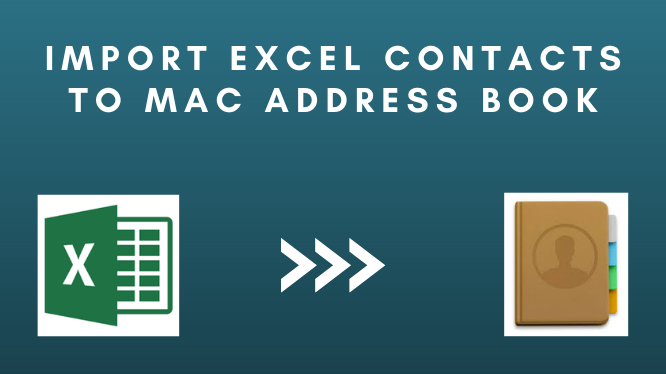 Looking for a solution to import Excel contacts to Mac Address Book? There are several users who are searching for this query. Are you one of them then, you landed on the right platform. We discover the best solution to export Excel contacts to Mac, So let's get started. 
Before going further, you have to know the operating system of Excel or Mac address book. Excel supports items in XLS/XLSX format, but the Mac only supports with vCard format. So, in that case, the user can't transfer contacts from Excel to Apple address book. 
So, before starting the importing process you have to complete 2 steps to complete the procedure of exporting Excel contacts to Mac Address book. First, you have to convert the Excel file into VCF format to get supported by Mac. In the second step, you have to convert CSV into Mac address book. So, below we mentioned the procedure follow step by step to complete it. 
Method to Import Excel Contacts to Mac Address Book
You must follow the above 2 steps to transfer Excel contacts to Apple contacts immediately and easily.
Convert Excel Spreadsheets to vCard File
Import Exported VCF to Apple Mail
Step 1: Convert Excel Files to VCF Format 
First, we have to convert Excel files to VSF format, but there are no solutions available to transfer contacts Excel to Mac address book. So, there is one option left  PCVITA  Mac Excel Converter Software, expert verified the best solution to convert Excel files. This software provides you the automap option to map Excel files automatically and manual options too. This software can convert Excel files into multiple file formats like VCF, HTML, PDF, etc.   
First, Download & Install the software on your device & click on Add files
Browse the location where you have saved your contacts

You can customize the VCF file as per your requirements
Choose a selected file from the select file section > Select Excel column to start mapping, then, select vCard column to select the respective file and click Add 
Users can also Map the files individually one by one
Then, select the Auto-Map option to map all the files automatically
At last, click on the Export option to export selected files.
Step 2: Import Convert Files to Mac Address Book 
Open the Mac address book on your machine.
Then, open the converted folder and simply drag converted Excel files to the Mac address book.
Then, the pop-up will appear on your screen select Add option to import. 
Now, after clicking on Add options your Excel files are converted into Mac address book. 
Final Verdicts
There are multiple reasons why users have to import Excel contacts to Mac Address Book. In this article, we have discussed the solution to import Excel contacts but there are no manual solutions to export Excel contacts to the Mac Address book. So, we found the best procedure to resolve this query.