MS Outlook
,
vCard
How to Import VCF Contacts to Outlook? – Best Way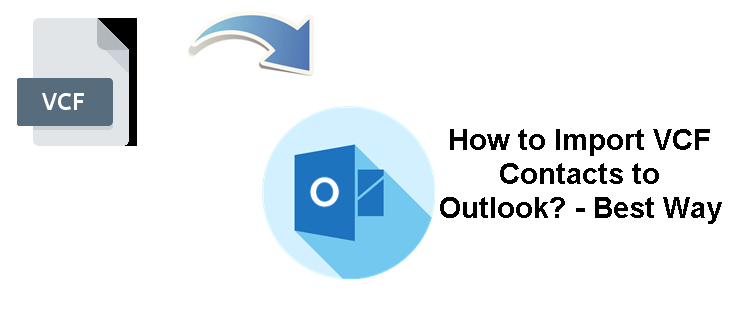 "Yesterday I tried to import VCF contacts to Outlook in bulk but I was unable to do so. Even it becomes very tough for me to perform this conversion task. So, kindly provide me with the best approach, which helps me to bulk import VCF files to Outlook effectively."
VCF is the standard format, which is used to save all contact information of normal or business users. It contains all the crucial information about the users. Moreover, contacts tend to play a crucial role in managing business continuity. However, sometimes users want to import VCF contacts to Outlook due to its advanced features. In the upcoming section, we are going to discuss different techniques to add multiple VCF to Outlook in an efficient and reliable way. Before proceeding with that, first, let us explore about VCF file format in brief.
Quick Glance of VCF File Format
VCF is a file format that is also known as vCard. It is basically a virtual business card saved as file that you can share. It can save all information such as telephone numbers, names, emails, addresses, photographs, and so on. It can support different email clients like MS Outlook, Mozilla Thunderbird, etc. 
Read More: How can I import contacts from iCloud to Outlook?
Why Import VCF Contacts to Outlook?
There might be various reasons behind the conversion of VCF to Microsoft Outlook. Outlook is the most popular email client and it facilitates some specific features for users. Some of the unique features attract a user to import the VCF file to Microsoft Outlook. Along with this, there are some reasons why users want to add VCF files to Outlook contacts. Lets us have a look. 
MS Outlook provides proper information about the contacts. 
It facilitates an easily understandable interface for a user. 
Facilitates a utility to simply connect with any network. 
Provides high security in comparison with other mail clients. 
Allows syncing with other devices like a mobile phone etc. 
Professional Approach to Bulk Import VCF to Outlook
After taking all the reasons into consideration we suggest an alternate solution to resolve the error which is the VCF MS Outlook Import Tool. Due to some reasons users primarily opt for manual methods. Thus, users should be aware of the fact manual ways contain drastic drawbacks. That is it is a lengthy and time-consuming procedure to perform the conversion task. it proves difficult in the case of the novice user. 
So in the above section, we have discussed a reliable tool to import VCF contacts to Outlook. This tool facilitates some unique features. furthermore, it supports transferring data in all versions of MS Outlook. This software allows transferring VCF contacts to MS Outlook in a bulk. Therefore, this application is a reliable solution to adding VCF files to Outlook successfully. 
Step by Step Procedure to Import VCF Contacts to Microsoft Outlook
Under this, we are going to discuss the working steps of the professional tool. Simply follow the following steps to perform the import process effectively.
First, you have to launch the software into your local machine.
Click on the Add File tab to choose the VCF file.
Now, you have to select the contacts you want to export.
Software pop-up three options into your screen you have to opt for only one
Existing Microsoft Outlook (PST file)
Microsoft Outlook profile
New Microsoft Outlook (PST file)
In the above options, you have to click on "Microsoft Outlook Profile".
Hereafter selecting the profile option now, hit on the Export button, to begin, the procedure.
Now, your multiple contacts are importing from VCF to MS Outlook.
At last, when the import process from VCF to Outlook contacts gets completed. You will be able to see that in your Outlook profile.
Manual Method to Import VCF Contacts to Outlook
Along with the professional tool, users can also go with the manual method. With the help of the following method, you can import VCF files to Microsoft Outlook successfully. Here are generally two methods to perform migration procedures. Simply follow the steps that are listed below.
Method 1: Migrate Several VCF to Outlook 2010 & Later Versions
Start the MS Outlook application or hit on your contacts.
Here, find the spot of the file location for the vCard. using the iMail Web Client locates exporting multiple vCard's that will store the VCF file in a zipped folder. Start that folder, or choose an appropriate VCF to import.
Now, drag the vCard's and drop them into the MS Outlook contacts page.
At last you are able to view your VCF into Outlook.
Method 2: Transfer Single vCard to Microsoft Outlook
Start Outlook application and choose an option of File>Import and Export after that an Import and Export Wizard dialog box pop up on your screen.
Now, choose the VCF file and hit on "Next".
Here, choose the spot of the VCF and select an option of "Open".
At last in the left navigation panel you have to opt 'your contacts'. So, you are able to view your contacts that are imported successfully.
Let's Wrap Up
Contacts are the basic need for everyone who wants to connect with each other. Thus, users always try to keep their contacts forever. At certain times, users want to switch towards Microsoft Outlook from the vCard file. Thus, in this blog, we have discussed several methods to import VCF contacts to Outlook version. Also, we have suggested a third-party tool that will help to perform data conversion. Furthermore, users can opt for any one of them according to their comfort.