General
Know How to Export Gmail to MBOX in a Most Proficient Way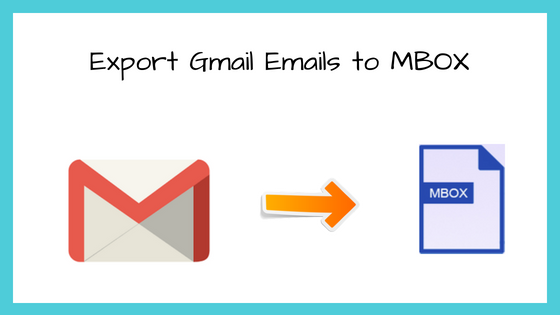 Are you also finding the solution to transfer Gmail mailbox to MBOX file format? If yes? Then, here you will get the best solution to export Gmail to MBOX. But, before proceeding towards solution know more about Gmail.
Gmail is a free email application which can easily be accessed on a web browser. Google Apps provides a service that allows system admin of an organization to create email accounts of their own domain. Due to uncertainty with the data items, there occur circumstance wherein the data is lost. Hence, it has become prevalent to upload the important data in an email application. This approach makes it easier to access the information at any time. However, email services such as Gmail needs to be amended as it stores all the important data. This can be solved by creating the backup of those data items, which is safely stored and can be accessed for future activities. For Gmail users, here comes the simple procedure by creating a backup of all the emails. It is really important to protect and preserve the data. Considering all these factors, this blog helps to understand to create the backup, in order to export Gmail emails to MBOX format.
User Query
"I have been using Gmail for a long time, as it is a free email application. Recently, few of my important emails were lost. Hence, I took an idea to backup all my crucial emails. Is there any approach which can help me to export Gmail mailbox to MBOX in an easy way. Kindly help to know the backup process, thanks in advance!"
"I usually prefer to store the important email in a local storage device. Perhaps, it is not a proper method to access the old data whenever it is required. So, would anyone let me know if there any other methods to save and store the email data?"
Manual Method to Export Gmail to MBOX File Format
Gmail provides the facility to convert Gmail emails to MBOX without using any professional software. The detailed steps are discussed below:
Firstly, sign in to Gmail account and go to Google's data download page
On which, select the required option by choosing Gmail Labels
There are two options available, based on the requirement give the appropriate selection, it shows as:
1. Select Include all of your mail options, if the user desire to include all the emails in the exported MBOX file
2. Choose Select labels option, to customize the data in order to export Gmail to MBOX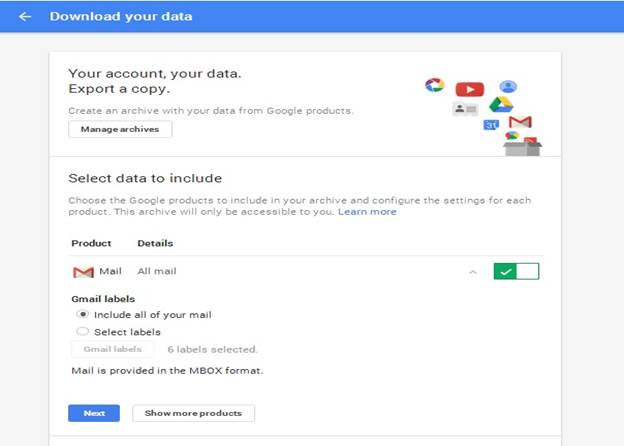 After selecting the Gmail Labels, click Next
Now, to create an archive, select the required file type with the appropriate Delivery method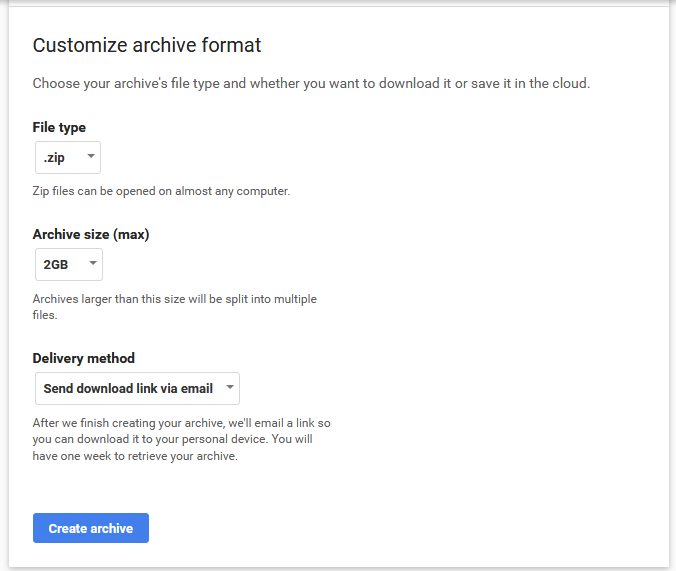 Then, click on Create archive button and check for new Gmail entries
Depending on the mailbox storage size, the archival time may vary
After completion, a notification with the archived location link is sent to the email address
Now, click Download archive from the email containing the download link
Once the extraction of exported MBOX from Gmail is done, a single file with all emails will be available, if include all mails option is selected
On the other hand, multiple MBOX files are created, if the Select Labels option is selected
Automated Method to Convert Gmail Emails to MBOX
One can make use of the manual backup approach to store the data effectively. It is observed that due to lengthy steps, there is a chance to skip the steps which might result in data loss. Furthermore, for a naive user, it could be a nightmare to follow using manual steps. To overcome this severe situation, one can use Gmail Backup Tool is introduced, it can export Gmail to MBOX, Outlook PST, Thunderbird EML and various other file formats. It is an adequate tool to safely transfer Gmail emails to MBOX along with its attachments and labels.
Allows to free up server storage space with Delete after download option?
Creates the archive of Gmail email, documents, contacts, calendars
To overcome backup interruption, Pause & Resume buttons can be availed
Provides different file saving options like PST, EML, MSG, MBOX format
Ensures easy and reliable backup by managing internet bandwidth
To download new data, the Incremental backup can be opted
Working of the Tool to Export Gmail to MBOX
1- Download and install the application to convert Gmail mailbox to MBOX
2- Start the software by providing credentials of Gmail account
3- A pop-up message, to redirect to the Gmail login page will be displayed, click OK

4- To create the backup give the credentials of Gmail account and click Allow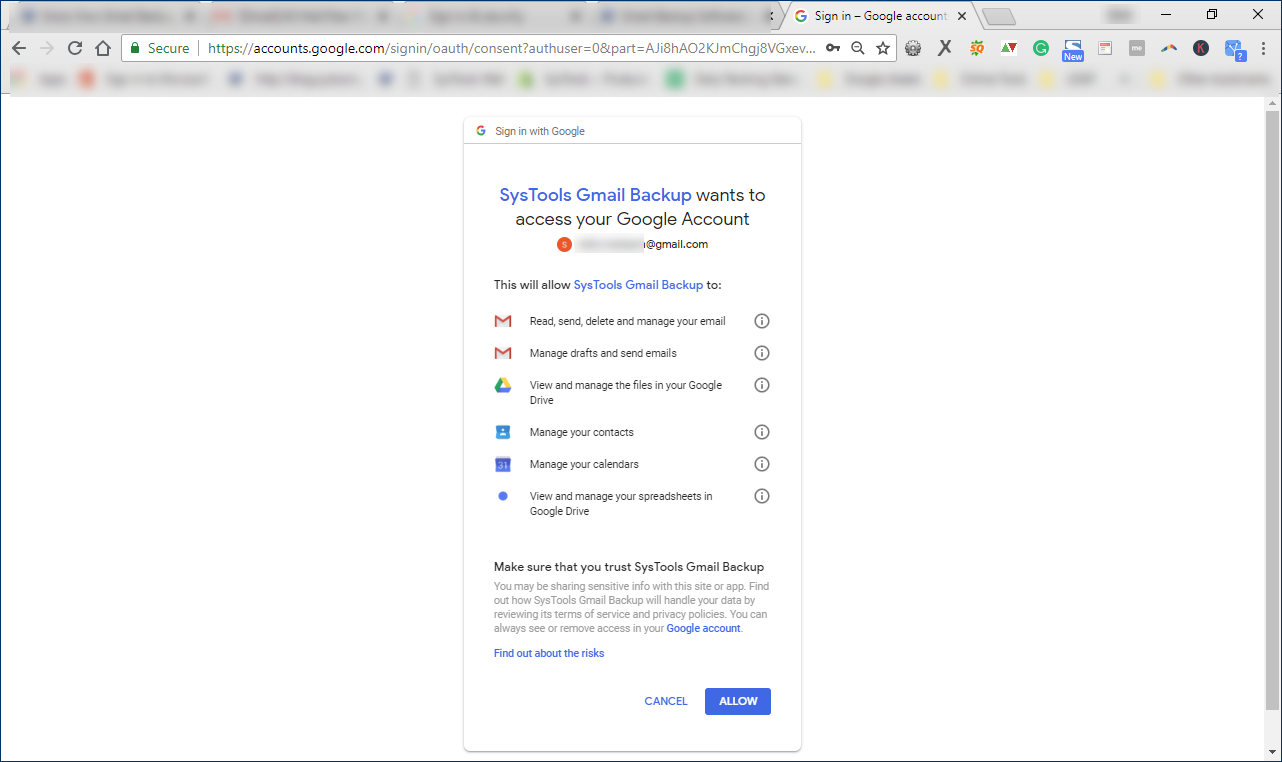 5- Now, choose the desired file formats (PST, MBOX, EML, MSG)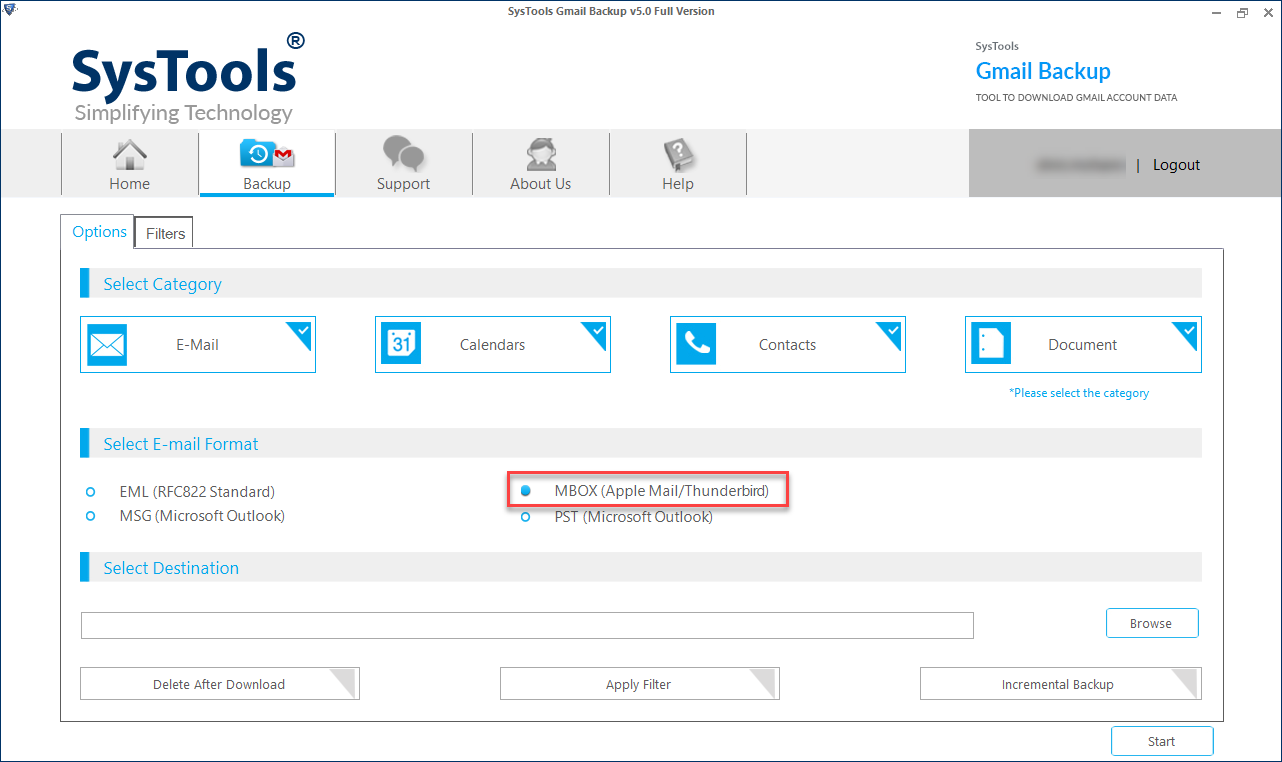 6- Select MBOX and click Browse to save the files in the desired destination location and click OK
7- Now, the selected MBOX file will be displayed next to the Browse button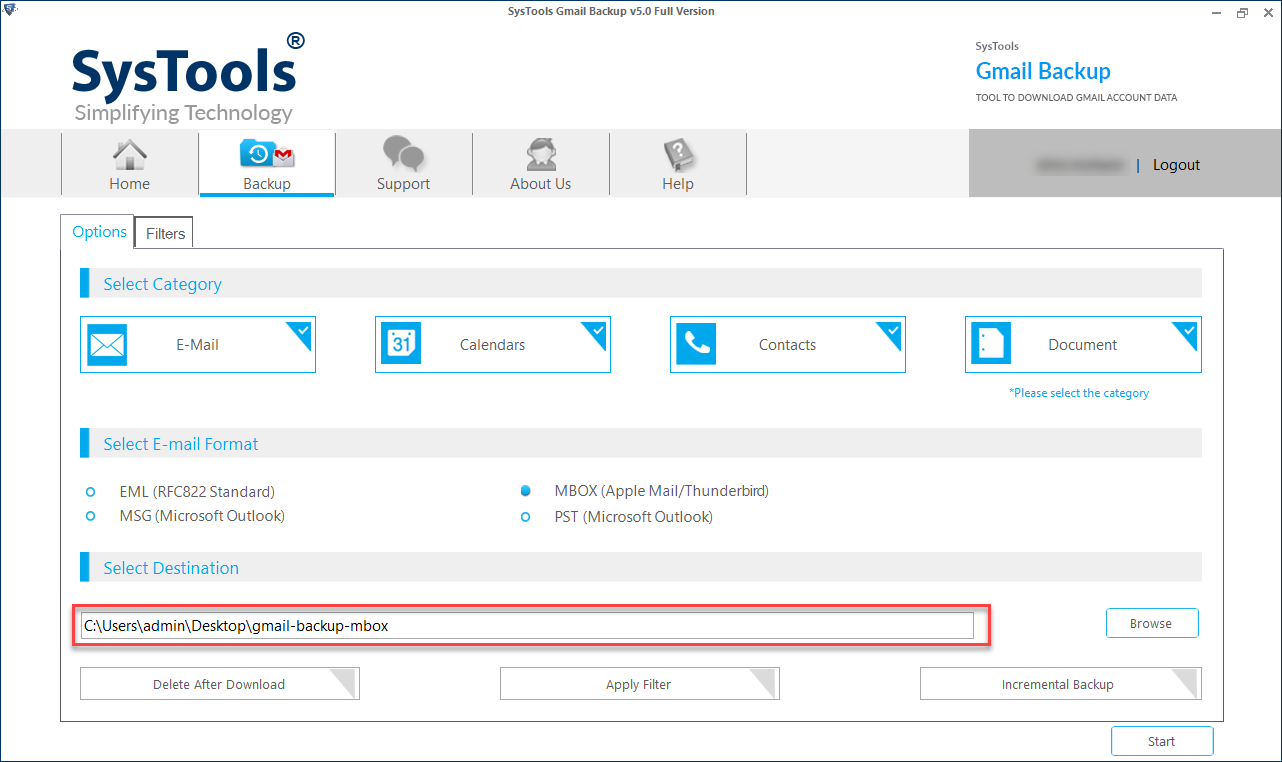 8- Click Apply filters to make use of customized filters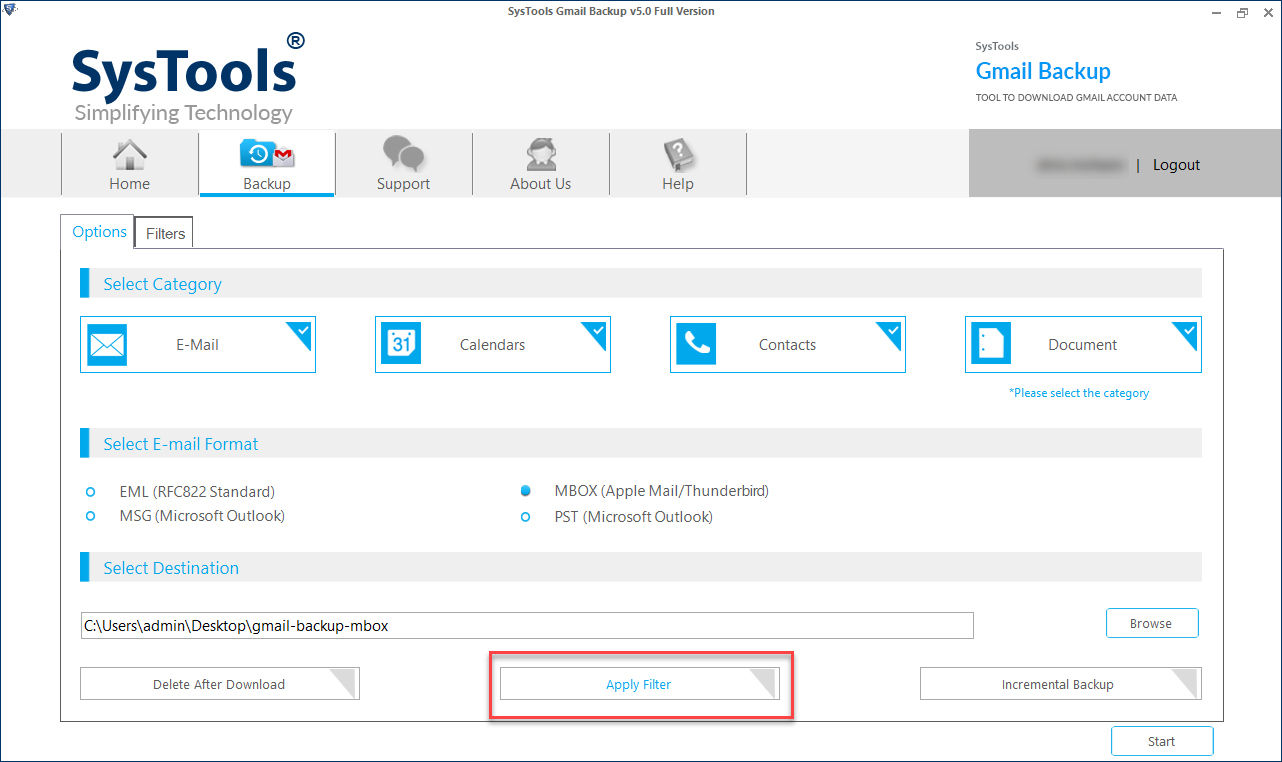 9- Choose Incremental Backup to download the new data which is not downloaded in the last process, only if the backup is taking in the same PC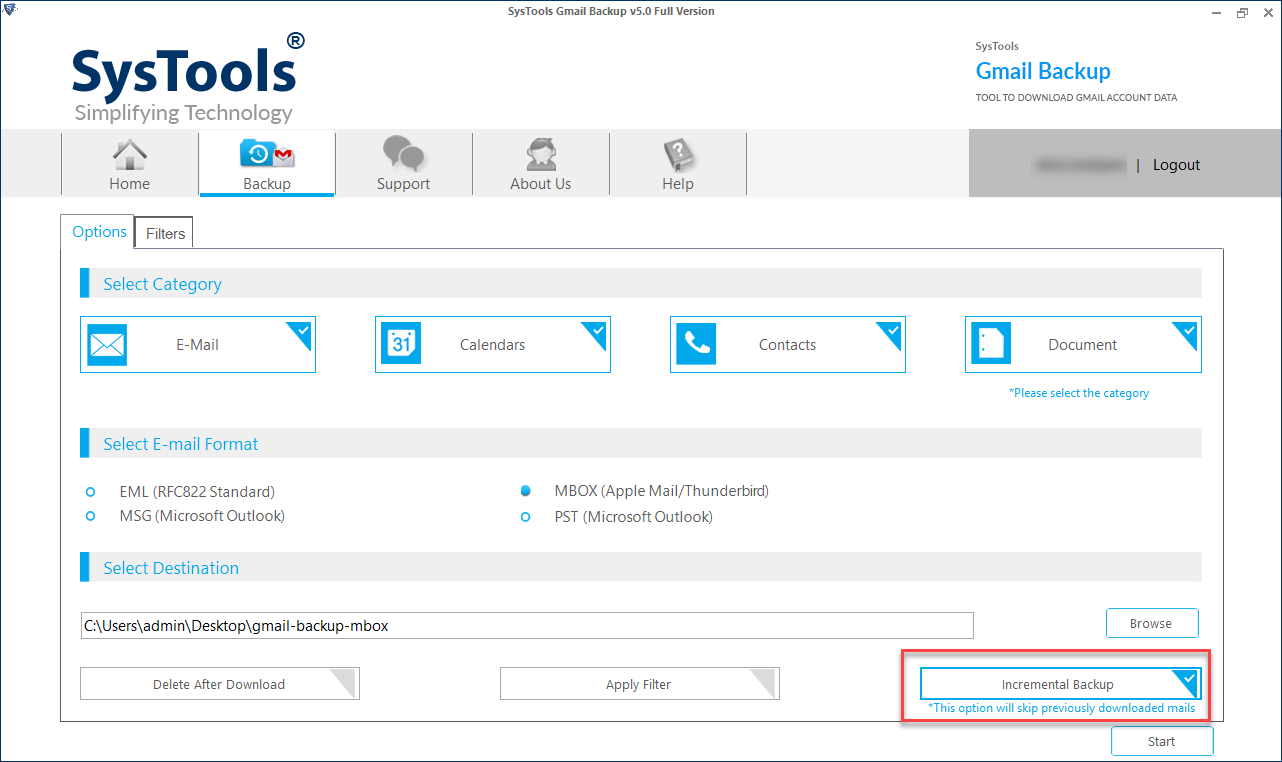 10- Then, select folders to create the backup process and apply the Date filter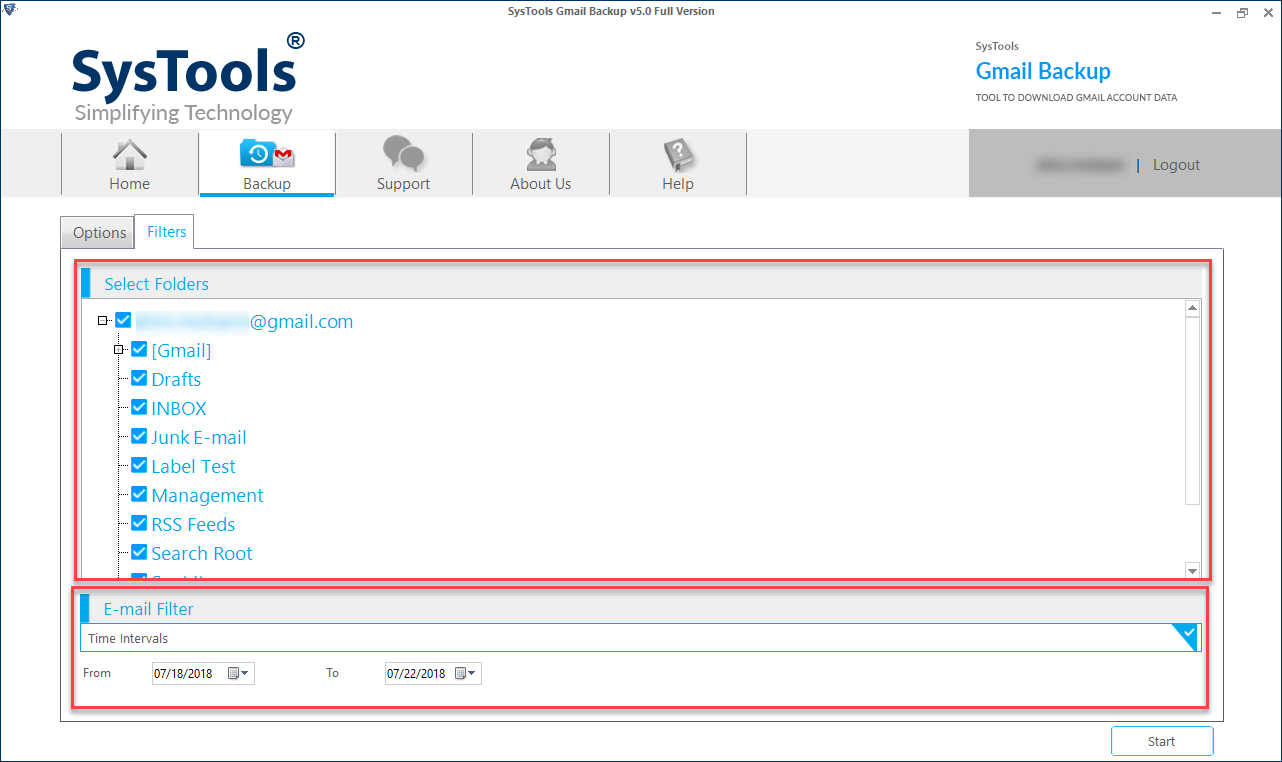 11- In that, provide the filter option such as Select Folders and Email Filters according to the requirement
12- Click Start and the backup process initiates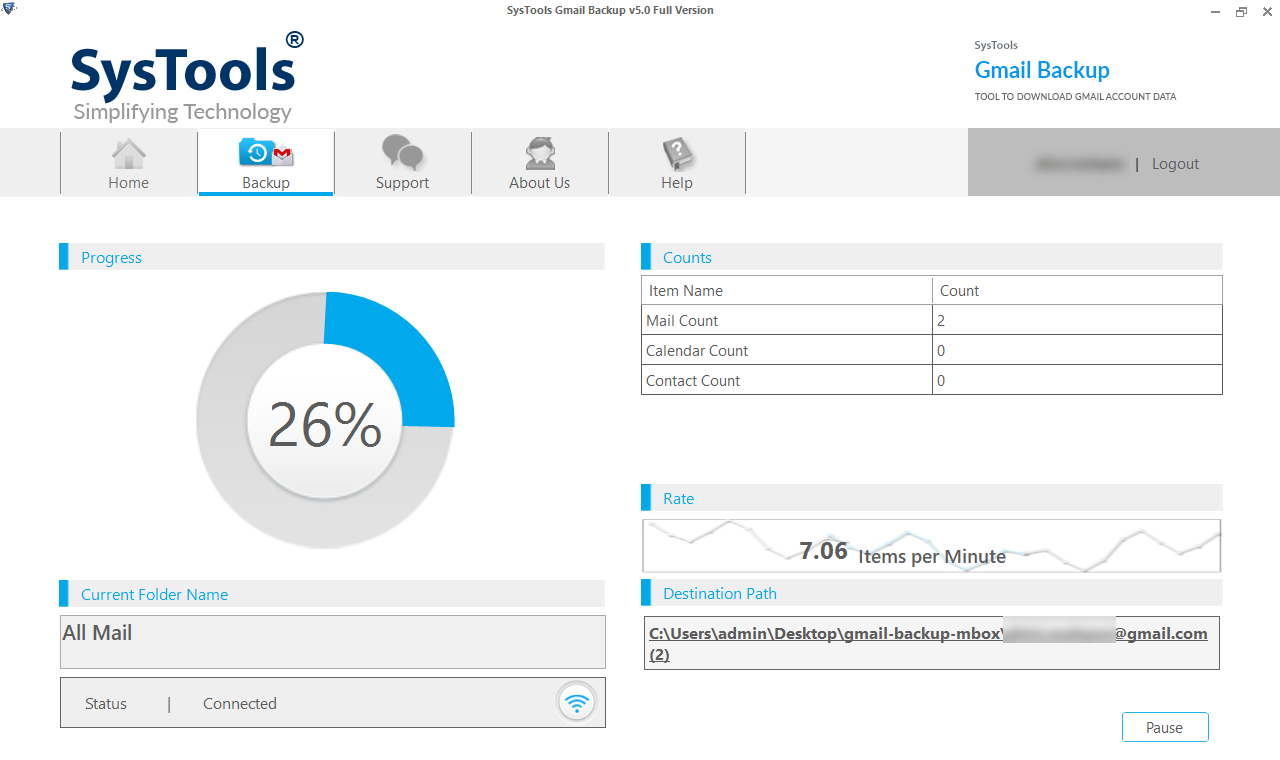 13- Once the creation is done, it will display Download completed successfully, as shown below.

Conclusion
Gmail is one of the most popular and widely used email application. However, care should be taken to preserve the data that is by creating the backup. By reading this blog, a user can easily export Gmail to MBOX file format using manual steps. If the manual approach fails, it is recommended to download and install a professional tool which can easily convert Gmail emails to MBOX, PST, EML, and MSG.