Office 365
Perfect Guide to Export Office 365 Contacts to vCard Appropriately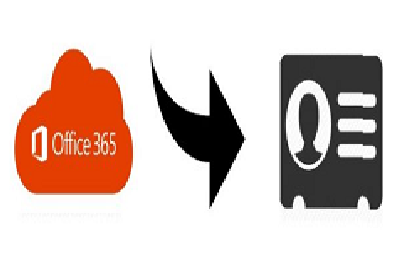 In today's arena, contacts playing an important role in personal as well as professional users life. Most of the users want to keep their contacts safe and secure at any cost because contacts having a crucial data that helps a user to interconnect with each other. Thus, for better security, sometimes the user wants to Export Office 365 Contacts to vCard file format. Office 365 is an email application, which is provided by the Microsoft, it is a web-based email client with the huge number of end users. So many normal and professional users are involved in its utilization simultaneously. Hence, Office 365 is most in use because of its advance and useful features facilitate by it. So, users of Office 365 need to migrate contacts into vCard to keep their contacts secure for long period.
Moreover, users want to import their Outlook 365 contacts to vCard. Furthermore, VCF file is a file format, which is saving and storing the contacts information of the personal and business. vCard is the safest form to storing the crucial ad important data of contacts into electronic form. It generally contains the information like address, email address, name, phone number, and other contact information. The vCard also support custom fields, images, and other types of media. Therefore, because of these uncountable reasons users need to export Office 365 address book to vCard. So, in the upcoming section, we are going to discuss the methods to resolve the tiresome problem of the user. First, go through the below-listed scenario that helps to make you understand the procedure of the exporting Office 365 address book to VCF file. The following scenario is taken from the forum site:
"Hi there, I am searching for an appropriate method to export Office 365 contacts to vCard. I receive the infrequent business contacts in MS Office 365 email application. Is it possible to import that contact into .vcf file format? I can't find a way to import it or convert it to a CSV. Furthermore, It makes me crazy, I think I am missing something but I am totally unable to find anything fruitful and effective on the web about it. Any help would be surely appreciated. Thanks in advance."
Manual Method to Export Outlook 365 Address Book to vCard
As per the, above mentioned scenario, we have taken it into consideration and provide an appropriate method to recover the tiresome problem of the user. Thus, with the help of this method, you can migrate Outlook 365 contacts to VCF file format. Moreover, it is the two-way approach one is "Export MS Office 365 contacts to CSV" and the second one is "import CSV to vCard". So, you have to perform all the steps to get the better and positive outcome. All the following steps are listed below. Have a look:
Method 1: Export Office 365 Contacts to CSV File Format
Step 1: First, choose an option to "People" in MS Office 365.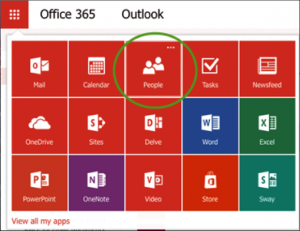 Step 2: Here, you can view the list of your following contacts, containing: email address, name and so on.
Step 3: Now, select the contacts as per your desire, which one you need to import.
Step 4: Choose, the "Manage" drop-down button and then "Export contacts" option into it.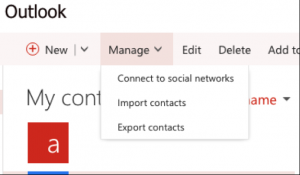 Step 5: Opt, export format>>MS Outlook CSV.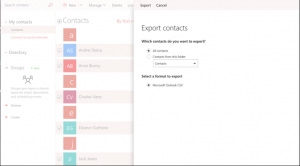 Step 6: Finally, when the procedure of migrating contacts to CSV, the created CSV file can be utilized to import contacts into VCF format.
Convert CSV to VCF File Format
Step 1: First, start MS Outlook application, and hit on the "File" tab.
Step 2: Now, you have to opt an option to "Open & Export" out of "File" menu, then select "Import/Export" to start the Import/Export Window
Step 3: Here, choose "Import from Another Program or File", then hit the "Next" button.
Step 4: Select, the "Comma Separated Values" option, or opt "Next" button to open the file selector. Afterward, browse and select the CSV file which one you need to import into VCF file.
Step 5: In an Options section choose the method that MS Outlook will utilize to handle duplicates, then hit the "Next" button. Provided options contain create duplicates in Outlook, ignore duplicate records or replace duplicates for the migrate, then select "Next".
Step 6: Browse your "Contacts folder", if i.e., not specified as the destination by default, furthermore select "Next" twice.
Step 7: Review the "Import Filename.csv" checkbox where your Filename.csv is located by the name that CSV data file is to import.
Step 8: Opt an option to "Map Custom Fields" after that follow the instruction that is given on-screen to map custom field or non-specific fields through the Outlook program.
Step 9: Finally, hit the "Finish" button once all of the fields are completely mapped to MS Outlook columns. The CSV file is converted as VCF format into your list of Outlook contacts.
Professional Way to Export Office 365 Contacts to vCard
The above stated manual method contains some disadvantages even users should not aware about them. Likely, a manual procedure is a lengthy and time-consuming process. Thus, users can go for an appropriate third-party tool  With the help of automated solution users can migrate Outlook 365 contacts to vCard without putting extra efforts. It is useful enough to import CSV to VCF files in batch mode and without data loss. Hence, there are some more extraordinary features of this application are listed below. Have a look:
1. Download the tool to export Office 365 contacts to VCF in bulk.
2. 'Folder Option' to backup specified items.
3. Supports all latest Mac machine 10.8 & above.
Working Steps of Software to Convert vCard From Office 365
Step 1: First, you have insert the username and password MS Office 365 (Outlook Web Access/OWA), which you need to backup Outlook 365.
Step 2: Now, choose a file format in which you want to import your Office 365 mailbox items from different file formats.
Step 3: Browse and opt the final spot in your local machine for storing Microsoft Office 365 data.
Step 4: Finally, click "Start" to begin the procedure to export Office 365 contacts to vCard.
Final Word's
In the above section, we discussed two methods, which help users to export Office 365 contacts to vCard effectively. But, the manual approach includes some troublesome constraints that affect the conversion process positively. So, we come up with a third-party software. With the help of professional tool, users can migrate CSV file to VCF file format effortlessly.