Migration
Strategies to Import Lotus Notes Calendar to Outlook Efficiently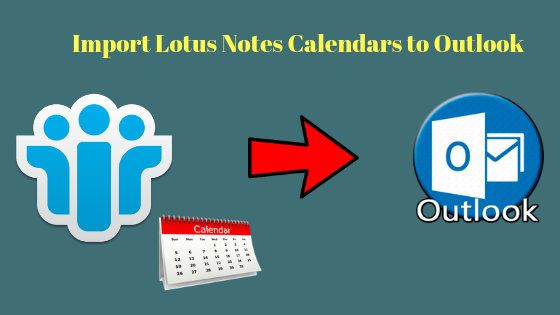 Lotus Notes is an email client used for sending and receiving mail messages, calendar, management of contacts and so on. It generally saves its data into NSF file format. However, in this arena, most of the users are using calendars in any email application because of their busy schedule. Basically, calendars mainly work for events, meetings and used by normal as well as professional users. Therefore, to calendar data safe and use them easily users try to import Lotus Notes Calendar to Outlook.
Microsoft Outlook is the preferable email application because of its reliable and unique features in comparison with another email clients. Outlook is developed by the Microsoft and it facilitates advance security features as compare to IBM Notes. Outlook generates its file in PST format and saves all the data into it. Because of the complexity and cost issues of IBM Notes many users transfer Domino calendar entries to Outlook.
Furthermore, in the upcoming, we are going to discuss the methods to migrate lotus notes calendar entries to Outlook effectively. But, first go through the following scenario which is taken from the forum site:
"Need help! I want to import Lotus Notes calendar to Outlook. I tried so many methods but I am unable to perform in an appropriate manner. I don't know how can I transfer IBM Notes calendar entries to Outlook successfully without putting extra efforts. I am just aware of that calendar saves its file format ICS. Thus, I am a novice user so, please suggest me a reliable way to copy IBM Notes calendar to Outlook effortlessly."
An Effortless Way to Transfer Lotus Notes Calendar Entries to Outlook
As an above-stated scenario, we take it into consideration and furnishes an automated approach. The name of this appropriate tool is IBM NSF to PST Export tool. It helps to import Lotus Notes calendar data to Microsoft Outlook efficiently. Furthermore, this third-party application furnishes an understandable interface to the novice users. Therefore, by using this utility, users can execute the exporting task without any fear of data loss. In addition, it includes some more amazing features that are listed below. Have a look at it.
Specified data export facility with several filter utilities.
Permits to import Encrypted Lotus Notes file to PST File smoothly.
Compatible with Lotus Notes 9.0, 8.0 & lower versions.
Migrate Lotus Notes data file into another file format in bulk.
How Professional Tool Import Lotus Notes Calendar to Outlook
Step 1: Download and install the software to transfer Lotus Notes Calendar entries to Outlook successfully.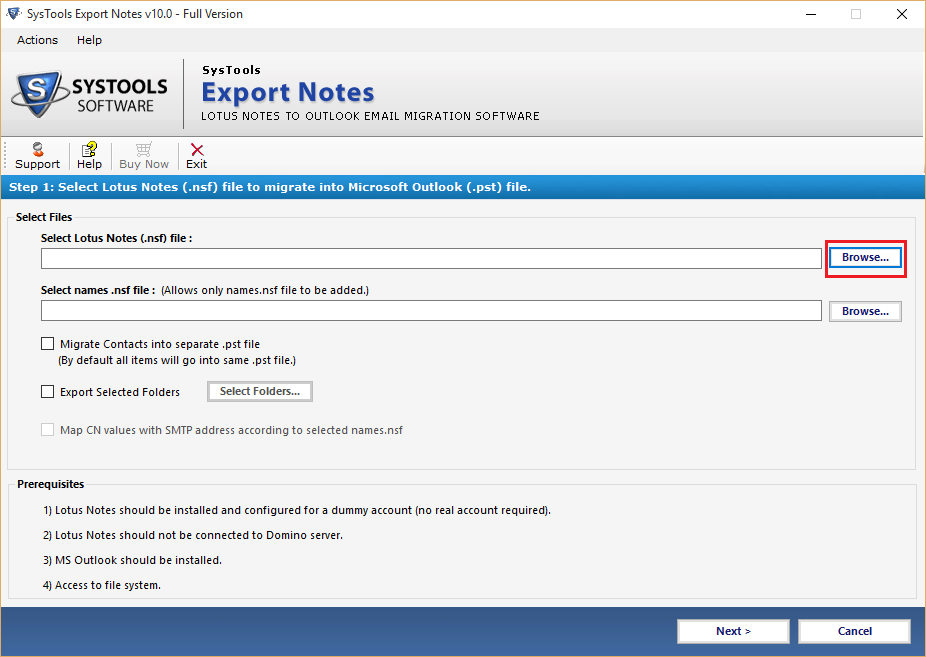 Step 2: Now, browse the IBM Notes file to continue the procedure to copy lotus notes calendar entries to Outlook.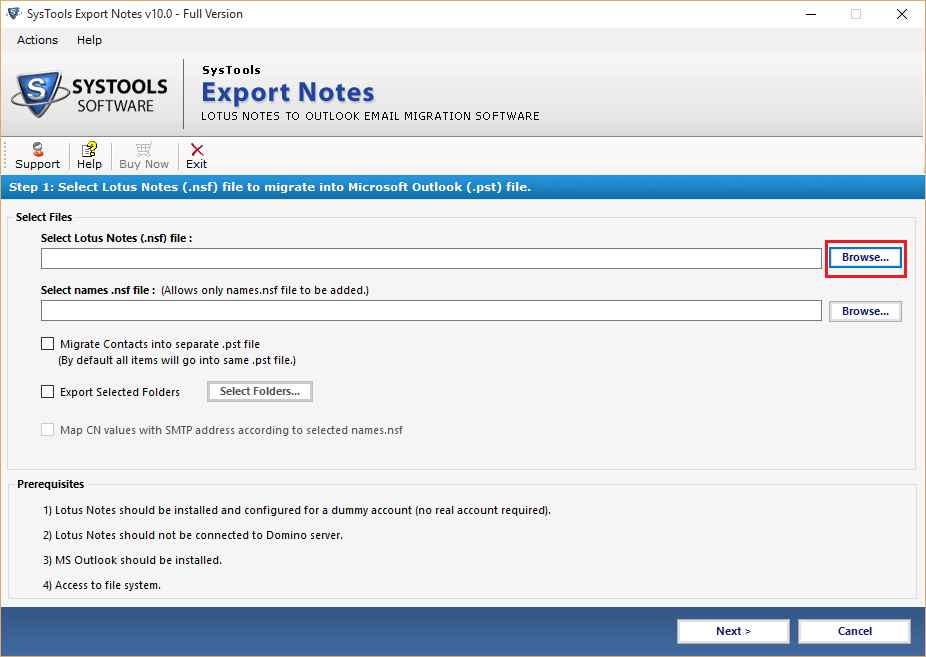 Step 3: Now, on the Calendar option click on Apply Filter button and hit the set button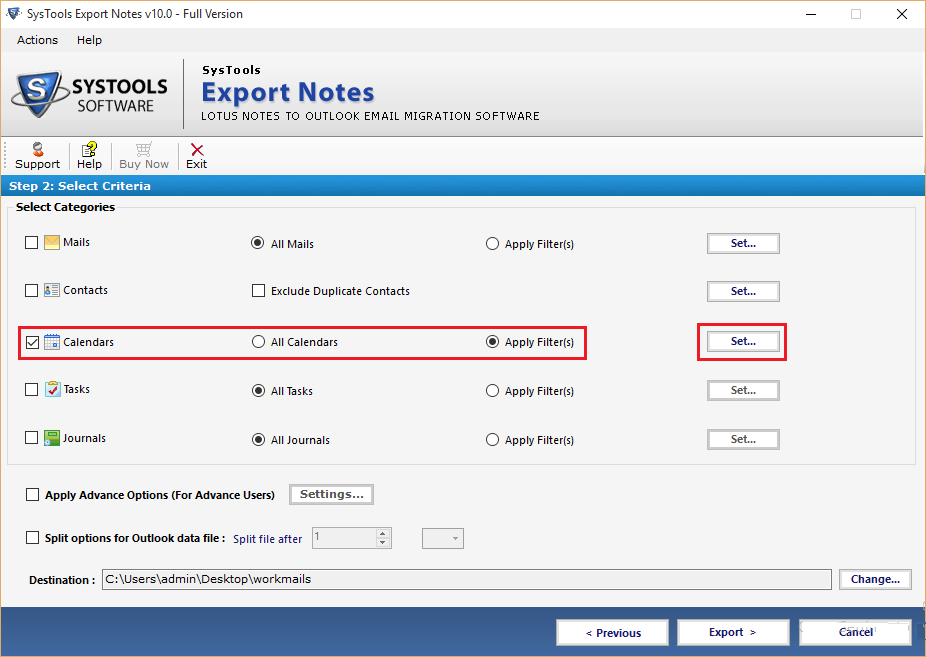 Step 4: Perform other steps accordingly and save the Export Report.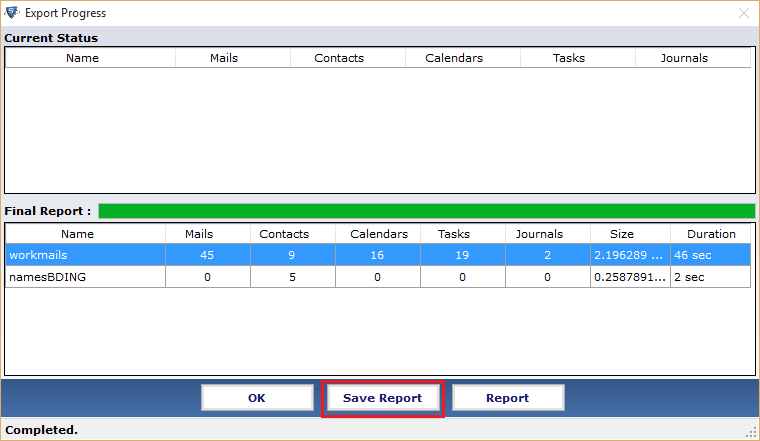 Manual Approach to Transfer IBM Notes Calendar to Outlook
Apart from the third party software, you can also go with the manual approach. Thus, with the help of this manual method, you can import Lotus Notes calendar to Outlook easily. Moreover, below we are going to discuss a specific method to execute the process fruitfully. So, you have to follow all the steps in sequence to get positive resultant.
Step 1: Start Lotus Notes application on your local machine and select Calendar button
Step 2: Now, hit on "View">> Calendar entries in the list
Step 3: Here, you have to emphasize all those entries that you need to export and opt an option to File and then Export.
Step 4: Go to the location where the resultant file is to be stored and select "Save as Type" after that .ics
Step 5: In ICS field fill put the file name of the calendar and add .ics extension after typing the name.
Step 6: Finally, opt "Export" to migrate Lotus notes calendar to Outlook.
Note: After exporting the ICS file into PST file format completely. Now, you have to import that resultant file into Outlook to view the Lotus Notes calendar entries in Microsoft Outlook successfully. Therefore, for this you have to perform more steps that are listed below:
Step 1: Start Microsoft Outlook application into your system and hit on File >> Open & Export >> Import / Export
Step 2: Now, select "iCalendar (.ics)" option from the provided list and hit on "Next"
Step 3: Here, you have to add the ICS file in import wizard of the application and then select "Open"
Step 4: At final, opt any one of the given options and finally, import Lotus Notes calendar to Outlook email application.
Final Verdict
In this blog, we have described two methods to transfer IBM Notes calendar entries to Outlook manually. But, these manual approaches have some constraints i.e. it is a lengthy method to accomplish the task. Thus, we come up with a third-party tool. It is an appropriate solution, which helps to import Lotus Notes calendar to Outlook without any hassle.