Email Client
Learn How to Import OLM Email to Gmail Using Different Methods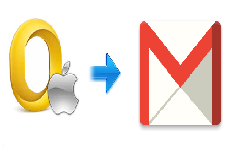 User Query 1: "I use Mac Outlook in office and Gmail at home for email communication. I will be away on a business trip where I need to stay constantly in touch with my business clients. Therefore, it has become an utmost necessity for me to import OLM file to Gmail. Only in this way, I can access my Outlook data from Gmail. I hope that some of my expert friends will come up with a feasible solution to this problem. Thanks in advance."
User Query 2: "I will be switching from Mac Outlook to G Suite soon, but I do not want to lose the important emails that I had in my Outlook. For this reason, I want to import OLM email to Gmail. Since I am unaware of the data migration process, I cannot perform the data transfer. Please help me by telling any good way for .olm import to Gmail."
Are you worried after not being able to the same? Do you want to transfer your OLM file to Gmail? Keep reading this post to know some effective methods of .olm import to Gmail.
Outlook is an email client from the house of Microsoft that can be used in both Windows and Mac systems. When Outlook is used on a Mac machine, all its data gets saved in OLM format. Due to various reasons, people may need to import OLM mailbox into Gmail. Sadly, most of them do not know how to import olm file into Gmail. To help these people, we will be sharing the methods in this write-up, so if you are interested to know them, read on this blog.
How to Import OLM File Data to Gmail
If you want to import OLM email to Gmail, you have to configure your Gmail account into Mac Outlook. Follow this guide for Gmail configuration.
1. Enable IMAP in Gmail
Prepare Gmail for configuration by changing Settings.
Log in to your Gmail account.
Go to Settings by clicking on the gear icon.
Select Forwarding and POP/IMAP tab.
Enable IMAP Access and click on Save Changes.
Create a label to save the Mac Outlook data separately.
2. Configuring Gmail in Mac Outlook
Perform Gmail email configuration in Outlook.
Open Mac Outlook. Navigate to the File menu and select Accounts.
Click on Emails.
Now, add the credentials of Gmail account.
Click on Add Account button to finish configuring.
3. Import OLM email to Gmail
Now, import OLM file to Gmail.
Open Outlook for Mac on your machine and select the folder from which you want to move data
Right-click on that folder to select Move>>Copy to folder options.
A dialog box will pop up, where you need to select the newly created label name. Then, click on Copy.
Now, click Send/Receive button and all OLM emails can be found in Gmail.
How to Import OLM File Data into Gmail
You can import OLM email to Gmail follow these steps:
1. Extract Outlook contacts
First, save all Mac Outlook contacts
Open Outlook for Mac on your Macintosh
Click on File>> Export
Select Contacts to a list (tab) from the Export window.
Add a name to the contacts file and select location for the saved file. Click Save.
All Mac Outlook contacts will get saved. Click Done on the confirmation message.
2. Convert TXT files into CSV
Due to the incompatibility of TXT file with Gmail, this file needs to be converted into CSV format.
Open the TXT contacts using MS Excel.
Click on File>> Save as.
Select MS-DOS Comma Separated Value (.csv) from the list of file formats.
Save the file in a preferred location.
3. Import CSV file in Gmail
Now it is time to import the CSV contacts in Gmail.
Open Gmail and click on Contacts.
From the Google Contacts tab, click on More. 
Gmail will move to its old version where you will see Import Contacts option. Click on it.
A window will appear where you have to add the CSV file and click Import.
All contacts will get imported into Gmail successfully.
Limitations of Manual Methods
There are some disadvantages of applying these techniques. These methods are lengthy and time-taking. Users need to spend a lot of time to conduct these methods. These also require technical knowledge of the users.
Conclusion
From the above discussion, we came to learn two manual techniques to import OLM email to Gmail. If you use Mac Outlook and need to move their OLM data to Gmail you can use any of the methods mentioned here. However, there are also many disadvantages of using these methods that have been discussed thoroughly. If you want to try some easy way to perform this migration, you can simply convert the OLM file into PST file format with the help of OLM to PST Converter. Afterward, once you got the PST file, then import themm into Gmail via. Outlook to Gmail Migration Tool.