Migration
The Process to Import Mac Outlook OLM to Thunderbird – Quick Solution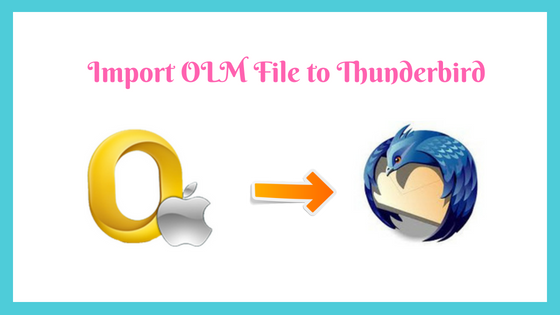 Mac Outlook stores their data like emails, tasks, contacts, notes, journals, etc. in OLM format and manages them. In many enterprises, Mac Outlook helps their users to connect with Exchange Server. Even Mac Outlook can be used as a standalone email client. But, still, there are some people who need to import Mac Outlook OLM to Thunderbird. Because, Mozilla Thunderbird is the most popular, free and cross-platform application and the reason for such popularity is the ultra-simple user interface. Thunderbird is also an email client like Mac Outlook but it supports different platforms like Mac OS, Windows OS, and Linux etc. Let's understand the need to convert or import OLM file emails to Thunderbird account with the help of user's problem.
"I am using Microsoft Outlook for Mac. There are thousands of OLM email files saved in my account. Now, I want to access some OLM files in Thunderbird. The problem is that OLM files cannot be opened on the Windows platform. I have tried many manual methods to open it. But, I did not get any expected result. Can anyone please tell me any method to import data items from OLM to Mozilla Thunderbird account? Your suggestions will be appreciated."
Are you familiar with this query? Have you also stuck with the same problem? Well, its solution is not so difficult. By following this article, you will surely get a satisfactory solution to import Mac Outlook OLM to Thunderbird.
Outlook for Mac vs Mozilla Thunderbird: Short Comparison
Outlook for Mac: It saves their data in OLM format. It helps Mac users to connect with the Exchange server. OLM files cannot be open in Windows Outlook or in other email clients. It is used to store email messages, contacts, journal, calendar and other user application data.
Mozilla Thunderbird: It is a very popular cross-platform email service that is available for both Windows and Mac machine. Mozilla Thunderbird uses MBOX file format for saving its mailbox items. However, it is freely available and an open source email client.
How to Import Mac Outlook OLM to Thunderbird Account
In order to transfer OLM files to Mozilla Thunderbird, it is required to convert OLM file to Thunderbird MBOX file format. After converting, it helps users to expand their email accessibility from other platforms. But, manually it is very hard to migrate OLM data to Thunderbird account. Because it takes a long time and advanced technical skills to perform the conversion. So, users attract towards the commercial solution.
A Professional Solution to Transfer OLM File Emails to Thunderbird
Sometimes, manual methods fail to give the expected results. In this case, a third-party solution which named as Mac OLM Converter Tool is recommended. This utility helps users to batch import OLM file to Thunderbird. It saves emails with attachments from Mac Outlook OLM to Thunderbird in bulk. Moreover, this tool also maintains the folder hierarchy during the conversion. This utility has many advanced features like add files, add folders, apply date filter etc. In addition, there is no any limitation on file size while using this tool.
Steps to Import Mac Outlook OLM File to Thunderbird
1. First of all, Install and Run the tool on Mac OS to migrate OLM file emails to Thunderbird
2. Then, click on the Add Files or Add Folders option to load Mac Outlook OLM files
3. Next, choose the MBOX option to convert OLM file to Thunderbird MBOX format
4. Now, you can also apply Advanced Settings such as date filters
5. Further, you can also select the destination path to save the MBOX files
6. In this step, click on the Export button to convert OLM data to Thunderbird
7. After that, it will show a Status report after the completion of the successful export process
8. At last, you can see the all status report after clicking on the View Report button.
Note: This intuitive software solution is available for Windows machine. So users who wish to perform this conversion on their Windows system can take help of this tool.

Download for Windows
Concluding Words
Mac Outlook exports their data in OLM format. Sometimes, it is needed to open OLM file in another email client like Thunderbird. But, it is not possible to import data items from OLM to Mozilla Thunderbird manually in an easy manner. Therefore, we have also discussed a step-by-step procedure to migrate OLM file emails to Thunderbird by using the reliable commercial solution.