MS Outlook
How to Import PST Contacts to Mac – Top 2 Methods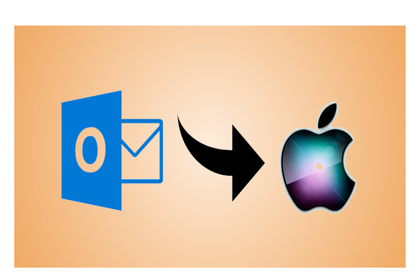 Since contact files hold great importance in today's time, importing address book to other applications, even other operating systems has become a common phenomenon. MS Outlook is an email client for Windows users but it is also used for contact management. Sometimes, MS Outlook (Windows) users need to import PST contacts to Mac.  Such situations can be difficult as it involves cross platform migration. But, the only way to fix this problem is to be aware of the solution methods. Read this blog and you be ready import PST file to Mac contact application without any glitch or data loss.
Reasons to Import Contacts from Outlook PST to Mac
There can be multiple reasons behind this contact file import. Here are the major reasons listed for the readers:
Users switching from Windows to Mac OS
Sharing Outlook Address Book with a Mac user
Open PST file contacts in a Mac based email client
Related Blog: Import PST Contacts to iCloud
Methods to Import PST Contacts to Mac Contacts
In the following sections, we are going to introduce different methods to transfer contacts from PST to Mac. The first method is a manual method and the other method is an automated solution.
Method A: Manually Import PST File to Mac
This method is divided into two parts. At first, users need to extract Windows Outlook contacts in a CSV file and then, they have to transfer that CSV contacts file on Mac machine.
Part 1: Export Outlook Contacts to Mac Supported CSV File
Open MS Outlook application on Windows OS
Now, select File and then navigate to Open and Export option
Click on the Import/Export option
Choose Export to a file option and click on Next.
Now, select the Comma Separated Values (CSV) option and hit on Next button
In "Select folder to export from" screen, you have to select the Contacts and click Next
Click on the Browse button to select the location to save the exported file
Finally, go to the Next button and then hit on the Finish button
Note: Now, you need to copy the exported CSV file into Mac machine to import PST file to Mac contacts. Before importing the file, you can open the file using a text editor and edit the format according to your choice. The following are some of the points that you may implement:
Remove any line breaks within a contact's information
Remove empty fields of contacts
Confirm all contacts have the equal number of fields
Make sure all the fields are separated by a comma
Do not include spaces before or after the commas
Part 2: Import PST Contacts to Mac as CSV
Start Mac machine and open Contacts application to import Windows Outlook Contacts to Mac.
Select File -> Import option from the menu.
Navigate to the location of the transferred CSV file to import PST file to Mac contacts.
Click on Open and review the field labels on the first card.
Then, you need to make sure that the header is either correctly labeled or marked as 'Do not import'. If any changes are made here then they are applied to all the contacts.
You have to select Ignore first card, so the header card is not imported.
Now, you need to choose arrow next to a label to change it. If you do not want to import a field, go to 'Do not import' option.
Select OK button.
Method B: Automated Solution Import Contacts from PST to Mac
Sometimes, it becomes difficult for the users to implement the manual steps. If users are unable to perform the steps correctly then it can also lead to data loss. Also, this method requires MS Outlook installation on Windows and people with orphan PST files are not eligible for this method. Therefore, to import PST contacts to Mac machine in a hassle-free way, the user need to opt for a reliable and smart utility called Mac PST Converter tool.
With this utility, the user can easily convert PST to VCF format. Moreover, it allows the users to convert contacts from bulk PST files. The user can convert Outlook emails, contacts, calendars into the required file format with the help of the software. Additionally, there are other features associated with the utility such as user-friendly interface, high-speed performance, no data loss issue, date filter etc.
Steps to Import PST Contacts to Mac OS are:
Step 1. Download Launch Mac PST File Converter Tool.
Step 2. Add any number of PST files.
Step 3. Choose VCF file format and select Advanced Settings.
Step 4. Check only Contacts category and save.
Step 5. Choose destination and click on Export button.
The tool will successfully convert the file on vCard format that can be imported to Mac Contacts.
Conclusion
Sometimes, users face the requirement to import PST file to Mac contacts. To help those users, we have explained two different methods using which the user can easily import PST contacts to Mac. Though the choice of method completely depends upon the users, the recommended software is the right way to perform this contact migration without any difficulty.