Migration
Prominent Guide to Import Thunderbird Contacts to Outlook Account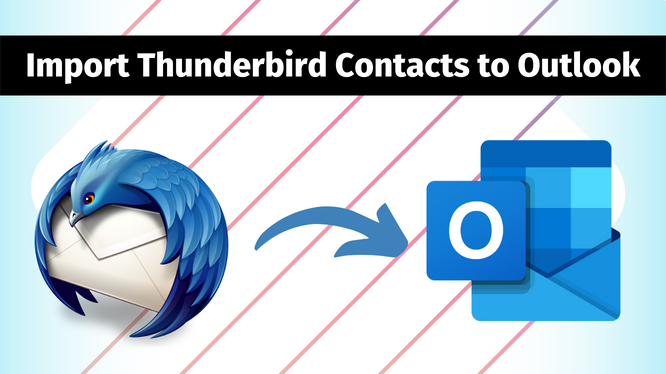 "Unfortunately it is a troublesome situation to perform a conversion. I cannot import contacts of Mozilla Thunderbird. I tried to export to CSV first, but the imported file was blank, now I have about 1000 blank contacts to move.  Also, I tried to transfer but, only the names came through. I am unable to see any way to import Thunderbird Contacts to Outlook 2016 from my local machine. It is apparently faster to just export the names and manually copy or paste the contacts into Outlook. I already tried the manual process for exporting Thunderbird Address Book to Outlook. Still, it fails in migrating all the email addresses of the Thunderbird account. What can I do? Please suggest to me an appropriate strategy to move Thunderbird Address Book to Outlook."
Thunderbird and MS Outlook are competing for the best email applications for the users but both have their dedicated user bases. There is a number of Thunderbird users who want to move their contacts to Outlook. Because of file format, incompatibilities make the direct migration of contacts between the two pretty difficult. So, we come up with the appropriate software to perform this conversion. This MAB converter easily exports contacts from MBOX file to Outlook PST format. Alternatively, one can also execute the migration procedure manually. We come up with a comprehensive guide to Import Thunderbird Profile to Outlook 2016, 2013, 2010, 2007 & 2003 accounts.
Why do I Import Thunderbird Contacts to Outlook?
There could be several reasons demanding a user to export all their Thunderbird contacts to MS Outlook. Some of the needs behind conversion are mentioned below:
Microsoft Outlook is more comprehensive as compared to Thunderbird.
Managing users' personal information is quite easy with Microsoft Outlook.
Outlook permits more functionalities inclining users to migrate to it permanently.
Outlook offers to configure various email accounts within a separate interface.
Can I Import Thunderbird Contacts to Outlook Effortlessly?
Try MAB Converter to instantly convert Thunderbird Address Book to Outlook. This software is equipped with a highly interactive graphical user interface. With the help of this program, one can migrate Thunderbird MAB to various file formats like PST, CSV, VCF, LDIF, and vCard. This utility is capable enough to import Thunderbird contacts to Outlook 2016, 2013, 2010, 2007 & 2003 without losing a bit of data. This application is the best alternative to perform the transfer techniques. The following Converter tool contains some more amazing features have a look:
Save the MAB data file to VCF (vCard) address book
Move various .mab files to PST using Folder Mod
Merge several Mozilla Address Book MAB into PST
Transfer Thunderbird contacts MAB to PST in bulk
Supports Horizontal & Vertical View before conversion
No file size restriction MAB to Outlook PST migration
How to Import Thunderbird Contacts to Outlook Manually?
Mozilla does not facilitate any inbuilt utility to move the Thunderbird address book to Outlook. Thunderbird and Outlook generate different file formats to save users' data. So, the manual procedure is divided into main 2 strategies one is exporting Thunderbird contacts to CSV format and importing the resultant CSV data file into Outlook. Both strategies have been described below. You just need to follow all two step-by-step:
Strategy 1: Export Thunderbird Contacts to CSV
Step 1. First, launch the Thunderbird program on your local machine.
Step 2. Now, in Thunderbird go to the menu and choose the "Address Book" option situated at the top left corner.
Step 3. In the screen that prompted, opt for the address book to be migrated.
Step 4. Here, you have to click "Tools" and then choose "Export" from the drop-down menu.
Step 5. Afterward, choose any desired folder to save the resultant address book. One can also generate a new folder to store the output file as per their need.
Step 6. Lastly, select the format in which you want to move the contacts (CSV/VCF/TXT/LDIF). In this case, you need to select the CSV format.
Step 7. Hit on "OK" to finish the procedure.
Strategy 2: Import Resultant CSV to Outlook Account
Step 1. Open the Microsoft Outlook application in your system.
Step 2. Now, you have to go to the "File" option and then select "Open and Export" and after that "Import/Export".
Step 3. Here, from the window that appears select the option of "Import from another program or file".
Step 4. Hit on the "Next" button to move forward.
Step 5. Browse or locate the CSV data file you have migrated previously.
Step 6. Choose the radio button that states "Do Not Import Duplicate Items".
Step 7. Select the "Next" button.
Step 8. Opt for the desired folder where you need to import contacts then click on "Contacts".
Step 9. click on "Next"
Step 10. Once it is complete properly, click on the "Finish" button to begin the procedure.
Note: The manual process is completely free of cost but required to be performed with precision. A single wrong step could lead to potential data loss.
Final Words
The above-mentioned method has some constraints. It is not the preferable way to execute large transfer tasks such as to import Thunderbird contacts to Outlook 2016, 2013, 2010, 2007 & 2003. Moreover, it is a time-consuming process. After knowing that it is a complex procedure, you should always take a complete backup of the file being converted. Otherwise, one can go with reliable and trustworthy software which is discussed above. The tool can convert Thunderbird Address Book to Outlook without any data loss. Using this utility one can export Thunderbird contacts i.e., MAB to Outlook files hassle-free.