Excel File
How to Import AOL Contacts to Outlook? Complete Method
There is no doubt that AOL apps are used by all types of users, but because of the tacky taskbar, its hanging nature, and slow logouts, people started looking for ways to Import AOL Contacts to Outlook as soon as possible. how they install it on their computer. Outlook offers lots of amazing features like improved communication, predictable expenses, automatic updates and much more.
AOL, an American company formerly known as "America Online", initially attracted a large user base with its attractive features, but failed to maintain this position for long. Because many users face space problems while accessing their AOL account. Many users have doubts about "How to transfer from AOL to Outlook" for many reasons. Let's know about some such reasons.
Why Need to Transfer AOL Contacts to Outlook?
There are several possible reasons for importing AOL contacts file into Outlook. Here are some of them.
There are many reasons to transfer or transfer AOL contacts files to Outlook files. For example:-If your email account has been hacked or AOL plans to close the account.
Outlook offers more security and better features than AOL Mail.
If your organization is moving from AOL accounts to Outlook, you'll need to move mailbox data.
So, let's start by explaining all of this.
Solution to Import AOL Contacts to Outlook
You should know that there are a total of three simple steps that need to be completed in order to move your AOL contacts.
Once you have completed the three steps above, you will be able to access your AOL contacts through your Outlook account.
First of  all, Launch your AOL profile and select the Contacts option.
Select the Contacts option.
In Contacts, Press More and click the Export option.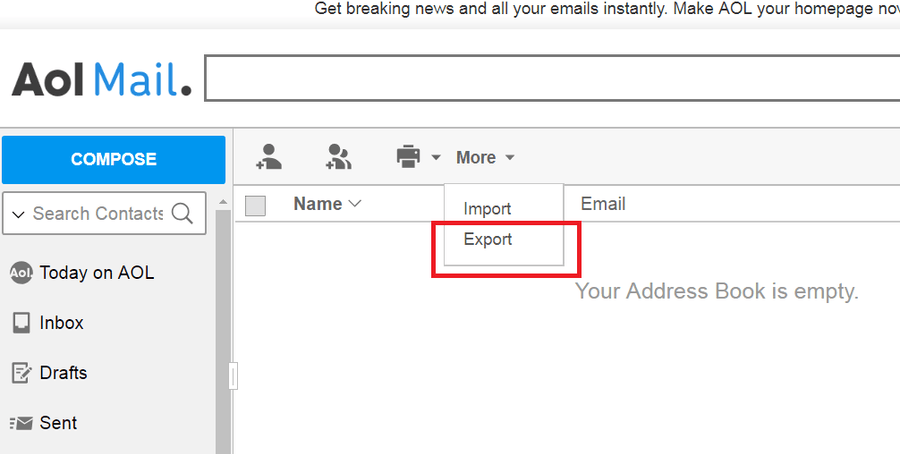 Afar that,  Pick the CSV option.
Next, Select the Export tab.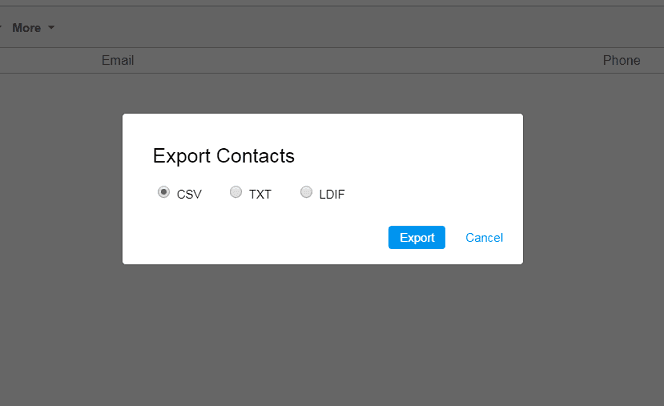 In a few minutes the export process of all contacts from their CSV format will be completed.
Best Expert Solution to Convert All CSV Contacts to Single vCard File
To perform this task, it is recommended to use the XLS contacts to VCF Converter. This Software allows you to convert unlimited CSV files into a single vCard so that you can easily import them into your Outlook compatible vCard file. Furthermore, this software is completely free of any kind of risk. It has some advanced features that make it better and unique. then, Download the program and start converting your CSV files.
The software is considered the best among its competitors as it offers the highest quality of service to its users. Moreover, this utility includes various powerful features to enhance its functionality and help users to successfully complete their tasks.
First of All,  Download the Expert Suggested Software
In the file Browse option to load file.
This software allows you to preview the entire contents of a CSV file. Click the Next button.
Now you can match the CSV in the left pane with the vCard field in the right pane.
This software offers advanced options that you can choose according to your needs. You can also select the vCard file version.
Then Select the Convert Option to start the process.
This tool will create separate contacts and vCard files for each contact. It will be saved in the selected location during the conversion process.
Import Output File to Outlook 
Open Your Outlook and Go to the File menu (top left corner).
Then select Import/Export from the Open & Export menu.
In the Import & Export Wizard, Choose the Import a vCard file option.
Then select the VCF file you want to import into Outlook and hit the Next button.
Finally, your contacts will appear in Microsoft Outlook.
Final Words
After reading the above blog, you will know the best way to export Gmail contacts to VCF. It is easy and free. The following steps must be followed to export your Google contacts to a vCard file with all the information. We also mentioned the easy solution to open multiple VCF contacts in one place with all the details. Users will also get a solution to convert VCF files to other file formats easily.