Cloud
,
Office 365
How to Save Outlook 365 Email as EML – Learn Quick & Reliable Way
Mohit Jha
~ Modified: October 18, 2022 ~ 4 Minutes Reading
Query1: Can any one suggest me a best solution which help me to save Outlook email as EML file. I need to keep the local copy of my important Outlook email messages, so that I can avoid the risk of data loss during any unexpected situations.
Query 2: I am using Outlook 365 account from very long time for the web based email management. But my system is installed with the Thunderbird desktop application. I got an urgency to mange my work in Offline so I need the offline copy of my Outlook emails for the reference purse. Is there any solution to take my save Outlook 365 email messages in EML format.
Do you have similar queries? Don't worry we have the answers to all your questions related to this. Nowadays most cloud users are aware of the importance of the security of their online data. So they are searching for the most simple and secure way to save their email data locally. Hence, in this write-up, we are going to provide you with the best solutions for the same.
There are generally two ways for Outlook 365 save email as EML
Manual Solution (Time Consuming & Error-Prone)
Automated Solution (Quick & Reliable)
Manual Way for Outlook 365 Save Email as EML Format
Outlook 365 allows you to download a single email message at a time manually. You can easily execute this task by following the below steps, however, this process is not adequate for bulk data download. 
Since you can only download a single message at a time, hence, you may find this a tedious task if you have to save tons of emails as EML file format. 
Here are the Manual Steps on How to Save Outlook 365 Email as EML: 
Step 1. Log in to your Office 365 account and navigate to all apps, and click on Outlook.
Step 2. Now compose a new email and select the email you want to save as EML file.
Step 3. Drag and drop the email into the newly composed email.
Step 4. Now from the attached email, click on the drop-down icons and hit download.
Step 5. It will download that email as EML file format on your computer.
Automated Solution to Save Outlook Email as EML
The manual method can work for you, but only for limited emails if you need to download bulk emails then you might find yourself stuck in this process. Which would eventually consume a large amount of time to complete the conversion process.
Hence, we suggest you PCVita Office 365 Export Tool, it is an alternative solution to avoid such a situation and save your email data securely in the EML format. Using this tool you can also export Office 365 mailbox to PST format.
Five  Software Steps to Save Outlook Email as EML Format
Step 1. Download, install, and open the software on your computer. Click on login to continue.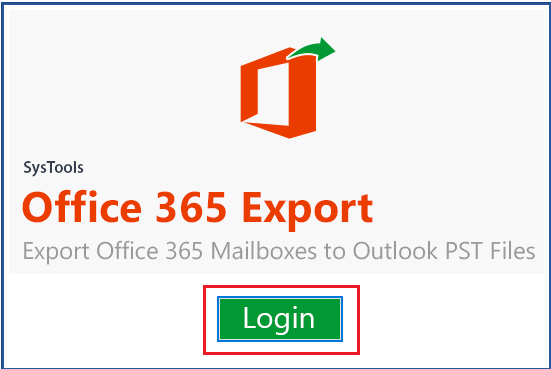 Step 2. Use Office 365 admin or user credentials to log in to the software. Select the required user email id to save their respective emails as EML file format.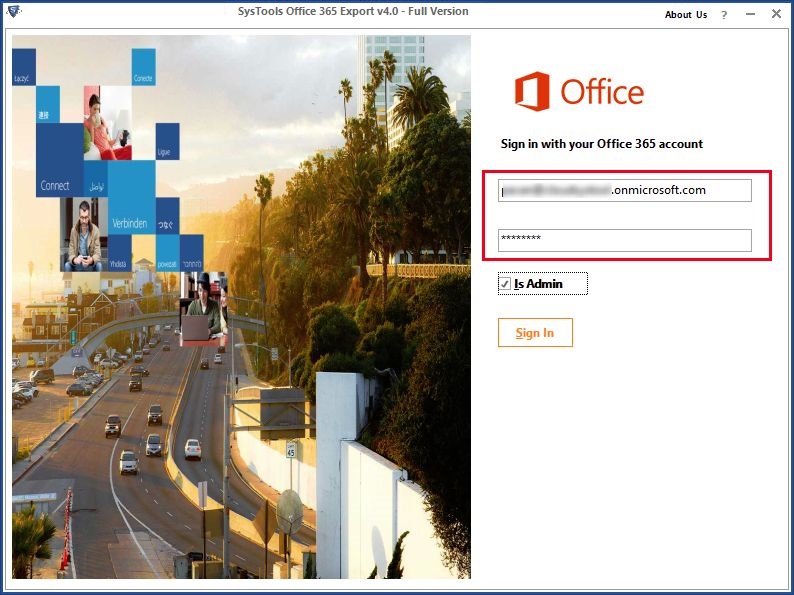 Step 3. Now select email format as EML and check all the required mailbox box items that need to be saved as EML such as emails, contacts, calendars, etc.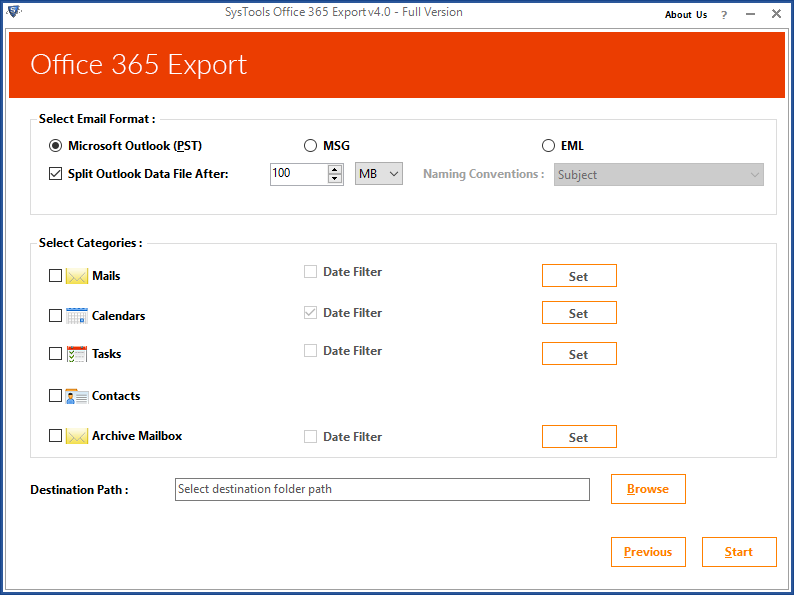 Step 4. You can also apply a date filter for selective data download. Enable the date filter and select the required date range, if required.
Step 5. Set the destination path and location to save Outlook email as EML file format.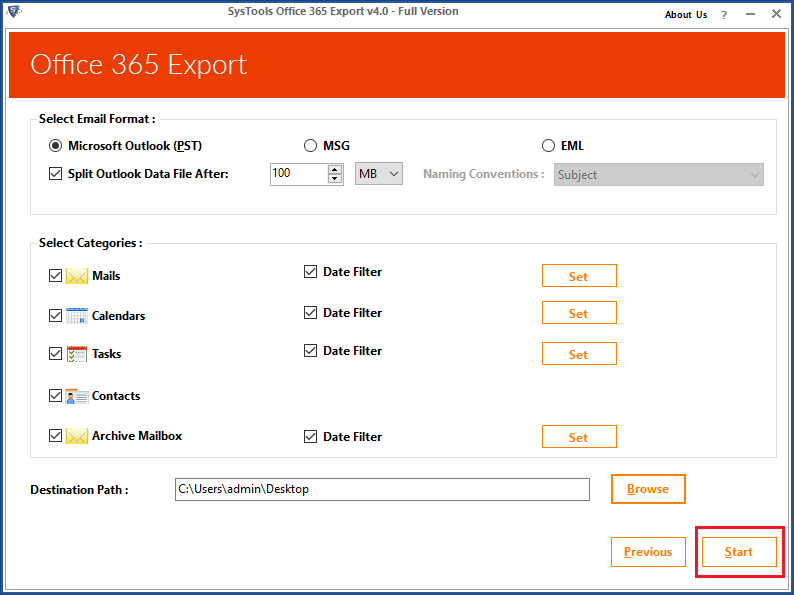 By downloading the Outlook 365 mailbox into EML format users can save each email message separately on the desktop. It will help in the easy accessing & sharing of single email messages instead of accessing the entire mailbox data. EML is the single email format supported by most email clients hence saving email messages in EML files will allow the user to import the data EML supporting desktop-based email applications and manage the email data in offline situations.
Also Read: How to Migrate Mailboxes from One Microsoft 365 Tenant to Another?
Final Words
In the above blog, we discussed two methods to save Outlook 365 emails as files. Which helps you to secure your cloud mailbox data. Both manuals as well as tool base solution is mentioned in the above section. You can use any of the methods according to your preference. We recommend the automated solution for a fast and secure way to save your Outlook email data in EML format.