Outlook.com
How to Save Emails from Outlook Web App to Computer? Quick Methods
Mohit Jha
~ Modified: February 27, 2023 ~ 5 Minutes Reading
Needing the save a copy of your crucial Outlook.live.com emails and unable to find the precise solution? Worry no more, we've got you covered with efficient methods to save emails from Outlook Web App to computer / hard drive instantly.
Two Ways to Save Outlook Web App Emails to Computer Hard Drive

1. Automated Tool for Bulk Emails
I have been working on Outlook Web Access for around 4 years now and I didn't realize the need to save my data until now when I came across a hacking attempt in my mailbox. Now that I have recovered my data, how do I save emails from Outlook Web App to my hard drive? Is there any direct approach for the same? Also, the data has gone enormous, so please suggest an appropriate solution to download all Outlook.com data!
How to Save Emails from Outlook Web App OWA to Computer with Best Methods?
Users can download Outlook.com emails and data in a couple of ways and then save them to their local storage i.e., desktop or hard drive. Below we are going to describe the best approaches:
Method #1: Automated Solution to Save Outlook Web App Emails Huge Data (Recommended)
In the case of a huge number of emails and data, the manual workaround could get freeze and crash. It results in data loss, then a software solution is needed to save Outlook Web Access emails to the desktop. This method doesn't come free, but it is a more reliable, quick, and safer approach to downloading OWA data.
Outlook.com Backup Utility can extract OWA emails, attachments, contacts, tasks, and calendars to the on-premise location of the user. The software backs up all the data into multiple file formats quickly.

You can free download the trial version of the software here:
Software Steps to Save Emails from Outlook Web App to Computer in the Best Possible Way
1. Download and launch the tool on your machine and enter your OWA Credentials
2. Select the Required File Format and desired Categories in the OWA account to save emails from the Outlook web app
3. Click on Browse button to provide the desired location to save the exported emails
4. Hit on the Start button to save OWA emails to the computer.
Other than this, the software provides more advanced features like date filters, the facility to delete data from Outlook.com account, naming convention, and other options.
Do You Need to Save Outlook Web Emails as PDF?

It is now very easy to use this efficient utility to download Hotmail emails to Hard Drive. It simply downloads and saves each email of your Outlook web account in a PDF file and other file formats through a batch process facility. Also, get multiple facilities to perform this email conversion even easier.
Method #2: Manually Download Emails from Outlook Web App to Desktop (For Few Data)
Since the PST file is the database file of a desktop-based Outlook application, we can move all the required data items from the Outlook Web Access mailbox to a new Outlook .pst file and save this data file on the desktop.
Prerequisite: Microsoft Outlook desktop client must be installed on the user system to perform this method.
Now let's get started with the steps:
Initially configure your Outlook desktop application with the Outlook Web App account
Now navigate to File option >> choose Import & Export option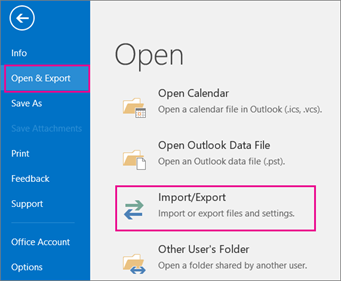 Move to Export to a file and then click on the Outlook Data File to migrate all the OWA data to a PST file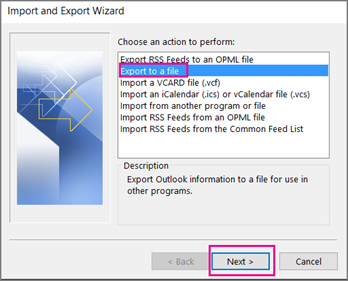 Mark to Subfolders checkbox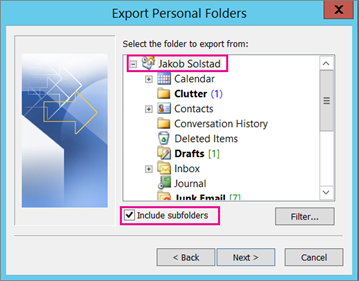 Lastly, click on the Finish button.
With this method, you learned how to save emails from Outlook Web App to the computer manually. This technique is recommended to use only when you have to save data of small size and avoid in the case of large OWA data. While testing this process, we have experienced a lot of practical instances where some of the data got lost.
Get the Best Solution to Backup Outlook 2013 / 2016 / 2019 Contacts, Calendars
Final Words
Users have both the ways manual and automated to overcome how to save emails from Outlook Web App to computer. Both methods are applicable to save Outlook Web Access emails mailbox data, but it depends on the size of the data and the need of the user. If the user needs a safe and quick solution, then the aforementioned tool is considered an ideal solution.
FAQs
Q1. How do I save emails from Outlook Web App / Mail to my computer?
A. You can perform the basic steps explained below:
Install Tool to Download Emails from Outlook Web App to Computer
Enter Credentials and Select Folders that you Want to Save
Choose Email Format and Select Emails from Categories
Select Destination Location & Hit Start Button
Q2. Can I save 30 GB of Outlook Web App Emails to Hard Drive using the tool?
A. Yes, you can easily download all the emails into your system storage without any data loss.
Q3. I want to save emails along with attachments on my system. Can I use the utility?
A. Yes, if you use the tool mentioned in the article, then you can save Outlook Web App Emails to the Computer along with associated attachments.
Q4. Can I try this software before purchasing its licensed version?
A. Yes, you can first download the tool for free and try all the features. You can also download emails from Outlook web app for free with a trial version limitation. After that, you can purchase the licensed version of it.