General
How Can I Export Google Calendar to PDF? Know Here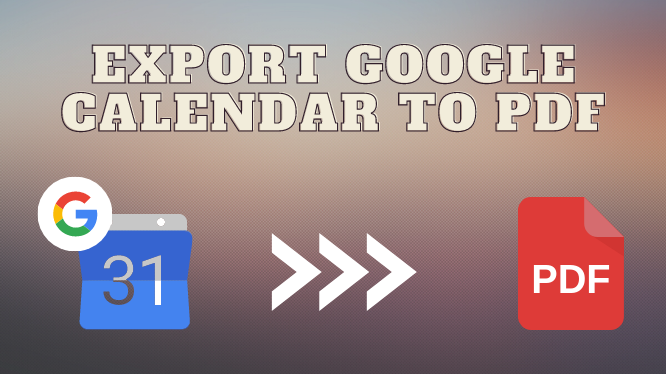 Looking for a solution to export Google calendar to PDF? If yes, then this article will become so helpful to resolve your query. Here in this article, you will know the complete process of how to transfer Google contacts in PDF form.  We bring up the perfect solution, So, let's get started.  
Google Calendar is the most reliable method to monitor each and every occasion and schedule appointments. Google calendar makes teams through which they can share and schedule the work as per their requirements. But sometimes there is a situation that generates where you have to export Google calendar to PDF format. 
If you are one of those who are searching for the solution to convert Google contact, then first you have to know that Google saves their calendar in ICS file format. ICS in the universal file format is used by multiple email services providers and the ICS file contains all the events, notes, attachments, etc. 
Reason Why to Convert Google Calendar to PDF File Format 
There are multiple reasons why users want to export Google calendar to PDF files. There are some reasons which we discussed. 
Lightweight format – The maximum size of a PDF file is 10 MB, PDF file is a portable file that can easily transfer from one location to another location. 
Easy to Share – Easy to share to any device and anyone can access it without facing any errors. 
Easy to Print –  PDF file is supported on any device or PDF file easily gets printed anytime without any type errors. 
Support Without Internet – PDF files can be open anywhere or without any type of internet support. 
Proficient Solution to Export Google Calendar to PDF 
There is no manual approach To exporting Google calendar to PDF, no need to worry! We bring you the best ICS Converter Tool, which is capable to convert ICS files to PDF. But firstly, you have to convert Google Calendar files to ICS file format.  
Step 1: Convert Google Calendars into ICS Format
First thing first, Log in to your Google account and go option the Calendar option. 
Then, on the top-right go to the setting option. 
After this, on your left click on Import & Export options. 
Then, click on the Export button.
Select the destination path to save converter calendar files. 
Step 2: Export Converted ICS files into PDF Format 
First, Download & Install the software on your selected device. 
Only For Mac Users 
Click the Add file option to add ICS files that you want to convert.
After that, select the PDF option to convert ICS files into PDF format.
Then, click on the Advanced setting option, there are some Filters that you can use as per your need.
Then, click the Change button to select the location of the converted files.
At last, click the Export button to complete the process.
Also Read: How to Perform Google Calendar Backup 
Final Verdicts 
Above we discuss the complete process how to export Google calendar to PDF.  In this article, we talk about the benefits of saving Google calendar in PDF format. This solution helps you to know more about this software by providing a demo version where you can take a demo of conversion files.