General
How To Export Emails from Yahoo Mail to Outlook – Step by Step Guide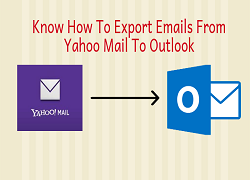 The article is about to begin is about the procedures to export emails from Yahoo mail to Outlook. Thus, users in need for a feasible solution, please go through the article till the end and find reliable solution for your kind of query.
Earlier, Yahoo Mail was one of the most commonly used email services. But, with the advancement of technology, numerous feature-rich and reliable email clients were introduced. Therefore, most of the people started switching from Yahoo Mail to other email clients.
Why Outlook is Preferred Over Yahoo?
Nowadays, Outlook is preferred by various users for email management tasks. Moreover, it is integrated with advanced features such as high security, user-friendly interface, great speed efficiency etc. The major issue arises, when the users need to move their Yahoo Mail emails to Outlook so that they can easily access their emails from MS Outlook.
Yahoo Mail does not offer any backup features to create the offline backup of email data. Thus, users search for a solution to move Yahoo emails to Outlook. This will create a backup of your important emails as well. Therefore, to help out all the users, we are going to discuss multiple ways using which the user can export emails from Yahoo Mail to Outlook. Before begins, Let us consider the below query and understand what the user actually require.
"Hello everyone! I have lots of emails in my Yahoo mail. I want to access my Yahoo emails in Microsoft Outlook emails client. I'm a novice to the mail server configuration and have no idea about it. Can anyone guide me how to transfer data from Yahoo to Outlook? Is there any simple solution to resolve my Query? Your help would be appreciated. Thanks in advance!"
Does the above query seems familiar with yours? The article below will guide and teach you how to export Yahoo mail to PST file and help you perform it easily. Multiple solutions are considered according to the users capability to work out the solution process. Be relaxed and read the article below.
Methods to Export Emails from Yahoo Mail to Outlook
Migrating Yahoo mail to Outlook is an easy job. But to get all the emails transferred to Outlook with a single process, is not that easy as it seems. Here you will learn, two various modes of moving messages from Yahoo to Outlook. It your choice to choose the right method of your comfort.
Method 1: Easy Solution to Transfer Yahoo to Outlook
Yahoo Backup Tool, a smart and reliable utility. This software offers facility to export and save Yahoo emails in Outlook PST file format. It allows the user to download all the Yahoo emails to the computer, hard drive, USB, or any other external hard drive. Moreover, there is facility to export emails of selection from the Yahoo Mail to Outlook with the email filter function. The trouble-free and easy-to-use interface designed helps the user to easily direct to the process further and perform data migration easily.
Steps to Export Yahoo Mail to PST File Format
Download and run Yahoo email backup tool on the system.
Enter Yahoo Mail account credentials and click on the Login button.
Select the PST format to export Yahoo mail to Outlook data file.
Browse the destination location to save the exported Yahoo Mail emails.
Enable the Apply Filter option. It offers two filtering modes; folder selection and email filtering.
Click on the Start button to begin the transport process.
After the completion of the process, you will able to access the emails using MS Outlook application. You just need to navigate to the location where you saved the exported emails and open in the Outlook application.
Method 2: Complex Format to Export Emails from Yahoo Mail to Outlook
Microsoft Outlook application offers to include the mailbox of different mail server. Using this function, you can configure Yahoo in Outlook and transfer all the data to offline mail client. Outlook provides the option of adding a new account and working further on this as directed, you will be able to save data of Yahoo mail on Outlook. Move down to learn the procedure of Yahoo Outlook mail migration.
Steps to Transfer Yahoo Mail to Outlook
First of all, open Outlook and select File

>

Info

>

Add Account

>

Manually Configure Server Settings

and then click on the Next button.

Now, from the Add New Account

window, choose '

POP or IMAP

' and then click on the Next button.

After that, you have to enter Yahoo email address

and

name

on the next page.

From the Account Type

drop-down menu, select

POP3

.

Next, in the Incoming Mail Server option type pop.mail.yahoo.com and in the Outgoing Server option type smpt.mail.yahoo.com.

Under Logon Information, enter the username and password of Yahoo mail.

Next, click on the More Settings option.

Now, you have to select the Outgoing Server tab and check My SMTP Requires Authentication

and

Use Same Settings as My Incoming Mail Server

options.

Now, select the Advanced tab

and then type

995

for the POP 3 server and type

465

for the SMTP server Port number.

After that, choose SSL

as the encryption type and also ensure that

This Server Requires an Encrypted Connection

is selected.

Now, click on OK

>

Next

>

Finish

. Close the Outlook application and then restart.

Finally, you have to click on the Send/Receive tab and select Send/Receive All Folder. You will see that all your Yahoo folders are present in Outlook folder panel.
Note: The above manual method of transferring data from Yahoo to Outlook has some limitations. It will take time according to the number of emails in Yahoo mail. There may be data loss during data transmission (low bandwidth). The process will extend if any step is missed or done wrong. This creates trouble for the user and further becomes a headache.
Final Words
There are many users who need to export emails from Yahoo Mail to Outlook. The reason behind it varies from user to user. However, the users are not able to find a perfect way to implement this task. Therefore, in this blog, we have discussed various methods of moving data from Yahoo to Outlook. All users are not experts and not technically strong. Thus, we have some techniques that will help each user to comfort their mail migration process.
Common Queries Asked
How do I transfer my Yahoo email to Outlook file?
Steps to Transfer Yahoo Email to Outlook
Step 1: Run Yahoo backup tool and login with Yahoo account.
Step 2: Select PST option to transfer Yahoo Mail to Outlook file.
Step 3: Browse location to save Outlook file.
Step 4: Start the process.
Step 5: Import the Yahoo PST file in Outlook.
How do I export my Yahoo contacts to Outlook?
1. Login to Yahoo account and move to Yahoo Contacts tab
2. Click on Actions >> Export All
3. Choose Microsoft Outlook format option
4. Enter the CAPTCHA and click on Export button
5. Browse a location and click on Save
6. Import the Yahoo contacts to MS Outlook