Backup
,
General
,
Technology
,
Yahoo mail
How to Download Emails from Yahoo to Computer / USB Flash Drive?
Summary: In this write-up, we will be discussing how to download emails from Yahoo to computer hard drive / Laptop. Also, we will be covering the issues in Yahoo mail that tend the user to move Yahoo emails to hard drive.
Yahoo is one of the most popular web-based email applications used. It has many features and functions which are enjoyed by the users. But despite Yahoo being hacked many times in the last 10 years, majority of people still use it. It is because of the pure liking towards the Yahoo web service.
In some situations, the user requires to backup their Yahoo email messages to hard drive / flash drive. There could be different reasons for various users to backup their data. Moreover, Yahoo does not even offer top-class security for its users so it's better to maintain a copy at a local machine.
Stick to the write-up till the end to learn how to download emails from Yahoo to the computer. In the coming section, we have discussed a real user query, which could explain the current user situation and need for this write-up.
Let us understand the topic with the help of query:
"Hi! I have been using Yahoo for a very long time but suddenly I have decided to backup my Yahoo emails on the computer. The outcome is that I do not know how to do it. Could someone advise me how to save a Yahoo email to my documents? I really need the stepped procedure as I have important emails saved in Yahoo. Thank you."
From the above scenario, you would have understood why a Yahoo user searches for techniques to download emails from Yahoo mail to computer.
Why Copying Yahoo Emails to Hard Drive is Required?
Yahoo mail web service having a good user list had various hack attacks that leaked many of the Yahoo users information. Also, this could have resulted in many data loss from a User account. To assure security for the Yahoo user for his/her data, a backup of their data at the local end meant to be a very helpful method. Below are some points mentioned that shows other reasons behind Yahoo mail backup to local hard drive.
Yahoo Mail Outage: Yahoo mail server went down a lot many times in the past few years. This lets many users, not able to use their mail and access emails and share them either.
Yahoo Mail Login Issue: The users are facing problems in logging in to their Yahoo account. Sometimes the server does not respond, other times, the emails are not shown after login.
Yahoo Attachments Not Downloaded: Yahoo mail sometimes does not open the email and sometimes does not open its attachments. Many situations are faced by users where they weren't able to download the email attachments and try out other ways to download them.
Hacker Attack: Some ransomware attacker gets hold of the user's Yahoo data and prevents the user from recovering it. Previously Yahoo credentials have been misused many times for various users so there is no surety that it will not happen again.
The above reasons make Yahoo users back up their data at their local end. But the one who does not know how to download emails from Yahoo to computer, stuck in the midway. For those who are stuck to download Yahoo mailbox will get a procedure giving an assured result for which they were searching.
Steps to Download Yahoo Emails to Computer
Step-1: Launch and log in your account in tool
Step-2: Select File format (PST/EML/PDF/MBOX/MSG)
Step-3: Browse saving location on computer hard drive
Step-4: Click on Start to begin Yahoo email download
Let's start up with the methods to get our Yahoo emails copied to the hard drive of computer or laptop.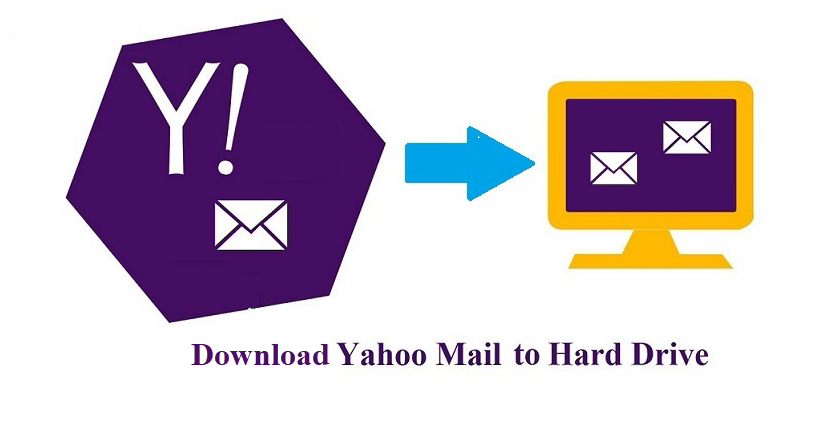 How to Copy Yahoo Emails to Hard Drive?
Yahoo mail does not provide the functionality to download emails directly to computer / laptop but has options to export Yahoo contacts to computer directly in CSV file format. But, according to Yahoo, the user can migrate each data through copy & paste mechanism with the text editor. Also, you can try pressing CTRL+P together for individual email download. This will save each Yahoo email in PDF file format.
But for a user like you having a large number of emails, the above procedures will take a large time in its backup completion. Thus, below are some mechanisms in which you can try to copy your Yahoo emails to the hard drive and download Yahoo mailbox in a single instance.
How to Download Emails from Yahoo to Computer Manually?
Through the configuration approach, the Yahoo email account can be moved to any of the following email clients, say MS Outlook, Thunderbird, Gmail, Zoho Mail, Apple Mail. The most preferred email clients are Outlook and Mozilla Thunderbird. This is because they are available to work in offline mode as well.
You need to disable Two-factor authentication and allow access for a "less secure app" for connecting Yahoo mail to other email clients. In case, you want to keep the two-step verification, then generate an app password for Yahoo mail and use the password for other mail client configuration.
Read more to learn How To Export Emails from Yahoo Mail to Outlook?

Get an overview on How to Setup Yahoo email account in Thunderbird?
Limitations of Manual Method:
The manual method creates lots of inconvenience for users like
Users need to install a desktop-based email client in order to execute the procedure.
The process is short, but if any step goes missing or wrong then, the whole procedure will be a mess. In case of the email saving in PDF from Yahoo account, it will be a very long process
The configuration process can't assure full emails download, as sync between email clients can fail any moment
How to Save Emails from Yahoo Mail to USB Flash drive Professionally?
Yahoo Mail data backup is the tool to download Yahoo mailbox messages to computer. It exports Yahoo email messages to the hard drive. You can download all Yahoo emails with attachments into multiple file-formats (PST/EML/MBOX/MSG/PDF). Pause and Resume options helps to manage the interruptions during the download process. You can use the below method to download Yahoo emails to computer.
Guide to Move Emails from Yahoo to Computer
Launch the software to create a backup.
Provide Yahoo credentials and get access to the application.
Select the format to download Yahoo emails (PST/PDF/EML/MSG/MBOX).
Browse the destination to save the Yahoo backup
Click on Apply filter, to apply filters for selective backup.
Provision of Filter options offered:

Folder – Select Yahoo email folders for backup.
Email Filter – Set a date filter, using From and To calendar fields.
Hit Start option to download emails from Yahoo to computer.
After the process completion, you can view the backup file at the destination.
Conclusion
In this article, we have learned how to download emails from Yahoo to computer. To prevent Yahoo emails from hacking it is important to copy Yahoo emails to hard drive. We have covered the reasons for Yahoo email message backup and mentioned various methods to download emails from Yahoo mail to computer. Now, it is up to you to choose among the methods that suit you the best.
Frequently Asked Questions
Ques: How to save a Yahoo email to my documents?
Ans: Move Yahoo emails to any Desktop-based Email client, say, Outlook, Thunderbird. Then, download the Yahoo emails to the Document folder. This process will save the Yahoo email in your documents.
Ques: Can I download multiple attachments from Yahoo mail?
Ans: Yes, Run Yahoo backup tool to download multiple attachments in an email from the Yahoo account. It will download the attachments with the emails to the local desktop.
Ques: How do I add Yahoo Mail to Outlook?
Ans: Follow the steps mentioned-below:
Open Outlook, Go to File >> Info >> Add Account.
Choose the Manual Configure Setting option.
Check POP or IMAP option.
Enter your name and ID, account type of Yahoo mail.
Provide required server information.
Go to More Settings.
Outgoing server tab, check for authentication options.
Move to the Advanced tab. Set port numbers.
Click OK >> Next >> Finish.
Restart MS Outlook application.
Ques: Can you download complete Yahoo email folders to computer hard drive?
Ans: Yes, you can. Follow the steps to download Yahoo mailbox to computer
Step-1: Download and Run the tool, log in with the Yahoo account.
Step-2: Choose a file format to download Yahoo email folders.
Step-3: Browse a location on Windows to save the Yahoo email folders.
Step-4: Click on Start to download emails from Yahoo to computer.
More On Yahoo Mail