Technology
Simple Steps to Import Contacts from Excel to Gmail
If you are here then, it might be possible that you are looking for a way to import contacts from Excel to Gmail account. And if your answer is yes, then you are on the right page. Today here in this blog we are going to discuss the best and simple way to save all contacts to your Gmail account. So keep reading the blog and complete your task without any hassle.
Well, an Excel spreadsheet is widely used for saving data like contacts, because it offers a tabular form of structure to save your contacts list. In an Excel sheet, you can simply save contacts with attributes like the first name, last name, email address, phone number, and many others. Hence it is quite popular. But one of the bad things about Excel is that the file is software-dependent. It means to open the Excel file you have to use any software that supports XLS, XLSX, or XLSM files. And that is the reason many users are not able to access their contacts.
On the other hand, Gmail is a free web-based email service offered by Google. Basically, it offers a void range of features and you can access it on any device in the presence of the internet Hence, many users want to export Excel contacts to Gmail.
User Query – I have a huge amount of contacts in my Excel sheet and I want to move them to my Gmail account. I have been trying to transfer these contacts but not even one method has worked for me. In fact, one method made me almost lose my contacts. Thankfully I had a backup. I want a safe and secure solution to move this amount of data without losing any of it. Can anyone suggest me something?
Now, with further ado let's jump into the procedure to migrate contacts from Excel.
How to Import Contacts from Excel to Gmail Manually?
Well, if you don't want t to spend money on an automated solution, then there is good news for you. Yes, you can import contacts from Excel without spending a single penny. And in order to do this first, you have to convert your file into CSV because Gmail does not support XLS files. It only supports CSV and vCard as a contact. Hence this manual process is divided into two steps, in the first step we convert the file into CSV, and in the second step, we import the converted file into the Gmail account.
#Step 1: Convert Excel XLS file into CSV Format
Follow the steps mentioned below to export Excel contacts to Gmail:
Firstly you have to open the Excel file using MS Excel.
Once the file is opened click on the File option.
Now, from the list choose Save As an option.
Choose the desired location to save the file and click on the.
Now, from the Save As window select CSV format.
After that enter the name of the file and click on the Save button.
#Step 2: Import Contacts from Excel to Gmail
Once the Excel XLS conversion is done, then open any browser.
After that, log in to your Gmail account.
Now, choose the Google Apps icon and then select the Contacts icon.
After that select the Import option from the left menu bar.
Now, click on the Select file option to add a CSV file.
Browse the CSV file that you converted in step 1 and then click on the Open button.
The process will task some time which is totally dependent on the size of the file.
Drawbacks of the Manual Method to Export Excel Contacts to Gmail
As we said above, Excel stores DATA in tabular form with specific fields, and in manual methods, there is a chance that you lose some of the fields. Also, there is a chance to lose data integrity during the importing process. And we know that losing data is very stressful. So if you don't stick in such type of situation, then keep reading the blog because you are so close to knowing the best way to complete this task.
Best Way to Import Contacts from Excel to Gmail
As we see above, the manual method has some limitations. So to fulfill all the limitations of the manual method and make the task much easier. Here in this blog, we are going to introduce one of the most amazing toolkits i.e., the Excel Contacts Converter. This tool can easily import multiple contacts from Excel. In fact, this tool offers a wide range of features. Using this tool you can convert Excel contacts into various file formats such as PST, PDF, HTML, vCard, TXT, and CSV.
Moreover, to preserve the fields and integrity of the data this software is highly recommended by professionals. So without wasting a time let's see how to export Excel contacts to Gmail using the tool.
Also Learn: Best Techniques to Import Contacts from Excel to Android Phone
Working Steps of the Tool
1. Firstly, you have to download the tool on your machine and then launch it.
2. Now, click on the Browse button to add the Excel Contacts file.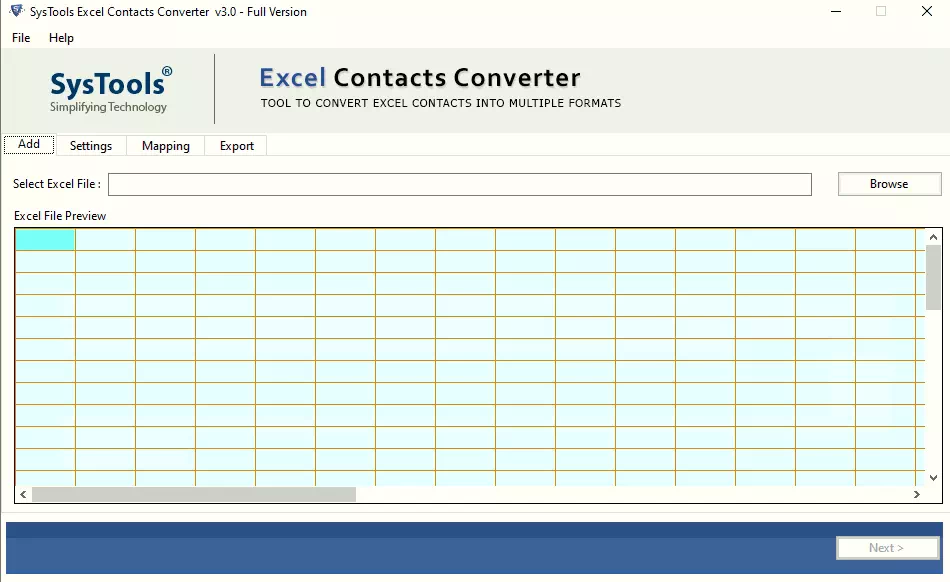 3. Once the file is added you will be able to see all your contacts in the preview window of the software.
4. Now, choose the CSV option from Export Option.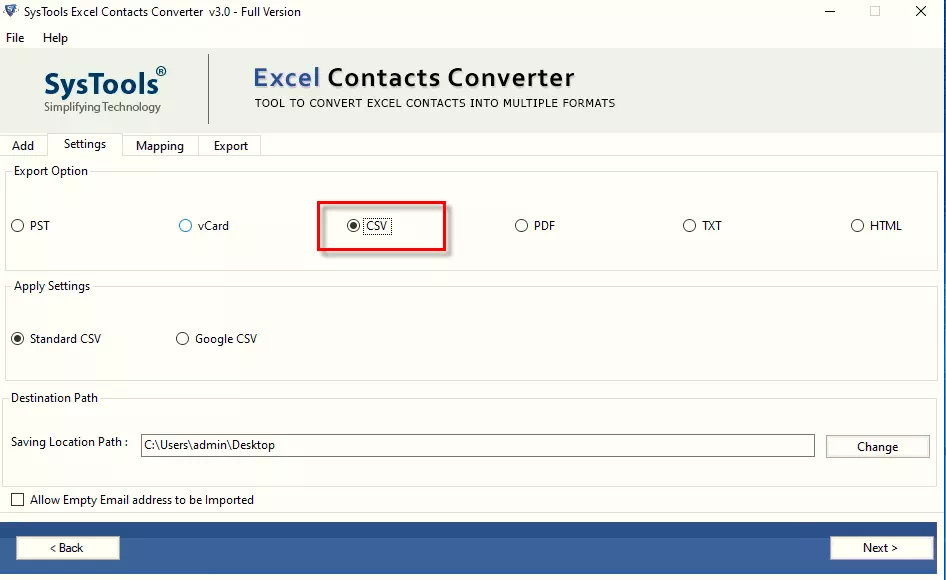 5. Select the Google CSV option under Apply Settings.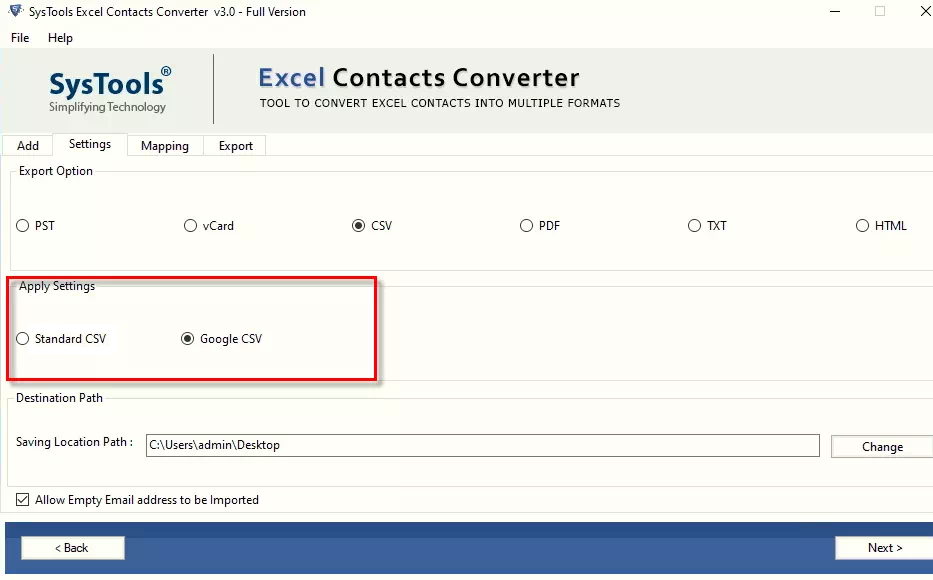 6. Choose the destination location to save the contacts list to CSV.
7. From the Mapping window, choose the Excel Fields and Export File Fields to map the Excel file.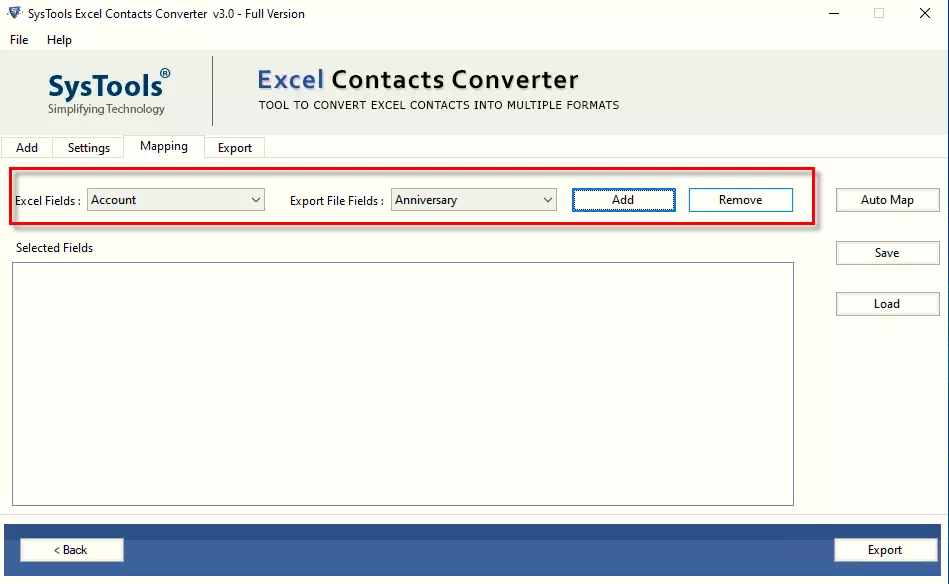 8. At last click on the Export button to start the procedure.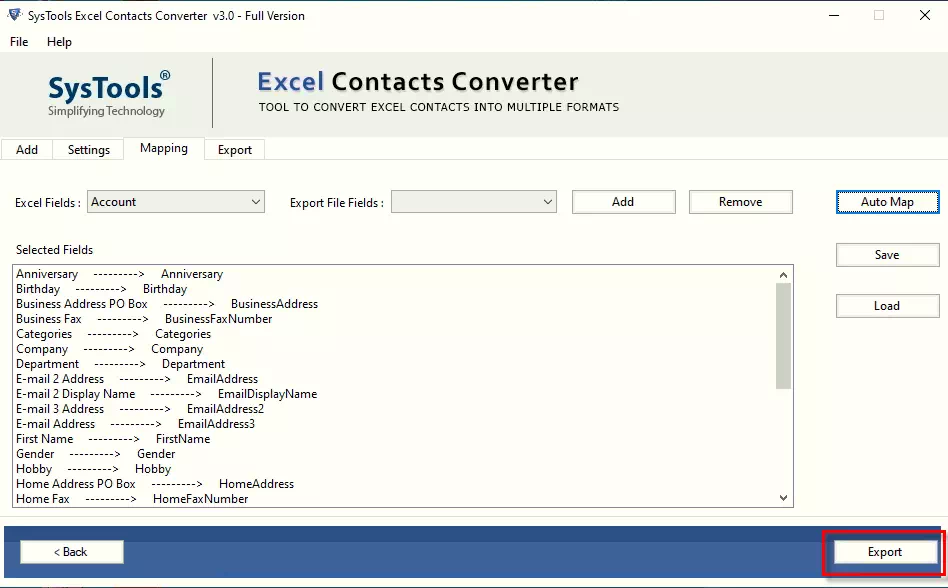 9. Once the task is completed, you can easily import the resultant to Gmail by using the above-mentioned procedure in Step 2.
Also Read: How to Import Contacts from Excel to Google Contacts
Conclusion
There are lots of queries asked by users for a way to import contacts from Excel to Gmail. So after considering the requirement here in this blog, we have discussed the two methods to complete this task. The first method is manual and the second one is automated so now, it is up to you to choose the right method.