Excel File
How to Import Contacts from Excel to Gmail? Complete Guide
If you are here then, it might be possible that you are looking for a way to import contacts from Excel to Gmail account. And if your answer is yes, then you are on the right page. Today here in this blog we are going to discuss the best and simple way to save all contacts to your Gmail account. So keep reading the blog and complete your task without any hassle.
Well, an Excel spreadsheet is widely used for saving data like contacts, because it offers a tabular form of structure to save your contacts list. In an Excel sheet, you can simply save contacts with attributes like first name, last name, email address, phone number, and many others. Hence it is quite popular. But one of the bad things about Excel is that the file is software-dependent. It means to open the Excel file you have to use any software that supports XLS, XLSX, or XLSM files. And that is the reason many users are not able to access their contacts.
On the other hand, Gmail is a free web-based email service offered by Google. Basically, it offers a wide range of features and you can access it on any device in the presence of the internet Hence, many users want to export Excel contacts to Gmail.
User Query
I have a huge amount of contacts in my Excel sheet and I want to move them to my Gmail account. I have been trying to transfer these contacts but not even one method has worked for me. In fact, one method made me almost lose my contacts. Thankfully I had a backup. I want a safe and secure solution to move this amount of data without losing any of it. Can anyone suggest me something?
Now, with further ado let's jump into the procedure to migrate contacts from Excel.
Converting Excel Contacts into Google Contacts Manually
Gmail doesn't support Excel file extension it mostly supports CSV and vCard file formats so it is very necessary to save Excel files as Gmail-supported files. However, you can follow the below-given steps to save Excel files as CSV:
Step-1. Properly arrange your contact information in an Excel spreadsheet.
Step-2. Separate columns and rows for first and last names, phone numbers, email addresses, and other information.
Step-3. Save the Excel file in CSV (Comma Separated Values)file format to import it to Gmail.
Step-4. You have completed the first part of the process of saving Excel contacts to Gmail. 
Note: For batch conversion of Excel contacts manual steps are very time-consuming. Therefore, read the upcoming sections to easily convert Excel spreadsheets to Gmail.
Best Solution to Import Contacts from Excel to Gmail
As we see above, the manual method has some limitations. So to fulfill all the limitations of the manual method and to resolve user queries about how to add contacts to Gmail from Excel and make the task much easier. Here in this blog, we are going to introduce one of the most amazing toolkits i.e., the Excel Contacts to VCF Converter Tool. This application can easily import multiple contacts from Excel. In fact, this tool offers a wide range of features.
Moreover, to preserve the fields and integrity of the data this software is highly recommended by professionals. So without wasting time let's see how to export Excel contacts to Gmail using the tool.
Important Tips: You can free download Excel to vCard Converter which allows users to convert only first 25 contacts of Excel files added as DEMO version. Users can purchase the fully licensed version and enable this utility to migrate Excel contact sheets without any limitation. The working of this amazing tool to import Excel contacts to Gmail is very easy and simple.
Also Learn: How to Import Excel Contacts to Outlook?
How to Import Contacts from Excel to Gmail? – Steps
There are two main steps you need to follow in order to transfer Excel file to Gmail profile. First, you need to convert Excel contacts to vCard and then import vCard to Gmail.
Firstly, you have to Download the Tool on your Machine and then launch it.

Now,

click

on the

Browse

button to add the Excel Contacts file.
Preview the Excel contact data and click Next.
Place the Excel field next to the vCard field and click Next.
In Export Options, check the required boxes and select the vCard version.
Click Browse to save the output and click the change button.
At last click on the convert button to start the procedure.
Import the Generated vCard to Google Account
Sign in to your Google account and click on the icon with three dots. Select a contact from the available applications.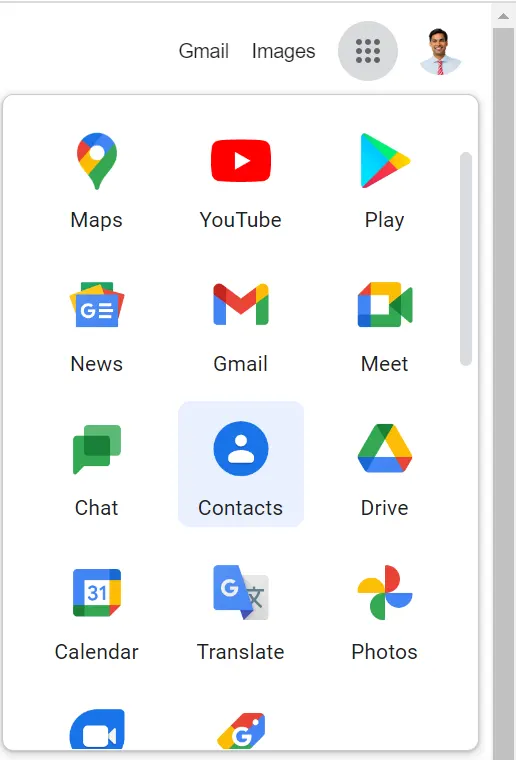 After that, select the import option.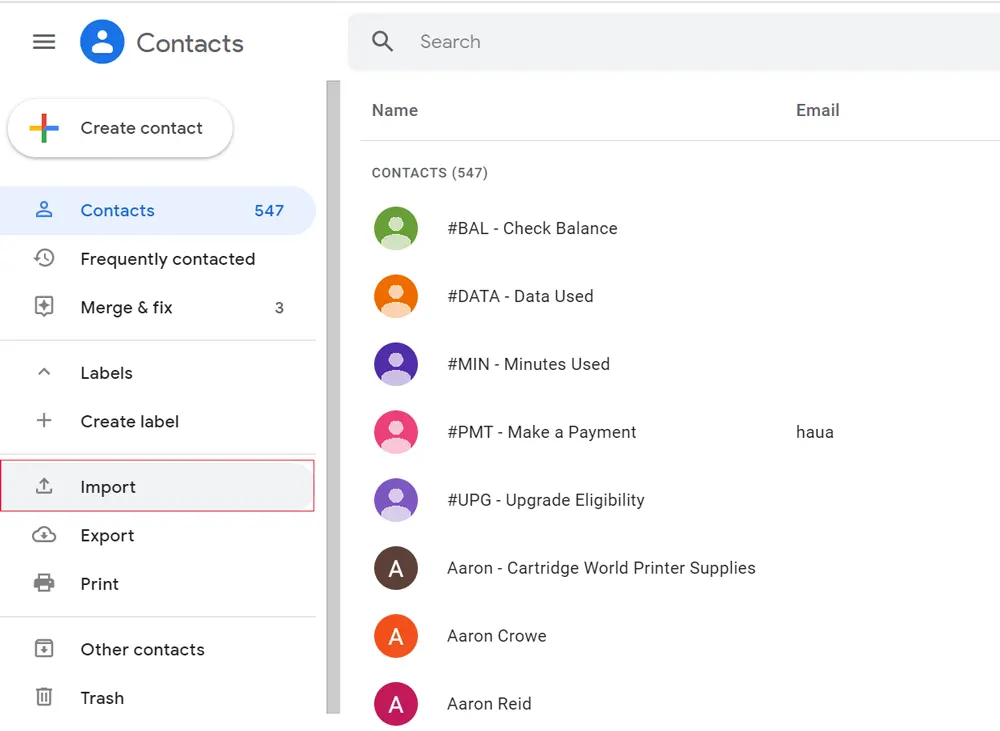 Click "Select File" and select the prepared vCard from your computer.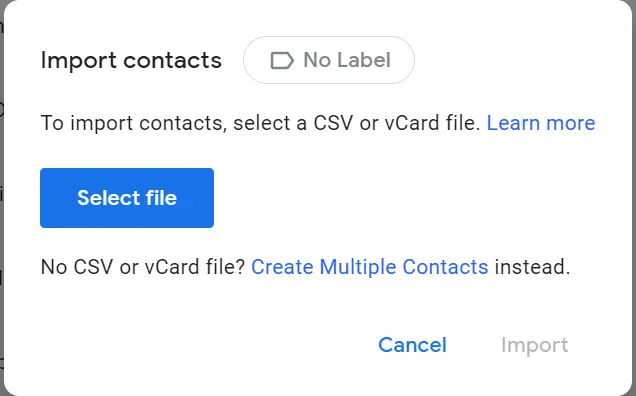 After selecting the converted all contacts file, click on Import.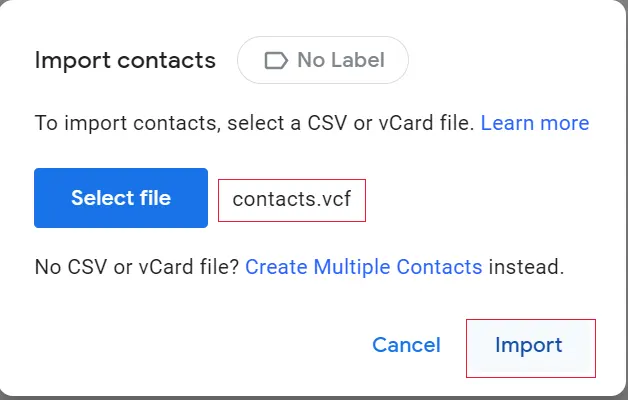 Then wait while contacts are imported from Excel to Gmail.
The task is completed successfully and you see the message, which means everything is done.
You can now view the imported contacts in your Google Mail account.
Conclusion
There are lots of queries asked by users for a way to import contacts from Excel to Gmail. So after considering the requirements here in this blog, we have discussed the two methods to complete this task. The first method is manual and the second one is automated so now, it is up to you to choose the right method.
FAQ's
Q.1. Can I upload a CSV file to Google Contacts?
A.1. Yes, you can import CSV file format to Google Contacts, Go to contacts.google.com then click import and choose CSV option to import CSV to Gmail.
Q.2. Can I use a free online Excel to VCF converter?
A.2. Yes you can use the online free converters to convert Excel files to VCF files. However, uploading your Excel file to an online converter means sharing your contact data with a third-party service which might store or misuse data, leading to privacy concerns. Therefore, we recommend you use the mentioned tool in this article for easy and secure batch conversions of Excel files.
Q.3. Is it possible to transfer multiple contacts from an Excel spreadsheet to Gmail?
A.3. Yes, you can use the mentioned automated tool to export multiple contacts from an Excel spreadsheet to your Gmail account.