Technology
How to Import Contacts from Excel to Google Contacts?
If you want to import contacts from Excel to Google Contacts, you must make sure your contacts are first converted to vCard format. Some users have a huge amount of contacts stored in an Excel sheet which is required to be saved as a VCF file since Google doesn't support importing XLS/XLSX files. This creates an issue for the users who have no knowledge of exporting the files to Gmail manually.
Now, as we know that Microsoft Excel is used to store and manage a huge amount of data and most users prefer saving contacts in a spreadsheet. This spreadsheet stores details like the first name, last name, phone number, email address, etc. The data is saved in XLS/XLSX file formats that are known to be non-accessible in Google contacts which is why this blog explains the solutions to transfer Excel file contacts to Google Contacts.
Let's understand the need for such a solution by taking a look at the following user query.
User Query – There are multiple contacts that I want to add to Gmail that is stored in an Excel spreadsheet as Gmail helps with accessing contacts on my mobile. Although, I have no clue on how to do that since I know that XLS files are not supported by Gmail. Is there any solution that can help me out in this situation? I really need some contacts to be saved on Gmail which is pretty important.
We have found various users asking similar queries for which we have decided to write this blog. Let's get going!
How to Import Contacts from Excel to Google Contacts?
Here, we have got two solutions that users can make use of and choose which one is the right one for them. Both the methods are divided into two parts i.e. conversion and importation. Check out these methods as shown below:
Both the solutions are explained below. Let's get started with the first method.
Instant Approach to Import Excel Contacts to Google Contacts
Google contacts only support CSV and vCard file formats to import the contacts and access them. With the help of the Excel Contacts to VCF Converter Tool, you can easily convert your files and save them as vCard files to your local storage device. Since vCard is an electronic business card, it stores the details of the contacts and is compatible with Android, Outlook, Google Contacts, iPhone, etc.
This tool will easily convert the data files with no risk of data loss and no file-size restrictions. It is compatible with all the Windows versions such as Windows 10, 8, 7, and below versions. There are various features offered by this tool to transfer Excel file to Google Contacts that you can make full use of as listed below:
It offers an option to Map Excel columns with the vCard fields
Preview the Excel spreadsheet with all the rows and columns
Capable of converting multiple Excel files in batch mode
Option to create a single VCF file for every contact
There is an option to import empty email addresses as well
Also, provides multiple naming convention options during the migration process
It is important to have Excel installed on your system during the conversion
Other than this, the tool has a pretty easy-to-understand interface which makes the conversion procedure easier to undertake. Let's take a look at the steps for it.
Section 1: Steps to Import Contacts from Excel to Google Contacts
Now, follow the following listed steps to start the process to import:
Download the Software and click on the Browse button to add the files to the software
Select the files from the storage and click on the Open button. Hit Next
Now, map the Excel Fields with the vCard Fields and hit Next
Mark Allow Empty Email Address to be an Imported option and choose the vCard version as per your requirement
Click on the Change button and choose the desired location for the result. Hit Convert
Once the process is completed you will be able to view the converted files in your desired location. Let's get going to the method to import these files to Google Contacts.
Section 2 – Import vCard Contacts  to Google Contacts
Enter the Credentials for your Gmail Account to log in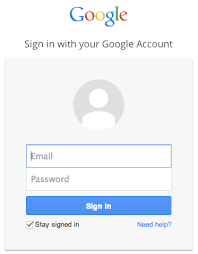 Select the Google Apps icon and choose Contacts from there
Now, a new window will open up. Click on the Import option there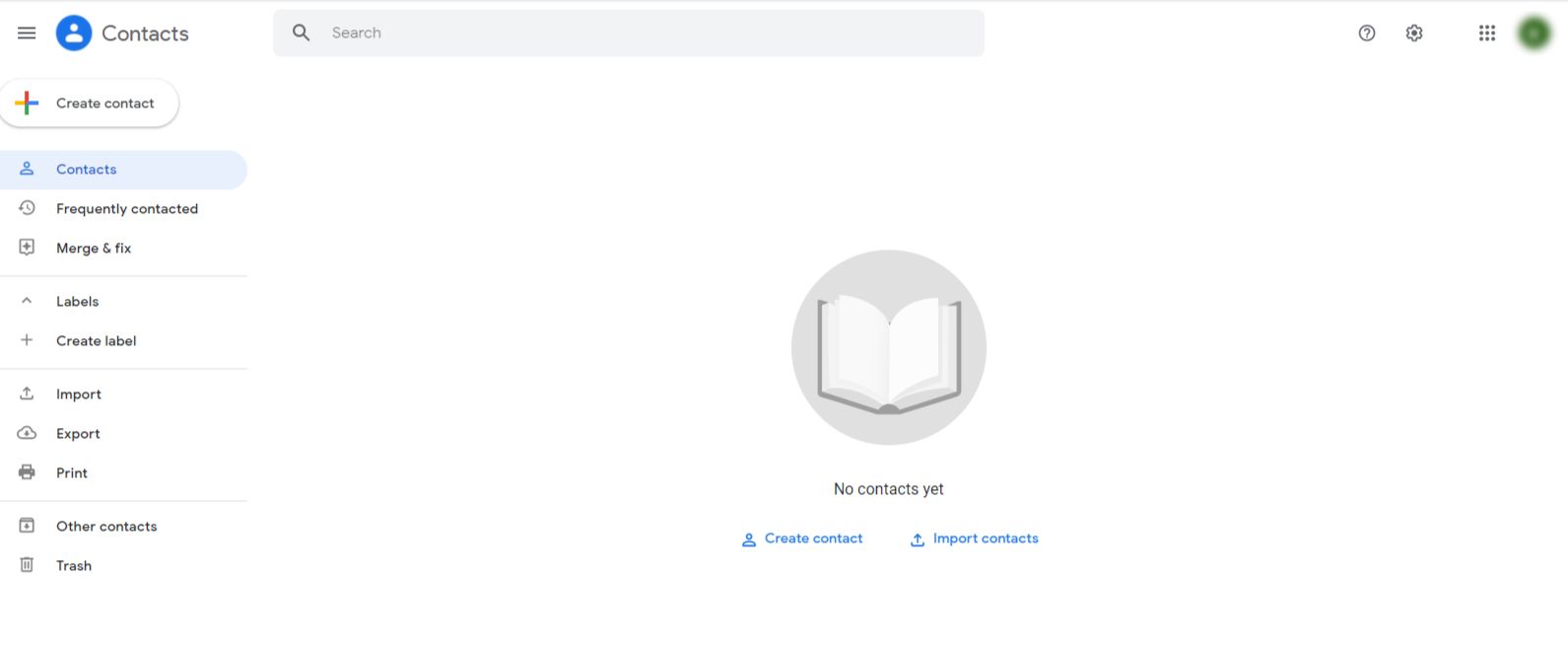 Choose the Select File option and choose the vCard file you have just converted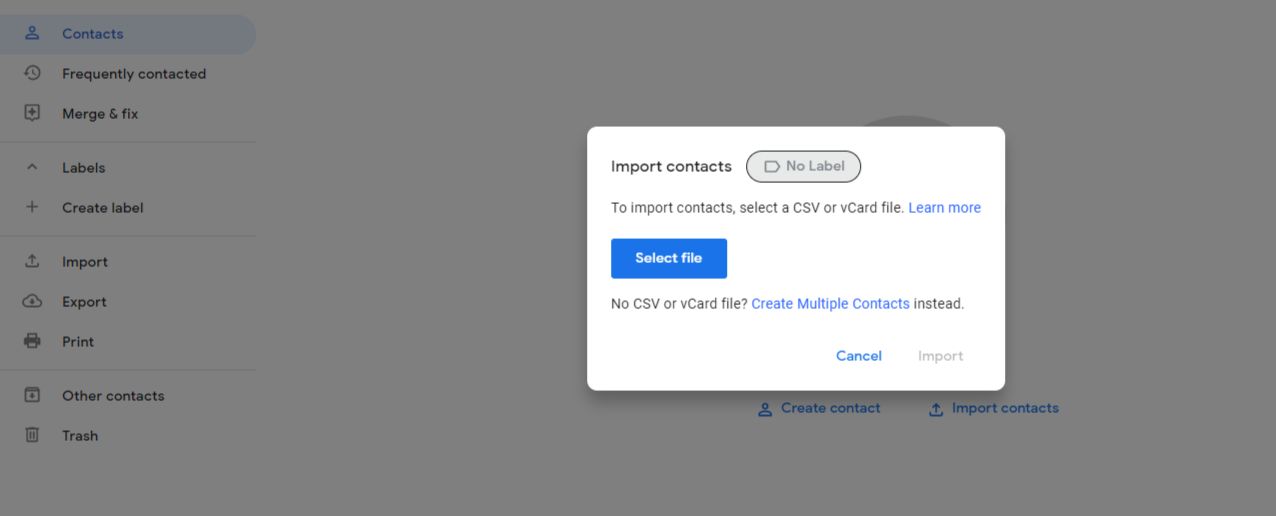 Once the files are added, hit the Import button and wait for the process to finish.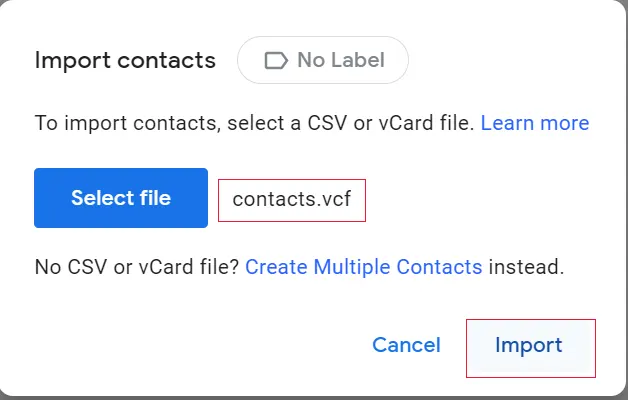 This way, all your contacts will be imported to Gmail without any data loss in an accessible file format. Now, for those users who won't go for not so reliable but a free method. Skip to the next section.
Manually Import Contacts from Excel to Google Contacts
The manual solution is also divided into two different segments that we are going to explain below. First, we will be converting the files into CSV format and then importing the converted data into Gmail. The following segments contain the methods for each.
Section 1 – Converting Excel Spreadsheet to CSV
Start by arranging the information properly in an Excel sheet
Create separate rows and columns for the First Name, Last Name, Phone Number, etc
Click on the File tab and choose Save As option
Mark CSV format and hit Save.
Now, complete the process by importing these files.
Section 2 – Import Excel  File to Google Contacts as CSV Format
For this method, follow the steps shown in section 2 of the instant solution. You just have to add the CSV file that you converted and follow the procedure as same.
Closing Lines
Contacts are an integral part of a user as these contacts hold a lot of information about a user than just the name and the number like company name, email address, home address, etc. All of this information can easily be stored in an Excel spreadsheet since it stores data in rows and columns. Now, these contact files cannot be used on the mobile phone of a user. For that, users have to import contacts from Excel to Google Contacts to be able to use these contacts from their phones as well.