Excel File
How to Import Excel Contacts to Thunderbird in a Seamless Manner?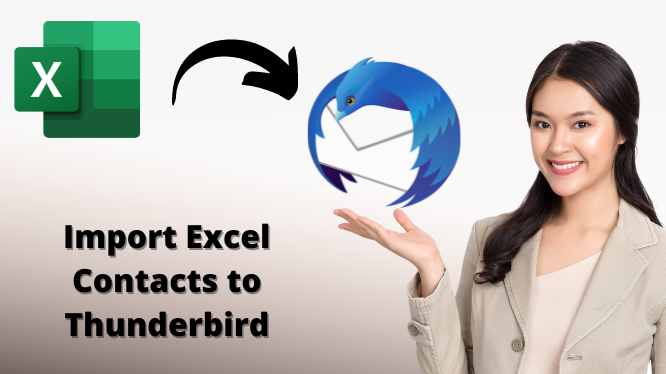 "I am having an Excel file containing a list of around 100 contacts with all details. Now, I want to move all these in my Thunderbird account. But, I don't know how can I import a list of so many contacts in a single go. Therefore, I am looking for a solution that let me import Excel contacts to Thunderbird in a fast and quick way. If anybody know any solution for the same, please suggest."
Mozilla Thunderbird is one of the widely used email clients among users as it is a free and open-source application. It is simple and reliable with all the required features to meet today's user needs. As it is a desktop-based application, it let users store and access data locally on the system. Like any other email client, Thunderbird mailbox also contains emails, contacts, calendars, etc.
Now, in Thunderbird Address Book, a user is allowed to maintain the list of contacts with all respective details for easy access. However, a user is allowed to import and export contacts as per need also. To avail of this facility, a user sometimes tries to import contacts from Excel to Thunderbird to access the contact list in it. But, the problem is Thunderbird does not provide an option to import .xlsx or .xls files of Excel.
At this point in time, a user starts looking for solutions to import contacts. In order to know the method for the same, read the blog below and get your solution here.
Proper Solution to Import Excel Contacts to Thunderbird
There are some situations in which a user saves a contact list in MS Excel XLSX file format. Now, as it is a list of a large number of contacts so, a user can move it to the email client and access it in a proper way. Thunderbird is one of the topmost choices among the users but it does not support .xlsx or .xls file format. When a user needs to import contacts from Excel to Thunderbird, he or she needs to export the XLSX file to vCard format. Now, there is a manual solution available for the same.
In order to convert Excel to VCF format, a user can take the help of Excel Contacts to VCF Converter application. The software is designed in a manner that it exports contacts XLS contacts file to VCF format in no time without any hassle. In order to know the seamless and foolproof method for the same, follow the steps mentioned below:
A free download Excel converter that allows the user to export the 10 contacts from each folder as a demo model. Users can purchase a full license and then activate this tool to enjoy unlimited editing of Excel spreadsheets. Transferring contacts from Excel Converter is very simple and easy with this amazing tool.
Step by Step Guide to Import Excel Contacts to Thunderbird
There is no direct solution available to import the selected file to Thunderbird. It is divided into two parts:
Step 1: Convert Excel Contact File to vCard Format
First you Need to Download and Install the software
click the Browse button to select the Excel contact file
Select the Open button to import Excel into the Thunderbird address book
Now you will be able to see all the people who are in the Excel file from the interface of the software
You can also connect Excel fields to Outlook features to transfer contacts from Excel to Thunderbird
Click the Next button. In the "Export" section, you can choose the location as you like
Now, Select the Change button to select the appropriate location to save the contact file
Finally, click the "Convert" button and the software will start the process of converting Excel contacts to vCard file format
After converting to the vCard format of the desired version using the application, a user needs to import the resultant file in the Mozilla Thunderbird application to complete the process to transfer Excel file to Thunderbird.
Now, if you want to know the steps to move this file into Thunderbird, simply follow the steps mentioned below:
To begin the process, open the Mozilla Thunderbird application on the local machine.
After that, click on the Address Book tab and then on Tools Import.
Now, an Import Wizard will appear in front of you. Here, choose the Address Book option in the Select the type of material to import option. Then, click on the Next button.
Next, you need to choose the vCard file (.vcf) option to import contacts from Excel to Thunderbird.
After that, choose the vCard file that you have created in step 1.
At last, click on the Open button to upload it. Click the OK button to complete the process successfully.
Here, you can check in the Thunderbird address book the process to transfer Excel to thunderbird is successful.
Important Features of this Software
It is one of the popular applications to deal with Excel files. Some of the advanced features offered by this software are:
Capable to export any number of contacts from an Excel file
Options to create single or separate VCF files for each contact
Export all details like address, email, and phone number to VCF
Allows mapping of all Excel fields and vCard attributes
Option to import Empty Email address field contact to vCard
Option to create vCard in three versions i.e., v2.1., v3.0., v4.0.
Supports all versions Microsoft Windows operating system
Conclusion
Management of contacts is really important for the users. Therefore, they store a large number of contacts in an Excel spreadsheet. Now, to access these contacts in a quick manner, they always try to import them to their respective email application. Like this only, the blog will let you all know how to import Excel contacts to Thunderbird in a seamless and reliable manner.