Uncategorized
Simple Methods to Import Google Contacts to Outlook 2019
Google Workspace, also known as G Suite, is a SAAS service provided by Google for educational or commercial purposes. It can also be used for personal use. Outlook comes with the Office 365 suite of applications or as a desktop email client. Outlook's popularity far exceeds that of Google Suite applications. As a result, people and organizations have a tendency to move Google Workspace to Outlook. Due to the account transfer, all important documents, contacts, calendar data, mailboxes, etc. They need to be transferred to Outlook. The following article discusses the latest technology on importing Google contacts to Outlook. Users may also understand the need to export Workspace to Outlook and how to implement it.
User Query 1: I have to move my contacts from G Suite to Outlook as I am planning to ditch Google Workspace for a while. Is there an easy way to export G Suite Contacts to Outlook?
User Query 2: I am working with an organization that plans to move from G Suite Services to Office 365. We are having a lot of important clients and all their contacts have to be moved to Outlook account. We can't afford any sort of data loss. Can anyone suggest any easy method to import Google contacts to Outlook?
2 Manual Solutions to Add Google Contacts in Outlook
1. Export G Suite Contacts to Outlook Using Export Option
For transferring contacts from G Suite to Outlook, the following steps can be used.
Sign in to the G Suite account an open the Google contacts
Use the check boxes to choose the contacts which you want to migrate to Outlook
Click on More option and then on Export
From the Export options, select Outlook CSV/ vCard format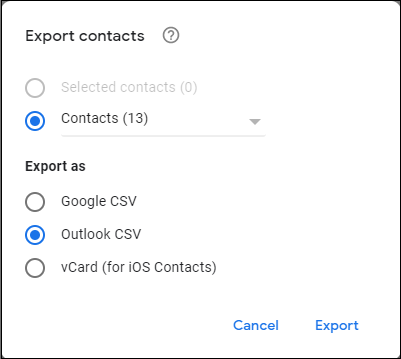 .csv or .vcf files is automatically downloaded location on your PC
Using Import/Export option add the CSV/ VCF file to MS Outlook
2. Google Workspace Download Contacts Using Google Takeout
Google Takeout is provided by Google so as to create archive of Google Workspace Data. For Downloading G Suite contacts, following steps can be used.
Log in to G Suite account and open My Account
Click on "Personal Info & Privacy" and then on "Control your Content"
Proceed to next step by Clicking on Create Archive
Select the data to be included in the archive file (here choose contacts option)
Choose the file format (CSV, vCard or HTML) in which contacts have to be transferred
Select the compression file format and click on Create Archive
Click on Create Archive & then download it from Manage Archives
Extract the zip file and to access the files
Import the files to MS Outlook
Limitations of Manual Methods:
CSV files will not preserve attachments and images associated with contacts
VCF files when accessed opens in one by one manner which becomes hectic in case of large number of contacts
Time-consuming
Import Google Workspace Contacts to Outlook Using Expert Solution
The manual method above can be extended to some extent. However, using manual solutions to manage important confidential data is not a wise decision. To overcome the confusion and problems caused by manual methods, you can use a third-party solution called Google Workspace Backup Tool, which allows you to easily add Google Workspace contacts to Outlook.
Import Gmail Google Contacts to Outlook Using Expert Solution
We have another software solution to import Google contacts to Outlook 2019 and below versions. The only difference is that this method is for simple Gmail users and does not apply for Google Workspace domain users.
You can download and try this Gmail backup tool for free using its demo version. If you are satisfied with its working, go for the full version.
Wrapping up:
It is always to go for an expert utility while dealing with important data. Because by using manual solutions, there is no guarantee that your data is secure and is in safe hands. If you care for the confidential info that you possess, then go for Google Workspace Backup Tool. It helps you to save the Google Workspace Contacts in vCard format which lets you add them to Outlook for further use.