G Suite
Import G Suite Email to Outlook with Simple Methods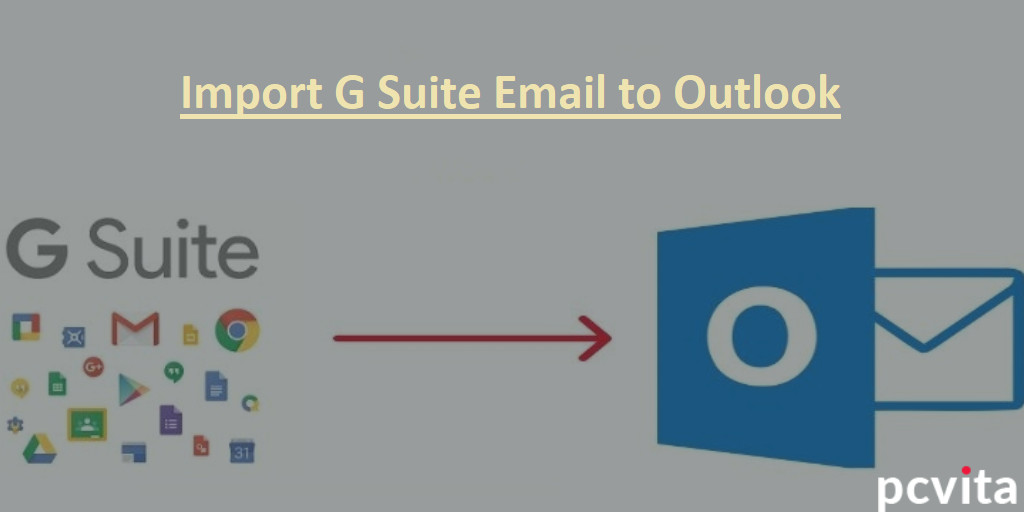 Cloud has taken over the task of data storage and is now establishing itself in running applications over the internet. Platforms such as G Suite and Office 365 have played a major role in working over the cloud. Users can manage their emails, contacts, etc., and even work with documents over the cloud. But sometimes, it is necessary to work offline as well. As a result, some users wish to access their emails in desktop email applications.
Today our focus is on G Suite and how users can import G Suite email to the Outlook application. MS Outlook is the most popular desktop-based email client and is available both as a standalone and as a part of the Office 365 suite. To know the solution continue reading this one for adding g suite email to Outlook.
Techniques to Configure G Suite Account in Outlook
After adding a G Suite account to Outlook, users can access G Suite emails in Outlook at any time. It synchronizes the data between the two applications and lets you work with your emails on your local system.
Tip: Before starting make sure that 'Enable less secure app' is marked in G Suite mail authentication menu. You can also generate and use password for Outlook to overcome configuration failure (if it happens).
Here's how it works:
Run MS Outlook on your system, and hit the Tools menu.
Select Account Settings and click New in the Mail tab.
Choose an email service by selecting IMAP and click Next.
Input your G Suite credentials: name, email address, password
Check the box associated with 'Manually configure server settings or other types of servers and click Internet E-mail.
Now, go to Settings and input your name, and email address.
Go to the Account Type section and select IMAP, and enter the following:

Incoming Mail server: imap.gmail.com

Outgoing mail server: smtp.gmail.com

Now, click Tools, select Options, and click Mail Settings.
Choose an Internet e-mail account and click on the email account.
Once you select the G Suite account, choose Edit option.
Hit the More Settings button, click on the Advanced tab and enter the following details:

Incoming server – 993 with an SSL encryption

Outgoing server – 587 with TLS encryption

Then click Ok, Next, End, Close, and OK in that order.
The configuration process is complete. It will g suite email in Outlook and allow you to work with the emails in a seamless manner.
Import G Suite Email to Outlook with Professional Tool
Arguably the best way to get this task done is to use a professional tool. Simply use Google Workspace Backup Tool and easily add G suite email to Outlook in a hassle-free manner. This application can also able to export g-suite to pst.
This solution processes G Suite emails and creates UNICODE PST files. You can import these files in Outlook directly. This method works for Outlook 2021, 2019, 2016, 2013, 2010, 2007 & 2003. Furthermore, you can also batch process multiple G Suite user accounts at once, and even move the contacts and calendars along with emails to Outlook. 
Other advanced options include date-range filters, categories, delta backup, user priority, etc. You can download and use the free demo version of this software to ensure that it satisfies your requirements.
Steps to Import G Suite Email to Outlook
Run the professional tool and click the Backup button.
Next, choose G Suite as the source platform.
Then, select the workload that you want to export, particularly Email.
Enter the admin id and other details you obtain during executing the pre-requisite step.
Choose the location to save the file.
Click on Fetch users to get the list of all G Suite user accounts.
From this list, select the ones that you wish to import from G Suite to Outlook.
Click the Start Backup > Start button to start the process.
Once the process completes, you will have the Outlook data files. Now, you will need to import them in Outlook:
Open MS Outlook.
Go to the File menu and click the Open & Export option.
Choose Import & Export option and click Import from another file or program.
Select the Outlook data file and proceed to the next window.
Browse the select the Outlook PST file obtained via the professional tool.
Choose other preferred options and finally click Finish to finish the import process.
Last Words
This is how you can easily import G Suite email to Outlook. The whole process is easy to understand and implement. There are no hassles, unlike the previous two methods. Also, you have the freedom to import emails from multiple G Suite accounts into Outlook at once. It is clear that this professional method is more impactful and easier than the other methods. But in the end, it's your decision to choose the method to your liking. We have covered all the popular techniques and now it's time for you to make it your own.