Excel File
How to Import Office 365 Contacts to Android? Using Two Secure Methods
Are you using the Microsoft 365 platform and want to import Office 365 Contacts to Android phone? If so, you've come to the right place. This article gives you step-by-step instructions on how to transfer Office 365 contact files to Android.
"Hi everyone! From past few years I am using Office 365 for Business on a monthly subscription. Recently I have purchased an Android phone and configured my Office 365 account in it and it has all my contacts, emails, and calendar perfectly. But, the native android contacts app that is supposed to sync does not have all the contacts on it. What is this issue and why is this? How can I move Office 365 contacts data to Android ? Please help!"
If you have moved on from Windows Phone or got an Android device then, you may likely want to migrate all data from your Office 365 account to new phone. This article will show you that how to set up an Android smartphone or tablet to sync contacts, emails, and calendars with Office 365. The following are the methods to perform the procedure;
Let's get going with the methods to import the contacts.
How to Import Office 365 Contacts to Android Phone?
Below are the instructions to transfer or move Office 365 address book to Android smartphones. The mentioned method is to sync Office 365 Contacts with Android phone and is applicable to all android phones such as Samsung Galaxy, OnePlus, Lava, Nokia, Oppo, etc.
Note: There are several versions of the Android OS hence, the icons and wordings may vary.
1. Open Settings of your Android smartphone.
2. Tap Accounts & Sync menu option.
Note: Some smartphones do not have this option so you can skip the next step.
3. Click on Add Account.
4. Select Corporate or this option can be named Microsoft Exchange/ Exchange/ Exchange Activesync.
5. Enter the email address and password of your Office 365 account. One can also choose to set this email id as default email account when sending email from this device. Afterward, tap Next to import contacts from office 365 to android mobile.
6. It depends on the mobile device and the way things have been configured for your domain name (DNS records). Enter the following information:
–> Domain\ Username: user@domain.co.nz
–> Password:<Your_Password>
–> Server: outlook.office365.com
Note: On some smartphones, username and domain fields are separate. In that condition, leave domain field blank.
7. Make sure Use secure connection (SSL) and Accept all SSL certificates boxes are checked. After filling Account Setup section, tap Select >> Next
Note: Your Phone also Might be Configured Automatically
8. After this, your phone will verify the server settings online. In case, if it fails then, return to the Incoming Settings page and check if the spellings you have entered are right; especially the password.
9. If all information is accurate then, it will ask to accept the IT policy for the company. You have to accept the policy via tapping OK. Otherwise, cannot sync mail.
10. Select the desired syncing options and tap Next to shared Office 365 address book/contacts into Android.
11. Now, enter a name for the account (for example, Office 365) and tap Next.
12. Eventually, you need to Activate the account. After that, your email, contacts, and calendars will start downloading to the device.
Automatic Solution to Import Office 365 Contacts to Android
The most reliable solution is the Export-Convert-Import method. This solution is divided in three simple techniques that we are going to explain below. In the first section, we will be exporting the contacts to as .csv file so that we can convert them into vCard format which is the second step. The final section contains the method to import the resultant files in Android phone. Well, let's get started on with these methods.
Section 1 – Export Contacts from Office 365
In this step to transfer contacts from to Android, you have to follow the steps as mentioned below to get .csv files:
Log in to your Office 365 account to initiate the process.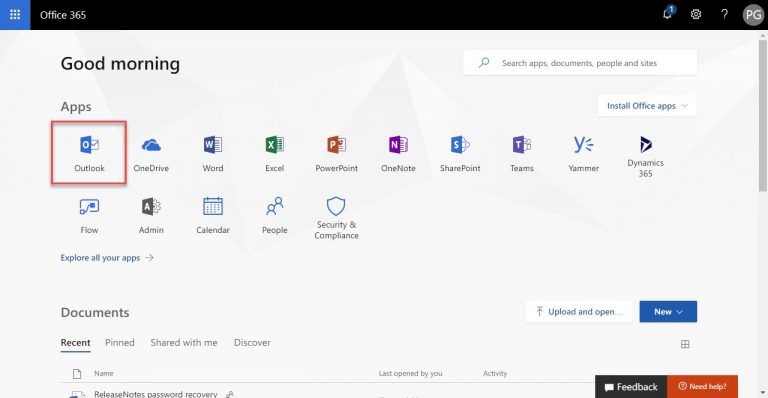 Click on the App Launcher on the top left corner of the window.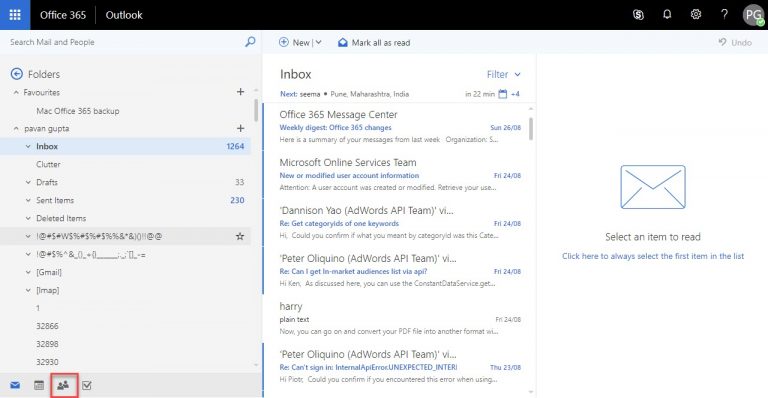 Select the People option and press the down arrow besides Manage option.
From the drop-down menu, choose Export Contacts option.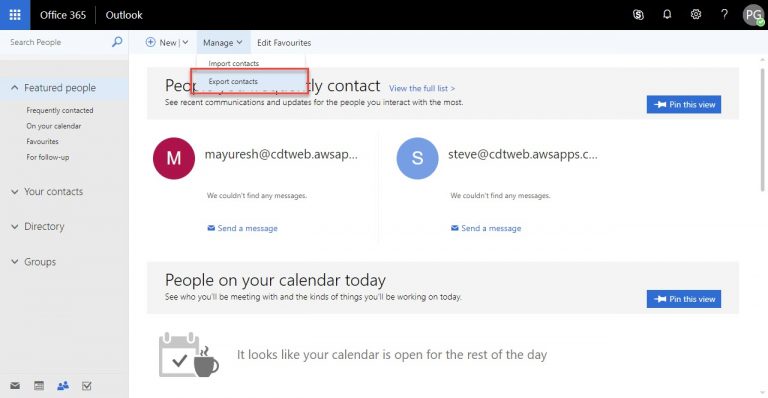 Hit Export and the contacts will be saved in a CSV file on your system.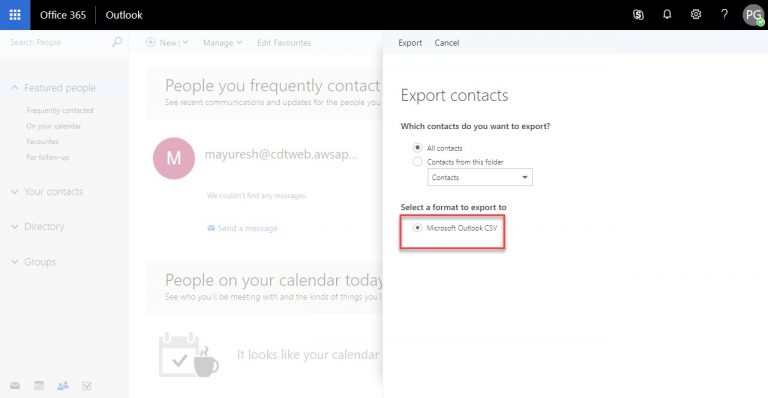 Now, once the process is complete, you have to now convert these files using the next method. Let's get going!
Section 2 – Convert Exported Files to Android Supported File
As soon as your CSV file is saved on your local machine, you have to use the XLS Contacts to VCF Converter Tool to convert these files to vCard format to import Office 365 contacts to Android.
There is an option provided by the tool to create single VCF file for each contact as well as import the empty email addresses fields. You will be able to map the excel fields as per your requirement along with multiple naming convention options. Let's check out how to convert the files to require format.
Steps to Import CSV Contacts to Android Supported VCF 
Follow the given working guide to perform the conversion task:
Download the software on your Windows machine and click on the Browse button to select the contact files.
Add and preview the CSV file containing all the contacts.
Match the Excel Fields with the vCard Fields and click on the Next button.
Choose the vCard version and mark the Import Empty Email Addresses checkbox. Hit Export. 
After converting the contacts files, let's move to the third method which is to export these to Android phone.
Section 3 – Import Resultant Files to Android Phone
Once you have your vCard files, follow the steps discussed below to complete the procedure to import Office 365 contacts to Android:
First of all, click on the Contacts icon on your Android mobile
Choose on the three vertical dots and a drop-down menu will appear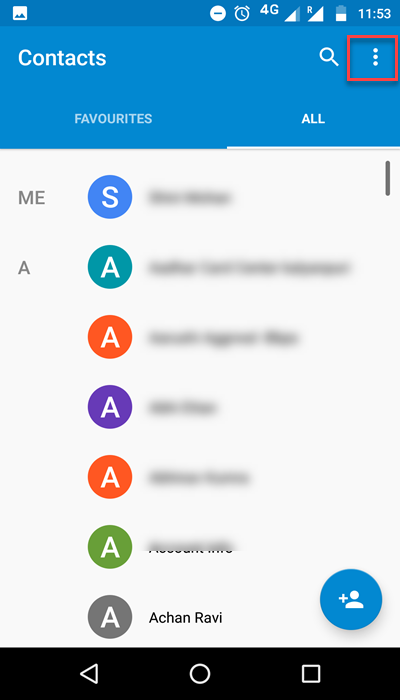 Select Import/Export option from there and a list of options will open up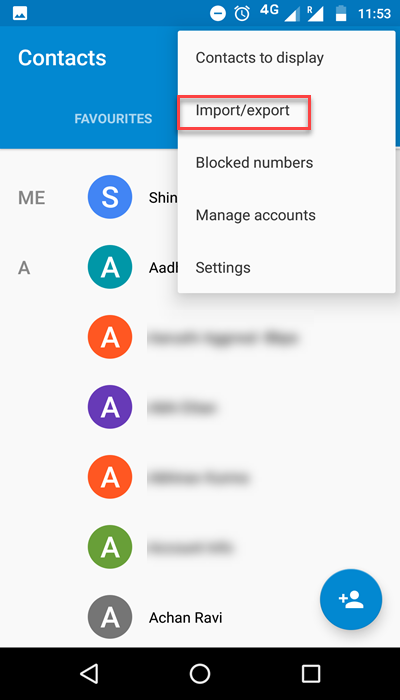 Choose the Import from .vcf file option and select the location where the files are saved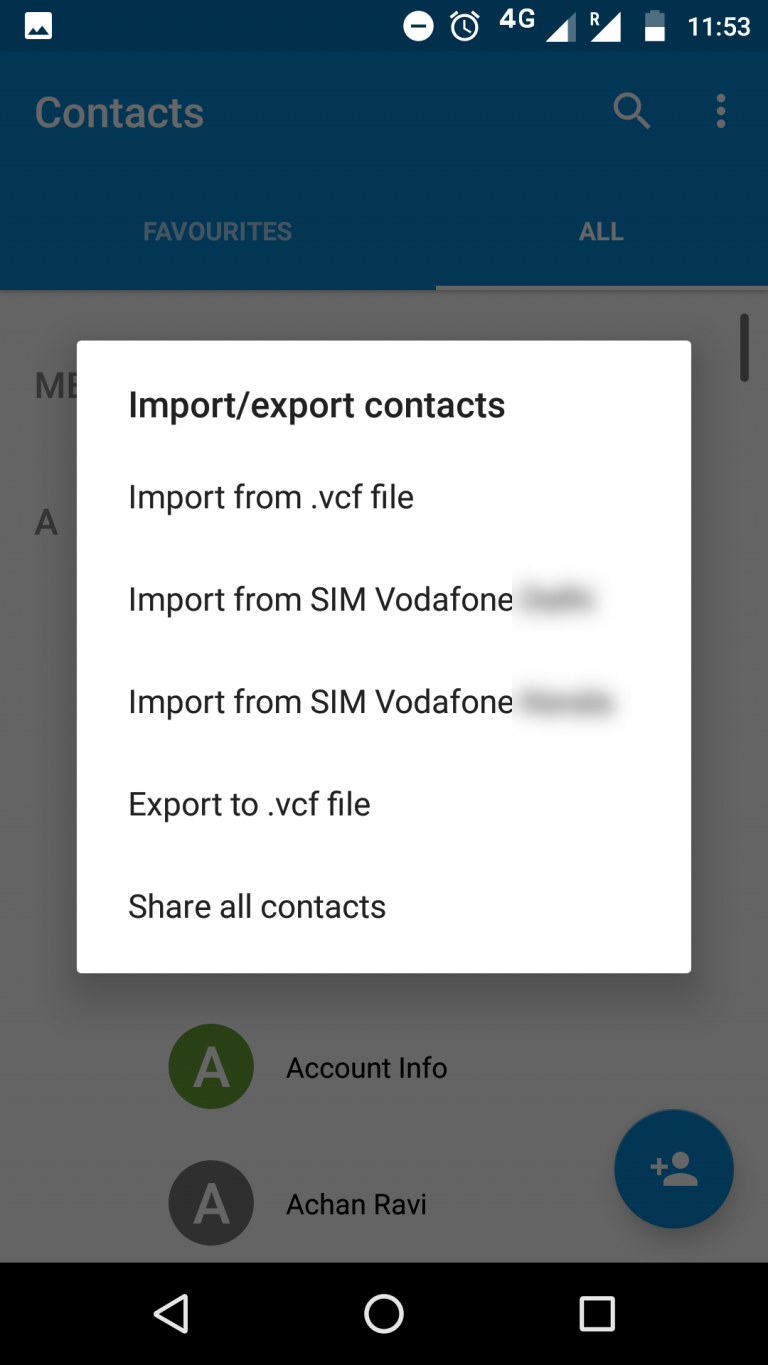 The files will start to import and soon the contacts will be imported and accessible.
This is entire procedure which is easy-to-understand and can quickly import the contacts without any risk of data loss.
Summing It Up
Microsoft Office 365 is a cloud-based service that includes Exchange Online, SharePoint Online, and many other solutions. In order to import contacts from Office 365 to Android Smart Phones, Tablets, etc., we have discussed some simple solutions here. Now, to Import Office 365 contacts to Android, users can opt for any solution according to their convenience and preferences.