Archive
,
G Suite
How to Archive G Suite Email from User Mailbox? [Solved]
You are here because you need to archive your G Suite email. The reason may differ from archiving a mailbox after an employee left the firm or simply backing up the mailbox data. Well, instead of prying into the reasons, allow us to focus on the more important things – Archiving G Suite Emails by Admin or Normal User.
As for the methods, they are as follows:
Archiving helps in G Suite data protection. Let us start with the method explanations. Do read them all before choosing and implementing the solution.
Detailed Methods to Archive G Suite Emails
I. Synchronize User Emails with An Email Client
This may seem a little tricky at first, but it's a fairly easy process. What you need to do is use a desktop email client like Outlook to synchronize the G Suite account and simply make a PST file containing all the emails. You can even do this in Thunderbird and create a MBOX file instead.
Note: This is not feasible if you wish to archive the mailboxes of all G Suite accounts.
You may be well aware of the mechanism to configure the account, but we will still provide instructions just to be safe.
Run Outlook, go to File and click on Add Account.
Enter G Suite user credentials, hit on the Advanced tab, select "let me set up my account manually", then hit Connect.
Choose IMAP as the account type, and enter the details:

Incoming Mail Settings: imap.gmail.com, server/port no. – 993, encryption – SSL/TLS

Outgoing Mail Settings: smtp.gmail.com, server/port no. – 465, encryption – SSL

Then, hit Next.
Enter the G Suite password, click Connect, then OK.
All the emails will be synchronized with Outlook, and now you can easily export the emails as PST files using the Import/Export feature. These take care of the archiving G Suite email.
II. Use Google Takeout Facility to Save G Suite Emails
Another method to archive G Suite emails of individual user accounts is to use the TakeOut service.
Again, this is feasible for normal users and not admin users that wish to archive multiple users at once.
The steps, roughly, are as follows:
Sign in to your account after opening https://www.google.com/takeout.
Hit Deselect All Items and then go on to select only the Mails option, then click Next.
Choose the ZIP folder for the delivery method, as it is slightly lower in size compared to TGZ for the same amount of mailbox storage.
Choose "delivery via email" along with other details as necessary and click Create Archive button.
Now, wait patiently for Google to compile the data (you may close the browser).
In a few hours/days, you will receive the download link. Click Manage Archive in it and download all the data in compressed format.
III. Archive G Suite Emails with G Suite Export Tool
It is a good means for G Suite admin to download user data. But at the same time, it will take time to complete. And there are also chances of failing the method, although it won't affect your data.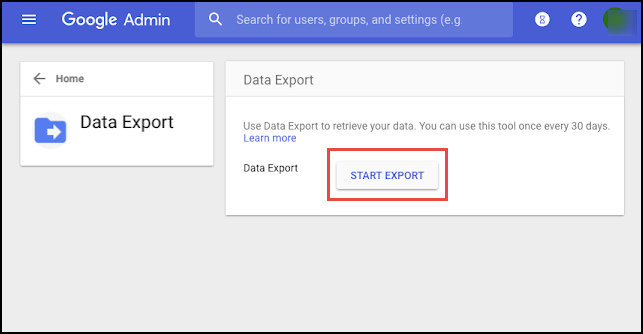 Anyhow the process goes as follows:
Login with admin credentials into your G Suite account.
Open the Admin Console.
Click on the "<" arrow on the top right of the screen and click on Data Export.
Finally, hit Start Export button.
It will take a considerable amount of time (more than a week) for Google to process all the G Suite users' data and then provide you with the confirmation email.
Open the email and use it to download the archived G Suite emails of multiple user accounts.
Note: You won't have any say in what data, whose data, and how much data, is to be archived. This process includes them all and hence it somewhat less preferred when wanting to archive only Google Workspace emails.
IV. Automated Tool to Archive G Suite User Mailbox Emails
Have you noticed that none of the previous methods provide a way to archive specific users' mailbox accounts? Well, this one does provide such an option, although not mandatory.
Plus, you also get date-range filters, data categories to choose from, an option to import only specific users, and more.
This method uses the Google Workspace Backup Tool and its wide set of features to archive G Suite user data. The user data can be of an individual account or multiple G Suite accounts at once. The best thing about this utility is it export G Suite to PST.
Generate a backup of G Suite emails, calendars, contacts, and documents without fail. So that if unintentionally data gets removed from Google workspace mailboxes, the admin can recover it from Google apps backup was taken with this utility.
Note: To convert G Suite emails into EML, MSG, MBOX and PST file format with the help of G Suite Export Tool. Free download this tool after click on the below link.
Steps to Archive Google Workspace Email
As for the detailed guide, refer to the product page (link is given above). In brief, the instructions look like this:
Run the tool and click the Backup button.
Choose G Suite, apply filters, and choose the data category option that you want to archive.
Enter the Admin id of G Suite, service account, and certificate file that you will find during the pre-requisite.
Provide a destination location to save the archived files and validate it.
Use either way to import the list of users that you want to archive and click Next.
Validate the imported users, then click on Start Backup >> Start button.
Summarizing Things Up
There comes a time in every G Suite admin's life when he/she needs to archive G Suite email from single/multiple user mailboxes. We have summarized four methods for this Google Workspace mailbox archive process. One of them provides a way to automatically delete your data once it's archived. You may read all the methods and choose one as per requirements.