MBOX
How to Convert MBOX to HTML Easily?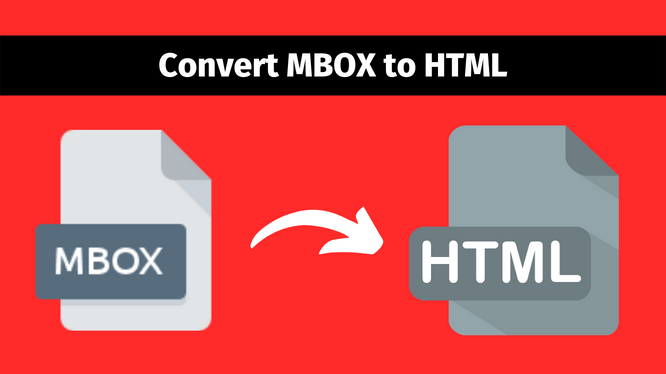 Summary: MBOX is a popular file format for storing mailbox files. A lot of email clients use it for that purpose. Although it is quite a simple format, it renders some issues when switching to other file formats such as HTML. How to overcome such issues and convert MBOX to HTML format is the focus of this article.
An Overview of MBOX File – MBOX saves everything in a concatenated manner within a text file. It is capable of storing multiple email messages with attachments in a single file. It was first introduced to be used on the Unix platform. However, with its simple structure, it has become the dominant format used throughout Thunderbird, Eudora, Apple Mail, etc. across multiple Operating systems.
An Overview of HTML File – HTML is the most basic requirement of web pages. It can be displayed in web browsers. This file is easily editable with text editors.
Why Convert MBOX to HTML?
There are no technical reasons behind this process. It's up to the user's requirements. The ease of opening email messages directly in a web browser is one reason for converting MBOX file to HTML. Users can also access and send HTML emails from multiple email clients. While only email applications that support MBOX can be used to actually open and send such messages.
How to Convert MBOX to HTML without Limitations?
It is impossible to find a direct solution that is not a third-party tool to convert MBOX files into HTML format.
PCVITA MBOX TO PST Converter is a distinguished MBOX to HTML conversion tool. It is capable of exporting multiple MBOX files at once. With this program, you will not only convert your MBOX to HTML but also extract all the attachments into a separate folder. These HTML files are easily editable by Notepad, Wordpad, and other text editors. You can also open them in chrome and other web browsers to view the email message.
Follow these steps to convert MBOX to HTML:
1. Download, Install and Run PCVITA MBOX Converter.
2. Click on "Add file" button and import the MBOX files into the software.
3. The tool will scan and display all the emails and attachments.
4. Click on the "Export" menu button at the top.
5. Now, select the "HTML" format and apply naming conventions as per preference.
6. Choose the location to save the converted HTML files.
7. Click on the "Export" button to start converting MBOX to HTML.
8. Once the process is complete, open the destination location to find all your HTML files with proper structure and formatting.
Some Benefits of Using This Method
The tool can process multiple MBOX files in batches without any limitations.
It can scan email clients (Thunderbird, Eudora, etc.) data directly from the machine without human intervention.
Users can also use the MBOX to HTML converter to scan single/multiple MBOX file(s) from the local system.
Users can also view all the emails with attachments and email correspondence before converting them to HTML format.
There are checkboxes available for the selective conversion of emails, files, and folders.
The GUI of the tool makes the complete process self-explanatory.
It is technically impossible to show the attachments within the HTML file containing an email message. Therefore, most tools would skip it. However, with this method, users can extract the attachments in a separate folder and convert MBOX to HTML format. 
Frequently Asked Questions
How many MBOX files can I convert at once?
Ans – There are no limitations on the number and size of MBOX files that the tool can convert into HTML format. Users can convert MBOX to HTML at once.
Can I open the converted files with Chrome & Firefox?
Ans – Yes, the converted HTML files are accessible from all web browsers and text editors.
Other than Windows, does the tool support Mac & Unix MBOX Files?
Ans – Yes, the MBOX to HTML converter supports all MBOX files irrespective of their origin. It can be from Mac, Unix, Ubuntu, or Windows.
Conclusion
Speed and accuracy are the most basic requirement to convert MBOX to HTML. There is no point in conversion if data is lost halfway through the process. Also, low speed sends negative signals to a user's mind. In this article, we provide an excellent utility to export MBOX files into HTML with fast speed and utmost accuracy. The tool is also available as a free demo version for users to get familiar with its working.
Related Blogs