MS Outlook
,
Technology
Possible Ways to Import PST Calendar to iCloud Effortlessly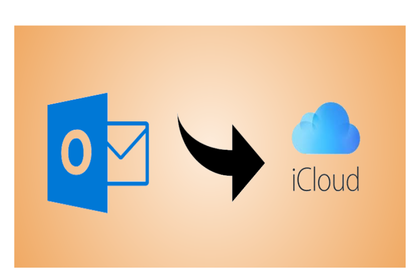 Summary: This blog will guide how can you import PST calendar to iCloud calendar. Here you will get to know the manual and automated solutions that will help you to add calendar into iCloud.
Outlook is a personal information manager and a proprietary email application provided by the Microsoft. This email client also contains a calendar, emails, task manager, contact manager, journal, note taking and web browsing etc. We use it very often in our social life or work on a desktop or mobile phone. So, it becomes important to import Outlook calendar to iCloud to get up to date always such as know what's next or what's your schedule on your to-do list.
Thus, calendars playing an important role in anyone life either professional or personal users. Moreover, user tries to migrate PST calendar to iCloud because it is handy as compare to Outlook calendar, a user can access their calendar information any time and anywhere. Therefore, users find an appropriate method to migrate their calendar entries effortlessly. Moreover, in the upcoming section, we are going to discuss the prominent ways to resolve the issue of the user i.e., move Outlook calendar into iCloud effectively.  The following scenario is taken from the forum site:
"Does anyone provide any solution to import Outlook calendar to iCloud. I have already tried it so many times via using a few applications, but I am unable to do it in the correct manner. I need to add my calendar to iCloud for better convenience. So, please suggest me any reliable way to perform the task without putting extra efforts. Thanks!!"
Manual Approaches to Import PST Calendar to iCloud
Here is the step by step procedure to import Outlook calendar to iPhone. Follow the below-listed methods that will help to understand the conversion process:
Approach 1: Using iTunes Option
First, you have to Install the recent version of "iTunes".
Now, connect your iPhone to the local system by using an Apple USB sync cable.
Go to iTunes "Devices" menu select your iPhone.
Choose "Info" option then, hit on "Sync calendars from" option i.e., located under the "Calendars" pane.
Opt the "Outlook" as an option.
Afterward, choose where you want to sync all the calendars and specific calendars from the list of present calendars.
Select the "Apply" button. This will allow your iTunes to access your MS Outlook information.
Finally, now your iPhone will simply and easily import Outlook calendar entries and it export entries to Outlook application all the time, when you sync it with your desktop.
Approach 2: Import PST Calendar to iCloud Without iTunes
Follow the below-listed steps to set up iCloud without any tiresome issue.
Step 1: Set-up iCloud Account
Go to the "Settings" on your iPhone then hit on the "iCloud".
Now, to set up your iPhone to work with iCloud tap opt the "Account" button. And then, insert your credentials or to generate a free iCloud account with the online storage of 5GB select the "Done" button.
Here, you have to change the settings to "On" for Calendars, that you need to export.
Afterward, scroll down or opt the option to "Storage & Backup".
In this step, set the iCloud Backup setting is to "On". After this, it will enable the syncing option of your MS Outlook contacts, then there is no need to Import PST Calendar to iCloud calendar.
At final, hit on the "Backup Now" option to begin an instant backup and it will store all the information of calendar.
Step 2: Download iCloud Control Panel
Firstly, install the iCloud Control Panel
In this step, insert the exact same credentials that you have already used to enable the iCloud on your iPhone.
Here, opt the "Calendars" then hit on the "Apply" button.
Select the "Done" button when you have done with the downloading information from your iCloud.
Finally, you can start your MS Outlook application to view the newly generated folders and synced calendar. Moreover, if you have done any kind of changes then, it will appear in the folder or in the calendar on your iPhone.
Professional Way to Add Calendar from PST to iCloud via ICS
The above-mentioned approach to import PST calendar to iCloud is very lengthy and time-consuming. While performing these methods there are chances of data loss because it includes complex and technical steps. In order to cope up with these problems, it is much better to opt the third-party application such as "Outlook Export Tool".
This tool is developed to convert PST to ICS, and other different file formats without any fear of data loss. It furnishes an easy-to-use and understandable interface so, a novice user can also perform the migration task without taking any expertise help. With the help of this appropriate application, a user is able to add calendar from PST to iCloud using ICS file in batch mode.
In the upcoming section, we are going to discuss the working steps of this software that will help you to execute the procedure.
Steps Import PST Calendar to iCloud are:
Step 1. Download and install the Outlook conversion application.
Step 2. Now, insert a file from the highlighted section to begin, the conversion procedure.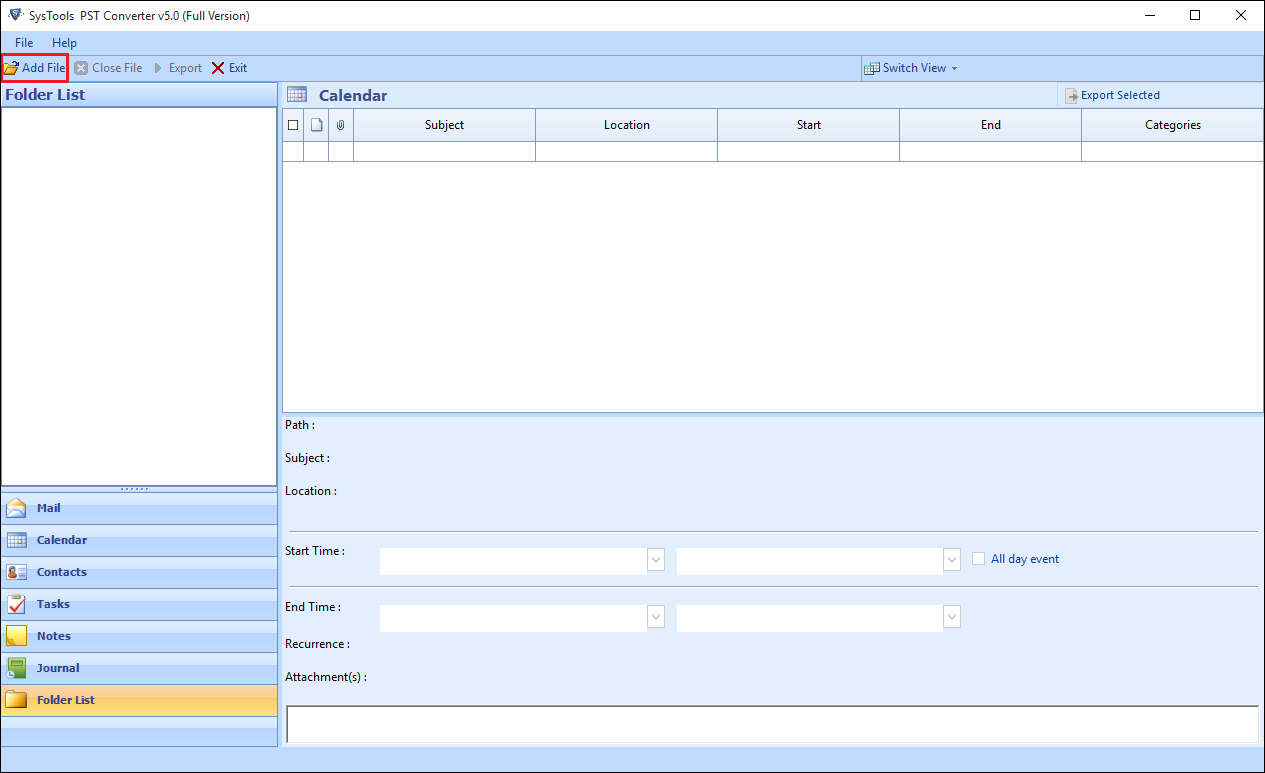 Step 3. Here, you can review all of your emails by their attachments.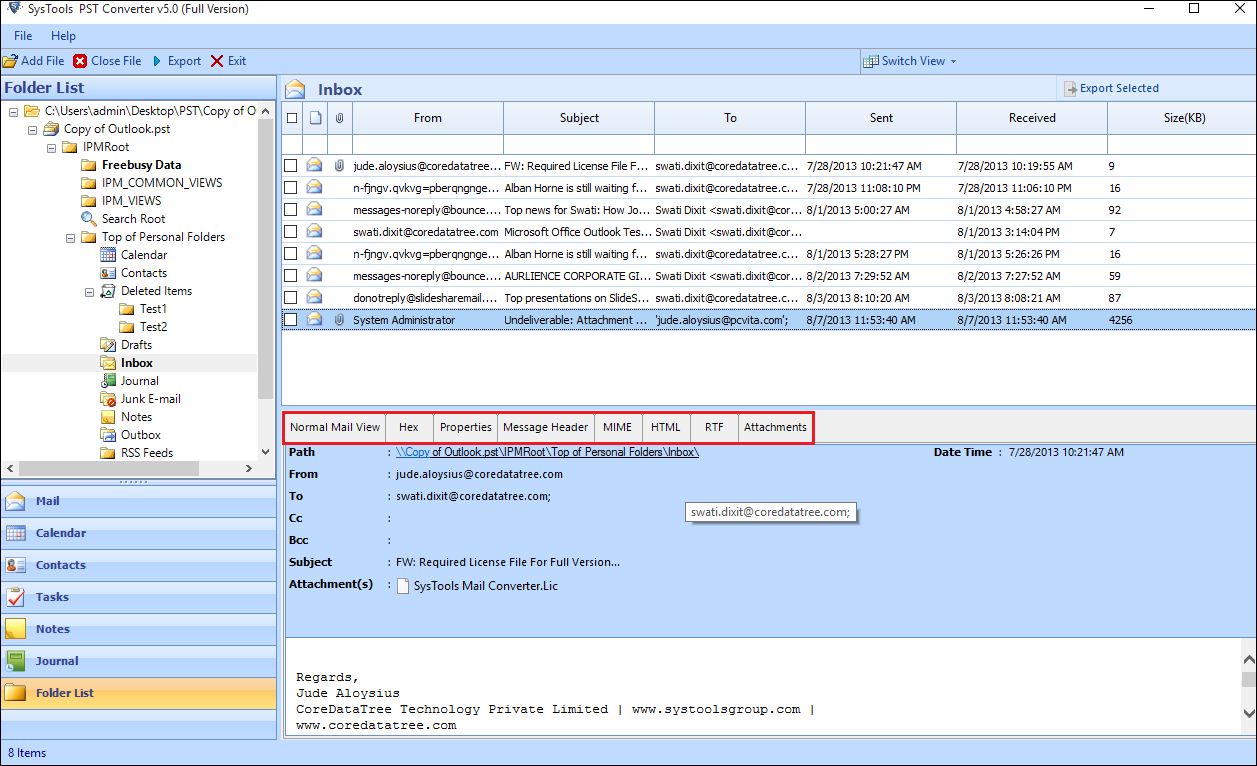 Step 4. Select ICS as file saving format from the list.
Step 5. Click Export to convert PST calendar to ICS.
Final Verdict
Calendars are really important for the users, as it stores lots of necessary information like appointments, meetings, events and so on. That is why, sometimes MS Outlook users want to Import PST Calendar to iCloud calendar. As a result, we have discussed the reliable solutions to import Outlook calendar to iCloud here. Users can simply select either manual way or professional solution as per there accordance.