Migration
How to Import PST Directly to Office 365?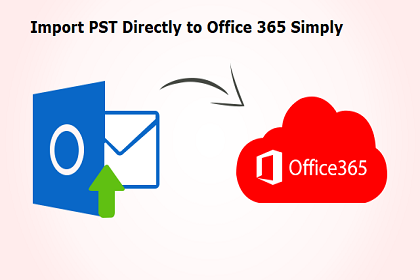 In this article, we will reveal the step-by-step process for importing multiple PST files into Office 365 user account in a conventional manner. We have covered a free manual solution for importing a single .pst file using Outlook as well as a process to import PST directly to Office 365 webmail in bulk.
Concerns with PST File While Importing
Most of the organizations working on Outlook have lots of PST files in their system. These PST files can be a backup, shared file, local file that belongs to someone. Its quite difficult to manage these PST files and there is no way of determining which PST file belongs to which user. Following are the issues of the PST file:
No Central Management: It quite difficult for an organization to confirm which PST file belongs to which user and where all PST files are saved.
Inefficient: There are possibilities of data loss, corruption, and speed reduction while using NAS and/or file server to centralize PST files.
Restrain business-aligned changes: PSTs hinder Morden client structures including various devices, VDI, and BYOD.
Extreme security risk: Transferability of PSTs reveals the organization for data leakage and susceptibility to malware.
Legal and compliance barrier: Companies cannot reinforce retention policies, and legal authorities strive to guarantee they have total findings to support cases.
Security Issues: The PST file with password protection are not encrypted. It is possible to easily bypass password using well-known tools and techniques. Once unlocked, it can be imported by any user in its Outlook account.
Techniques to Import PST Directly to Office 365 Account
For importing PST files into Office 365 user accounts, Microsoft provides its own build-in tools. And, these are two ways to use them:
Network Upload: You can the temporary Azure storage location for uploading PST file over the network. Then using Office 365 Import service to directly import PST files to Office 365 account (free of charge).
Drive Shipping: Using the Office 365 import service is quite a difficult task, therefore, Microsoft handles the import task for you and charge $2 USD per GB of data. You just need to copy your PST files to a Bit-Locker encrypted external hard drive and then ship its to Microsoft data center.
Note: Still if you like to know about Network Upload then search for the method and see if it fits your requirement. Otherwise, we don't recommend using Drive Shipping because it's quite costly and you need to pay everytime when import tasks needs to be performed.
The other ways to import your PST directly to Office 365 user accounts are either using a third-party tool, which is way easier to use and quite cheaper than Drive shipping. Or, use MS Outlook for importing PST files into each user account one-by-one (not recommended for bulk import).
Technique 1: Configure Office 365 account to MS Outlook
The measure works with this latest 2 versions of Microsoft Outlook i.e., 2016 and 2013. The users can utilize the email client for moving emails, calendar mailboxes, address book content into their O365 account. Hence, the following steps will help users in practically implementing the solution to import pst to Office 365 account:
Step 1: Configure a basic Email id (say, Gmail) in your MS Outlook application. Wait for a few minutes to show up all the emails and contacts.
Step 2: Now, Add Office 365 account in same Outlook profile and then, let the program sync with all the present content into O365.
Step 3: Then, convert PST file from Microsoft Outlook, which is to be uploaded in O 365. This step is required if the source .pst is not orphaned.
Step 4: Once you have done (Step 3) then, go to the File >> Open and Export >> Import/ Export.
Step 5: An Import export Windows gets opened in which you have to choose Import from another program or file option. After this, click on the Next
Step 6: Among the 2 displayed option, hit on Outlook Data File .pst >> Next
Step 7: Continue with the process to Import PST directly to Office 365 webmail by clicking on the Browse button.
Step 8: In this step, Navigate the location where PST file is saved, select it and click on the Open
Step 9: Now hit on the Next and select Office 365 id in Import items into the same folder in the field.
Step 10: After this, click on Finish to begin the process of migrating PST data to Outlook 365
The import task is not simple as it looks. While importing the PST files manually, users faces many difficulties & challenges. It is so because there is a problem with the large size of Outlook data file (.pst) that may lead to corruption.
As a solution user can configure an OWA account in MS Outlook or use an application to import PST directly to Office 365 account. This blog explains both of these procedures. One can select any one of the illustrated measures depending upon the reliability factor. Even user can also go with the automated approach namely as Outlook to Office 365 migration tool that will help in importing PST files to O365 without any data loss.
Technique 2: Import PST Directly to Office 365 Webmail
If the importing procedure is carried away by hand then, it can be performed. Because the manual way is simple for only the small amount of data status at risky state. But, when it comes into the large quantity, the same thing changes the data status at risky state. Hence, the users can opt for third-party application can be used to import pst directly to Office 365. It is having an interactive GUI that makes the software easy to transfer all PST database files in bulk. Also, it generates a complete import process report, this report maintains a complete record of the details entered by the users. Therefore, the users can first understand the attractive characteristics of this measure and then, discover the simple working of the same.
Highlighted Features of Tool
Import multiple PST files to Office 365 Account simultaneously.
Easily import Emails, Contacts, Calendars, Task from PST file
Perform incremental import from same PST file after the first attempts
Data filtering option to move selective mailboxes or data from PST to O365
Option to Include/Exculde Sent and Deleted Items folder in .pst file.
Option to create a folder in O365 with PST file name and store data in it.
Supports all versions of Microsoft Outlook and Win operating system
Simple and Easy Steps to Import PST Files Directly to Office 365 Webmail
1. Download or install the setup file of the Office 365 import tool.
2. Now, double-click on desktop Icon of the software for its launching.
3. After this, you will find login Window where you have to enter the O365 username and password. Hit on the login to start the import PST directly to Office 365. If the credentials are of administrator then, you have to check the checkbox of O365 admin. It will log all users to admin Exchange online account.
4. Then, hit on Add File or Add Folder option to Browse one or more PST files into O365. It the administrator is not impersonated then, you can add user id and password for each user.
5. If required then, the user can also use advance setting options that are provided to you on the current panel; else go with the default settings and click on the Import button.
6. Finally, the software will now start the export process
7. The process will be completed successfully as follow
Concluding Lines
In the above-mentioned section, we discussed two methods, which help users to import PST directly to Office 365 effectively. But, the manual approach includes some troubles that affect the conversion process positively. So, here we come up with a third party software named as Office 365 Import Tool. With the help of this tool, users can upload PST mailboxes to O365 effortlessly.
Frequently Asked Questions
How to import PST file directly to Office 365 shared mailbox?
For a fast and simple import process, use Office 365 Importer. It is a user-friendly tool while import email, contacts, calendar from PST file to Office 365 account.
5 quick steps to Import PST directly to Office 365 webmail are:
Step 1: First download & install automated tool
Step 2: Enter the admin or user account credentials
Step 3: Click on "Add File(s) / Folder" option to Import PST file
Step 4: Select the "Category" & "Apply filter" for PST file
Step 5: Finally click on "Import button" to finish the process
Do I need admin credentials to import PST to Office 365?
No, If you want to import PST to your account then Admin credentials are not required. They are required when a user is Importing PST file to multiple user accounts.
How much time is required to import a PST file into Office 365 OWA?
The time required in the import process totally depends upon the PST file size and Internet Speed.
Can I import the selected category of data from the PST file to my Office 365 account?
Yes, by using the filter option in Office 365 import tool, you can import the selective category of PST file data.