Office 365
How to Import PST File to Exchange Online – Comprehensive Guide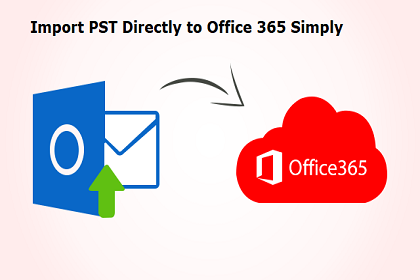 This article talks about the top 4 ways that a user can use to import PST to Exchange Online. If you have a similar query, or if you are looking for a comprehensive guide for the same, then follow this write-up step by step.
Table of Content 
In the computing world, PST is an important file format. If you have configured your MS Outlook in POP then your mailbox data is likely to be stored in PST file format. And, since PST files are sensitive, experts recommend importing PST files to Exchange Online.
But, the question is, Why? Apart from the fact that PST files are fragile, are there any other factors exist that can impact the .pst files? Let's find out!
Know Why Users Tend to Import PST to Exchange Online? 
While PST has mobility advantages, it also originates a number of security issues. Such as;
PST files aren't designed to function as gigabyte email archives & due to this these files can easily get corrupted. Also, frequent data loss makes it even worse.

In cases like power outages, PC crashes, or abrupt closing of PST disconnects it from the Outlook profile. As a result, it's usually overlooked or lost, creating an orphaned PST.

PST files contain emails and because of misplacement or restriction access, they are not properly retained which can lead to a legal issue if emails are required as digital evidence.

Though one can password-protect a PST file, there are a number of programs available that can crack passwords. Which then puts the user's sensitive data at risk.

Since PST files are an essential part of enterprises, it has become the favorite target for hackers to deploy ransomware for malicious purposes.
The above are some of the serious concerns that make us rethink keeping the pst files on the desktop. And, this is why IT experts around the globe suggest moving the pst files to Exchange Online.
Now, it leads to the below question.
How Can You Import PST Files to Exchange Online?
Did you know that there's more than one method available for transferring PST files to Exchange Online? Yes, for that both manual and automated approaches you can use.
Manual Methods involve,
Import/Export Wizard
Network Upload Method
Drive Shipping Method
And, the automated method includes using expert-recommended software.
Let's have a thorough discussion of the above methods.
Import/Export Wizard for Importing PST files to Exchnage Online 
This is a Microsoft-offered native method usually suitable for users who have a few PST files to import. But, first, you need to configure the Outlook account and then follow the below steps.
Move to the

File

tab, click on

Open & Export,

and press

Import/Export

Now, in the Import Export Wizard window, select the file type i.e Outlook Data File(.pst), and click the 'Next' button.

After that, you have to choose the PST file path from the '

Browse

' button. Then, click on the radio button Replace duplicates with items imported, and hit Next.

Next, for importing the complete file, choose the root file, and click on the

Include subfolders

checkbox. After that, press the 'Import items into the same folder' and provide your Office 365 id.

Finally, click on the

Finish

button.
However, it can be a very time-consuming process for organizations that want to import pst files in terms of TBs.
Besides, many customers encountered different error messages while executing this method. Such as You don't have permission to access the file, Couldn't complete the operation because the service provider doesn't support it, etc.
Also Read: Office 365 Tenant to Tenant Migration Step By Step
Network Upload Method to Import PST File to Exchange Online
It can be used to transfer pst files in bulk. To execute the process, you need to have extensive knowledge of the PowerShell scripting language. Because if you enter even a single cmdlets command then it could lead to data corruption.
As a matter of fact, many IT admins avoid using this complicated approach to save themselves from any data-related disaster.
And, since pst files contain sensitive emails, contacts, etc, one can't risk losing such crucial information.
Drive Shiping Method to Move PST Files to Exchange Online Cloud
You can use this method to perform this task. However, you need to pay $2/GB of data to be migrated. If you talk about its process then you have to copy files to a hard disc and physically ship them to the Microsoft facility center. After receiving your disc they will import them to your Office 365 account.
However, you can't be so sure how much time it is going to take. Besides, this method is only available in limited countries. Hence, it is clear that each manual methods have some serious flaws which make them unreliable. And, that's when the role of the automated method comes in. It mitigates all the challenges of manual approaches. 
Let's have a look at the automated method for moving the PST files.
Use The Expert-Recommended Software to Import PST Files to Exchange Online
Whether you want to import an individual file or files in bulk, Outlook to Office 365 Migration Tool makes it easier for every user. Also, it doesn't involve any complicated PowerShell scripts to run the software. So, even naive users can easily work with the tool.
Moreover, users from any corner of the world can use this tool to import their PST files to Exchange Online. From a technical point of view, you can transfer emails, contacts, calendars, etc without any data loss.
In addition to that, you can also apply a date filter for selective file migration, exclude unnecessary Deleted and Sent item files, etc using the software. So, you can say that it is a complete package for all the PST file import needs.
Detailed Software Working Steps to Import PST to Exchange Online
Step 1. Download, install, and run the software on your local computer from the given link. 
Step 2. Use the Office 365 credentials of the User/Admin to log in to the software. 
Step 3. Click on Add Files/Folders button to load PST files.
Step 4. Authenticate the required user accounts with their respective PST files, that need to be imported into Exchange Online. 
Step 5. Choose the required mailbox items from the category list to import. Apply date filter to import selectively. 
Step 6. In the last step click on the Import button to Import PST files to Exchange Online.
Must Read: How to Migrate OneDrive Data from One Tenant to Another
Conclusion
PST files are vulnerable in nature and there is a high chance of data corruption. And, safekeeping your crucial information such as emails, contacts, events, etc, is necessary to avoid data loss. So, the best thing you can do is import PST files to Exchange Online using the above-mentioned trustworthy software.