Migration
How to Import Contacts to iPhone from CSV File in a Professional Way?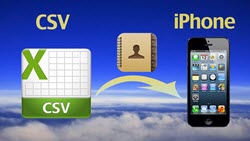 "One of my friends gave me one CSV file containing around 200 contacts. Now, I need to import all of them to my new iPhone as they are important for me. This is the reason, I am here as I do not know how to import contacts to iPhone from CSV file. If anyone know how it can be done in a seamless manner, please suggest."
CSV file format is the most common format famous among the users to store a large number of contacts. No doubt CSV file format is supported by many applications due to which migration of a large number of contacts becomes easy. But, when it comes to performing the steps to transfer contacts from CSV file, there is no direct solution available. This is the reason users are continuously querying how to upload contacts to iPhone. In order to solve this problem of users, this post will discuss a foolproof solution to import contacts from CSV.
The Best Way to Import Contacts to iPhone from CSV File
As discussed above, there is no direct option offered by iPhone to import CSV contacts list. Therefore, users are looking for an alternative way for the same. There is one way possible that a user can try it with the help of iCloud.
But here is also one catch i.e., iCloud provides an option to import vCard file, not CSV. So, if a user wants to import contacts to an iPhone, he or she needs to convert CSV data file to vCard format.
After all this, the first question that strikes in a user's mind is how to convert the contact files to VCF format? Let us solve your problem in an efficient manner. As iCloud supports vCard v3.0. or above, so conversion needs to be done with a professional solution to start the procedure to transfer contacts to iPhone from CSV file.
Step 1: Convert CSV Format to vCard
Depending on the operating system a user is using, the choice of professional solution will vary. Thus, this section will discuss solutions for both Mac & Windows OS users.
For Mac Users
If you are a Mac OS user and someone sends you a CSV file, then simply convert it to vCard using the tool to convert CSV contacts to vCard for Mac. This application by PCVITA is designed in a manner that a user can install it on a Mac machine and convert the file to VCF format in just a few numbers of clicks. In addition, the application is capable to export multiple contacts from the file to vCard at once on a Mac machine. Apart from all this, the software is supported by Mac OS X v10.6. and above.
Steps to Import Contacts to iPhone from CSV File Via Conversion on Mac Machine
Install and run the Converter on Mac machine
Click on the Add File(s) button to upload a CSV file into it.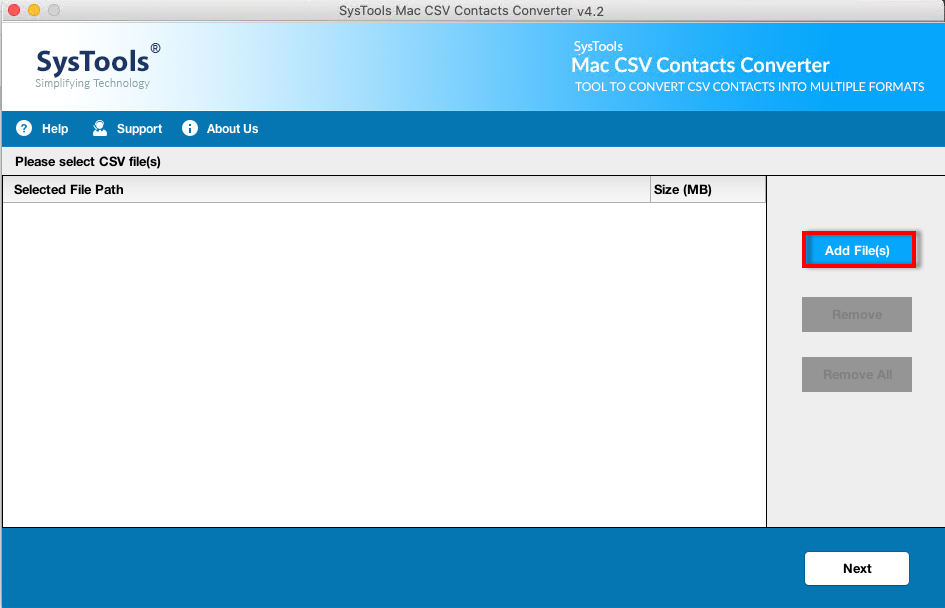 After that, select and load a CSV file.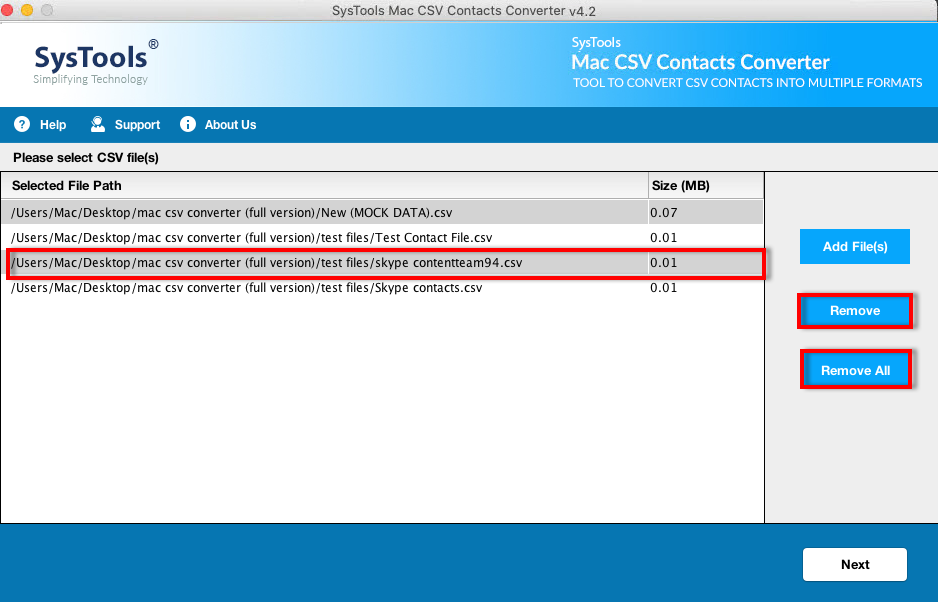 Now, provide a destination location to save the file.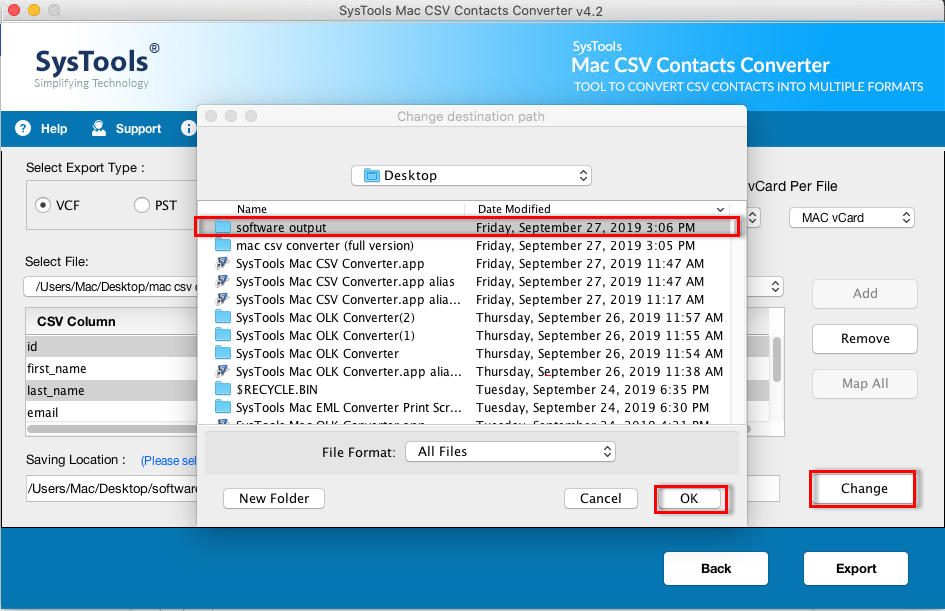 Then, click on the Export format, map custom fields, and apply settings. At last, hit the export button.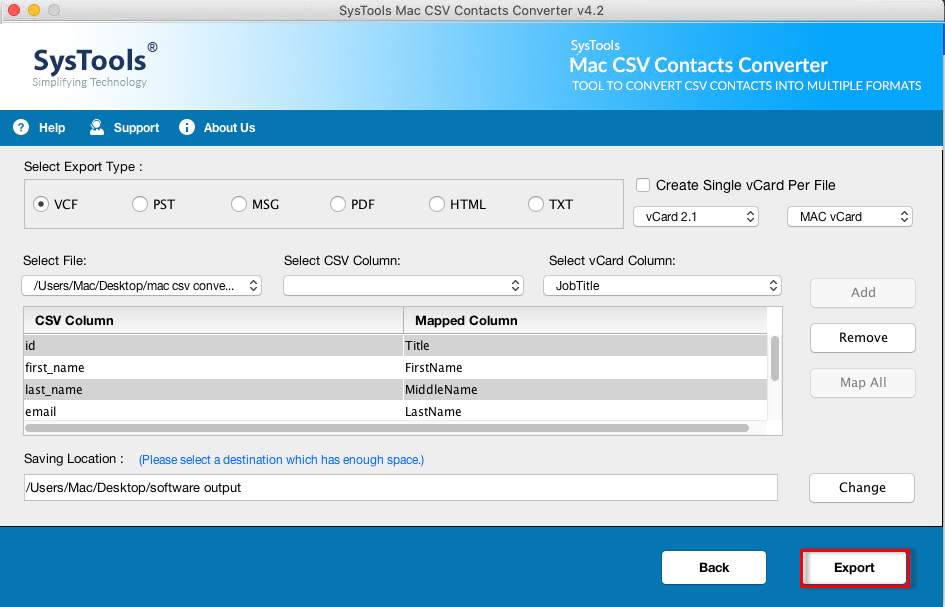 For Windows Users
If you are a Windows OS user and want to import contacts to iPhone from CSV file, then this application is for you only. The tool to export Excel contacts to vCard is one such application that is an expert in converting CSV file to vCard format on Windows OS. A user can either create a single VCF file for each contact or all contacts in one vCard. Moreover, it creates a vCard v3.0. & v4.0. based on your choice. Thus, it is easily supported by all applications. During conversion, a user is allowed to map all attributes also accordingly. Moreover, a user can run this Converter tool on any version of Microsoft Windows OS.
Steps to Transfer Contacts to iPhone from CSV File by Converting to vCard on Windows OS
First of all, run the software on the local machine
Click on the Browse button to add CSV file to the application
Then, a preview of CSV file data is provided by the software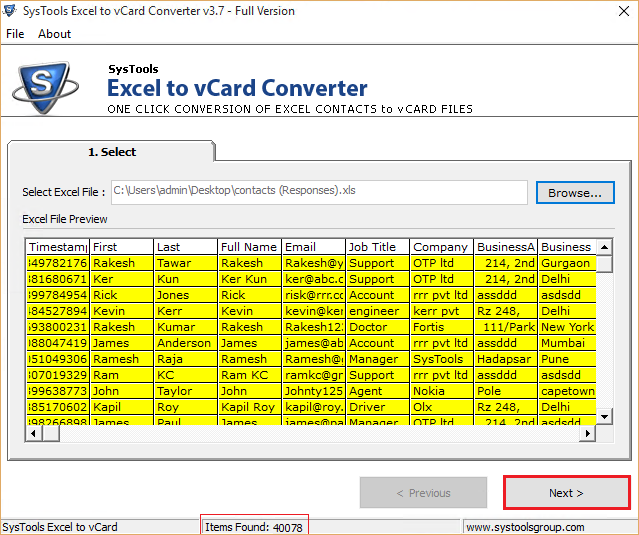 After that, you can map CSV attributes with vCard attributes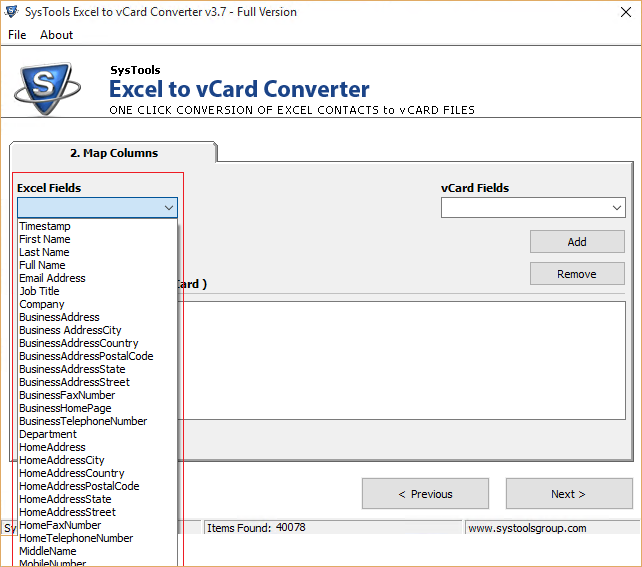 Click the Convert button to start with the conversion process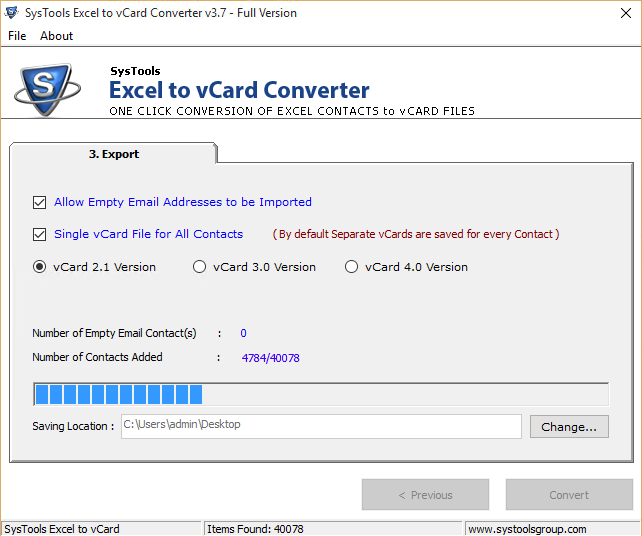 After exporting the CSV contact list to VCF format, it becomes easy for the users to import it to iCloud.
Step 2: Import vCard to iCloud
Follow the steps mentioned below to move further with the procedure to import contacts to iPhone from CSV file:
To begin the process, log in to your iCloud account
Then, click on the Contacts option
Now, click on the Gear icon and click on the Import vCard option
To confirm the file is imported successfully or not, go to the location of the resultant VCF file and open it.
Now, you can easily import contacts to iPhone file by following the steps mentioned below:
First of all, on your iPhone, open the Settings app
Then, click on your name and choose the iCloud option
After that, simply Turn on Contacts and choose the Merge option.
Conclusion
Moving contacts from one platform to another is a common task performed by most of the users. One such query on how to import contacts to iPhone from CSV file is answered in this blog. A user just needs to follow the process mentioned in the blog above to upload contacts to iPhone from CSV file.
Frequently Asked Questions by Users
How to perform the conversion procedure for CSV file to vCard on Mac OS
Following are the steps:
1. Download the software and click on the Add File(s) option.
2. Choose VCF format and apply the settings as per requirement.
3. Map the CSV and vCard columns accordingly.
4. Hit Export to complete the procedure.
What are the steps to convert CSV file and export it as vCard on Windows OS 10?
Here, go through these 4 steps of conversions:
1. Install the tool and choose the Browse button to add files.
2. Start the mapping of Excel fields and vCard fields to match them.
3. Choose the vCard version and mark the options as required.
4. Change the destination location and press Convert.