MS Outlook
Best Two Ways to Import Outlook Calendar to GoDaddy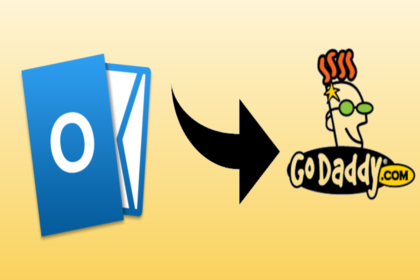 Calendar is the best way to manage events, appointments, deadlines, etc., which can share with others. At times, if users have a public Outlook calendar, then they can share it with the number of visitors of any website.
Further, any update to the Outlook calendar will automatically pass to sites. Unfortunately, users cannot change the calendar from that website.
But, sometimes users try to share Office 365 / Outlook calendar and display it on the website. Thus, in the following segment, we will explain the complete procedure to import Outlook calendar to GoDaddy in a detailed manner.
Before that, let us consider the following scenario taken from the forum site:
"I was trying to add calendar from PST to GoDaddy but, I was unable to do the import process. Now, I have synced all my emails successfully, but iCal stopped syncing with GoDaddy calendar. In fact, I have deleted iCal account and added it again, after this still getting the same error message "Unable to verify name or password". Can anyone suggest me a suitable method to export calendar from Outlook to GoDaddy?"
Related Solution: Import Outlook Calendar to MacBook
Manual Way to Import Outlook Calendar to GoDaddy
Go through the following instructions by which users can publish calendar from Outlook to GoDaddy. It is mainly categorized into two steps:
Step 1. Share Office 365/ Outlook Calendar
Now, we will explain the complete method to copy iCal URL from user's Outlook account. Thus, follow the below mentioned guidelines:
Log in to Microsoft Office 365 account

Then, click on Grid button from the top left corner and choose Calendar

Go to the Settings icon and then, select Calendar option

In the Shared Calendar section, click on the Calendar publishing

You can expand Select a calendar menu and choose calendar you want to display on the website to import Outlook calendar to GoDaddy
Remember: Keep in mind that calendar you have selected involves upcoming events. Whereas, the GoCentral will declare that it could not find a future event in the calendar.

Under the Select Permissions, choose Full details

Afterwards, you can copy ICS calendar using ICS link to add Office 365 Calendar to GoDaddy
Remember: GoCentral will accept only the ICS as valid Outlook calendar to import. If the ICS address is not shown, click the Save button.

Paste a URL in the text document and save it as it can be used in the next step

Click Save button before terminating the Settings wizard
Step 2: Display Outlook Calendar on Website
Once you have set up your Office 365 Calendar then, you can share the public calendar on website. Here are following instructions for the same:
Log in to the GoDaddy account and launch the product
Navigate to the Edit/ Edit Site for adding Outlook Calendar to GoDaddy
Go to the main view of your website where you want to add a section, and click "+" option

Then, choose the Calendar option from the right panel

Select layout under the Calendar display
If the Events placeholder calendar shows on your page, click Events in the right bottom corner
Provide an appropriate Title to the calendar that should not match the actual calendar's name to import Outlook Calendar to GoDaddy
Next, copy an iCal URL that you have stored from the actual calendar and paste it in Calendar URL field
Remember: It might display this message "Calendar synced! But no event found in current calendar". That means GoCentral is unable to find some upcoming events in calendar to display on your site.
Once you have finished above steps, then all changes can be automatically saved at a time. Hit on Preview to verify the results, and if everything looks fine, use another domain or you can purchase a new one.
When you set to make changes to public, hit on Publish website (mobile phone) or Publish (desktop PC/ tablet)
Remember: When you delete a calendar, click to Remove Section from the right panel.
How to Deal With It – Is There Any Alternate Available?
If the above-stated method does not work well, you can use Outlook Export Tool that allows user to convert PST to ICS file format. It is the best way that can export Outlook calendar book to ICS format quickly without any data loss.
After this, one can easily import calendar from PST to GoDaddy. In addition, users can transfer multiple PST files using this program. This software is also compatible with all latest versions of Windows operating system. Apart from this, tool supports of conversion of PST to MSG, PST to EML, etc.
Steps to Import Outlook Calendar to GoDaddy via ICS are:
Step 1. Download PST converter tool and launch on your PC.
Step 2. Add Outlook PST having calendars.
Step 3. Select ICS format from the export list.
Step 4. Choose location to save output.
Step 5. Click Export button to save calendar as ICS.
Steps to Import ICS File to GoDaddy are;
Sign in to your calendar account.
From the Settings, choose Import / Export.
Click the Import button.
In the Import Calendar window, click Browse to locate the .ics file that you want to import.
Select New Calendar and enter the calendar name or select an existing calendar.
From the Set my attendance as drop-down menu, select your status for imported events.
Click OK and that's it.
Time to Conclude
Through iCalendar (iCal) address you can view it in the public folder calendar on your website. The iCalendar is supported by different calendar providers, but, the process to get address varies among other providers.
Thus, in this blog, we have discussed a step-by-step process to import Outlook calendar to GoDaddy. Also, we have suggested an automated solution by which users can publish PST calendar GoDaddy using ICS file format without any hassle.