how to
How to Save Google Docs to Desktop – Comprehensive Guide
Here, you will get the solution on how to save Google docs to desktop computer. Find the method to download files from Google docs and access it offline on your system without problems. You can save the files for individual Gmail accounts as well as for multiple G Suite users at once. So, let's get started!
4 Methods to Save Google Docs to Desktop
Before reading the methods, you need to figure out how many accounts do you need to download the docs from. Also, you need to know how many Google docs file you have and want to save. Because if you have a large number of files, or multiple accounts, choosing the wrong method will consume a lot of your precious time. Once you have the basic knowledge of what you intend to process, choose one of the following methods:
3 Methods to Process Google Docs of a Single Gmail Account
There are 3 methods to save Google docs to desktop. We will review them all in a consecutive manner.
I. Save One Google Docs File to Desktop
This method saves one Google doc file at one time. The steps are as follows:
Sign in to your Google account using the browser.
Go to the application option and open Google Docs.
Click and open any Google document from the list, or create a new one.
Go to File, click on Download and select any format that you wish to save the document.
The file will get saved in your computer. Double-click on it to open the saved doc file.
II. Download Multiple Google Docs Files to System
This method saves multiple Google docs files at once. The steps are as follows:
Sign in to your Google account using the browser.
Go to application option and open Google Drive (All Google docs files are automatically saved in Google drive).
You will find multiple Google docs files in your Google drive account. You can even search for them.
Now, select all the files that you wish to save to desktop, right-click and choose Download option.
You can also download the entire folder at once as shown in the screenshot.
Once you have clicked the Download button, Google will automatically compress the file.
After preparation, the ZIP file is downloaded to your computer system.
Extract the file on your desktop and open the Google docs file offline easily.
Now that all the emails are saved on your desktop, you can choose to work with them offline or move them to other cloud storage (like Google docs to OneDrive), whatever you wish.
III. Save all Google docs file with automated tool
With this solution, you can save Google docs to desktop from a single Gmail account. There is no limit to the number of docs files this method can download at once. So it saves both your time and effort considerably. The steps are as follows:
Log into the tool with your Google account.
Choose Documents in Category of data to download.
Set the email format and click 'Apply filters'.
Finally, click Start button to start downloading Google docs to desktop.
The software will save Google docs to desktop or other set location.
That's it!! No need for manual labor. Simply login and download all the Google docs file without any problems.
Method to Save Google Docs to Desktop (Multiple G Suite User Accounts)
There is only one way to do so. Use G Suite Email Backup tool and easily save all Google docs files from multiple G Suite accounts simultaneously. It provides easy download options and gives you the freedom to choose a category, filters, and export format. You can also set your destination location to desktop or any other storage and save the Google docs file instantly.
The software also allows you to backup contacts of Google account, archive G suite emails, as well as perform G Suite calendar backup. So you can use this tool for other needs as well.
The steps to do so are as follows:
Start the software and click Backup button.
Select Domain Users to save documents from multiple user accounts at once.
Enter the Admin user id and import a CSV file that contains all the user accounts to download Google docs.
After authentication, the software will show you the list of accounts, click Next.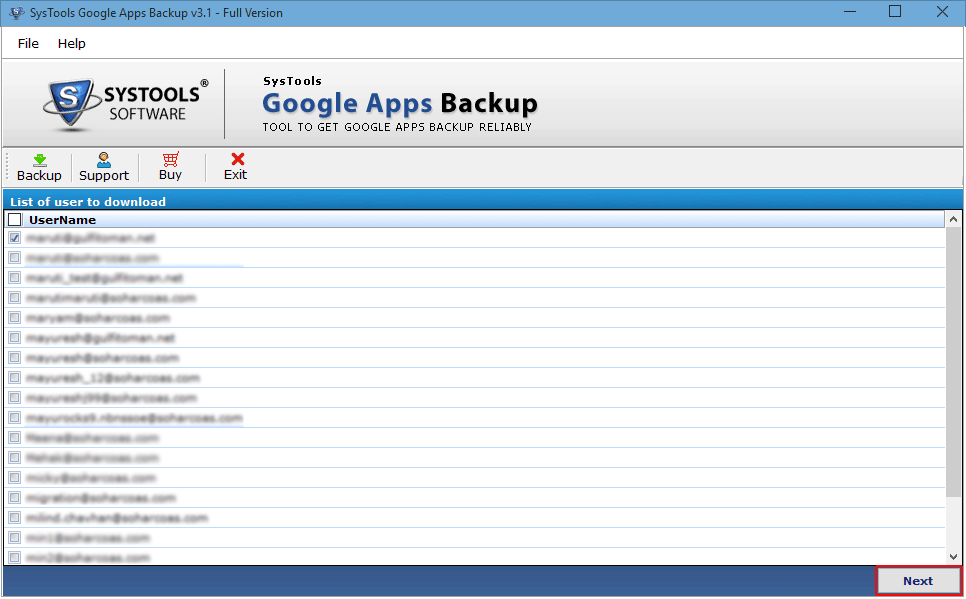 Choose the email format, filters and other settings as per your liking.
Select Documents from the category and set the location to save the docs.
Click Start to start saving Google docs to desktop or your preferred location.
Final Verdict
There are plenty of methods to download and save Google docs to desktop. You will need to choose the method that fulfills your requirements. In this article, we provided 4 such methods that can take care of your needs no matter the circumstances. While you can opt for the manual step by step methods to download Google docs to a computer, you can also choose the automated tools to save your time and effort. With this write-up, you will be able to fulfill your task regardless of the number of Google docs file you want to save or the number of user accounts to download docs.