MS Outlook
Top 3 Ways to Import Outlook Calendar to Thunderbird in an Efficient Manner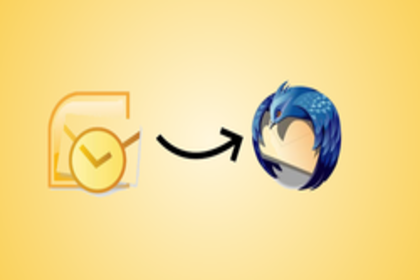 Nowadays, a new question is asked by the users that is it possible to export calendars from Outlook and import it to Mozilla Thunderbird. However, both the email clients are the popular ones used by business users mostly. Thus, switching from one of these email clients to another is the common task. But here users only want to import Outlook calendar to Thunderbird rather than complete data. No doubt calendars can also be very important for the users as it maintains lots of important information about the schedule and events.
Here, the main problem is that both Outlook and Thunderbird uses different file formats to store mailbox data. Therefore, migration of Outlook calendars to Thunderbird is not so easy as it seems to be. Hence, in this post, all possible ways to transfer Outlook calendars are covered.
Related Blogs:
Multiple Approaches to Import Outlook Calendar to Thunderbird
Yes, the export calendar from Outlook to Thunderbird process is not so easy but there are some workarounds that one can follow. This section of the blog will let users know all the possible ways to do the same.
Using Thunderbird Lightning
One of the best ways to import Outlook calendar to Thunderbird is with the help of Thunderbird Lightning. This lightning is the add-on for Mozilla Thunderbird that let users schedule group meetings, appointments, and assign the tasks.
Now, to know the stepwise instruction of the import process, follow the steps mentioned below:
First of all, Open MS Outlook application on the local machine.
After that, you have to choose Calendar tab.
Now, from the File drop-down menu, choose Save Calendar option.
Here, you have to type the file name and in Save as type section, select choose iCalendar format. Select Save button.
Next, as a Date Range, you need to choose the Whole Calendar. Click on the OK button.
Its time to download Thunderbird Lightning from the Mozilla official website.
Now, in the right panel, move to the Add-On section and configure the Lightning add-on.
Here, you have to Launch the Mozilla Thunderbird application.
From the Menu bar, simply hit on the Events and Tasks option.
Now, you need to choose Import option from the drop-down menu.
Then, go to the Browse button in order to add the desired iCalendar file that you want import to Thunderbird from Outlook.
Select OK button in order to confirm the importing of Outlook Calendar events to Thunderbird.
After following all above steps carefully, your Outlook calendar items are imported successfully to Thunderbird.
Using GAMMO Application
A user can take help of GAMMO software by also to import Outlook calendar to Thunderbird. However, the process is quite lengthy and requires lots of configuration also. But its all depend upon the choice of users, for which method he or she wants to go.
Step 1: Extract Calendar from Outlook
To start the process, open Outlook on the local machine.
After that, click on the File >> Open & Export >> Import/ Export option.
Here, you have to select Export to a file option and then on the Next button.
Now, select Outlook Data File (.pst) option and go to the Next button.
Then, choose Calendar and choose Next button.
Navigate to the Browse button to choose the location of resultant file and give it a unique name.
At last, hit on the Finish button.
Step 2: Move PST to Gmail Account
The very first step is to download and install GAMMO tool on the local machine.
Note: Make sure that MS Outlook is installed on the local machine.
Open GAMMO tool and simply type your Gmail account email address. Click on the Next button.
After that, you need to choose the Gmail account in which you want to import PST file.
Then, you have to grant permission to the application in order to perform the migration by clicking on the Allow button.
Now, select the Outlook Calendar PST file on Select From PST file dialog box. Then, select Next button.
Next, as you just want to import Outlook Calendars to Thunderbird so, just select Calendars option and go to the Migrate button on Migration Settings window.
As the process completed successfully, click on the OK button to import Outlook calendar to Thunderbird as the message pop-up on the screen.
Step 3: Configure Gmail Account in Thunderbird
After moving all Outlook calendar to Gmail account, its time to set up this Gmail account in Mozilla Thunderbird. And, for the same, follow the steps mentioned below:
Make sure that IMAP is enabled in the Gmail account.
After that, without wasting any time, open Mozilla Thunderbird on the system.
Now, move to Tool >> Account Settings >> Add Mail Account option.
In Mail Account Setup window, you have to enter your name, email address, and password. Choose Continue button.
Now, check IMAP (remote folders) checkbox and select Manual config button
Next, you need to enter all settings manually. In the Server Hostname section, enter following:
Incoming: imap.gmail.com/ Port: Either 993 (SSL)
Outgoing: smtp.gmail.com/ Port: Either 25 or 465 (SSL)
After that, you need to select Re-test button.
Verify all your details properly, click on the Create Account button.
After this, a user can easily access Gmail data in Mozilla Thunderbird without any issue. However, indirectly a user has to import Outlook calendar to Thunderbird also.
Using Outlook Export Tool
The manual solutions are quite complex and require lots of configuration and installation of the local machine. Moreover, it is a very time-consuming process and requires a user to be technically strong. Thus, to avoid all such limitations, a user is advised to take help of some professional solution. Outlook Magic software is one such application that will solve your problem in a few simple clicks. It let users convert PST file data to multiple formats such as export Outlook calendars to ICS format and emails from PST to MSG, PST to EML, PDF, etc. After this, it becomes easy for the user to import ICS file to Thunderbird manually. The software does not require any extra installation to run the application on the local machine.
Steps to import Outlook Calendar to Thunderbird via ICS are:
Step 1. Launch PST conversion tool and add PST file.
Step 2. Select ICS format from the export options.
Step 3. Choose location to save output.
Step 4. Click on the Export button to start the process.
Final Words
Calendars are really important for most of the users. They always want to have access to them no matters what. Thus, when users switch to Thunderbird, they want Outlook calendars also in Thunderbird. Therefore, in this blog, all possible ways to import Outlook Calendar to Thunderbird. A user can choose between all of them based on his or her preference.