Do Risk-free & Consistent "Exchange Database to New Server Migration"
The technological upgrades demands Exchange administrators to upgrade Exchange 2003 or Exchange 2007 to new Exchange 2010 version. While upgrading are necessary points are kept in mind regarding mail flows, routing, permissions or legacy names etc.
What if Exchange database failed to mount on new server?
Even after a successful upgrade if Exchange Mailboxes are inaccessible then it's a point to worry. Deploy

to mount old exchange database on another server with 100% guarantee of fully functional database.
Wrong Strategies opted to Move Exchange database to new Server:
EDB Dumped on Hard Disk (hard disk stored EDB file cannot be mounted or viewed)
Copy & Rename (copying old database, renaming & saving in new server will casue GUID issue)
Directly running Exmerge or Powershell cmdlets on offline database
Restore Corrupt Windows NT Backup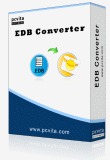 Starting @ 299 USD
Recommended Method to Transfer Exchange Database to New Server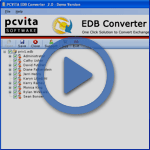 "Convert Exchange EDB to PST File >> Import PST Files to Exchange Server"
Implement EDB Converter to accelerate the conversion of Exchange database to PST file. Letting the folders association & emails formatting same speedily convert EDB to PST file by retaining the data integrity.
Suggested by Experts: "Safely Recover Exchange Database to New Server just by a simple EDB to PST Conversion & Importing PSTs"
Advantages of Deploying EDB Converter
100% guarantee of "Fully Functional & Complete Database"
Safe extraction of Exchange Database in accurate folder sequencing without disorienting data structure
Uncomplicated & Time-efficient Mode to recover old exchange mailboxes
Flexibly Mount Exchange 2003 to Exchange 2010 or Exchange 2003 to 2007 or Exchange 2007 to 2010
Salient Attributes of EDB Converter
Repair EDB Corruption: Reliably repair EDB file if inaccessible, un-mountable, corrupted, unable to open, orphaned, unreadable etc.
Save All Items to PST: Extract EDB database from Offline EDB and save into PST file. Thus, thus export exchange mailbox to new server including emails, saved contacts, scheduled calendars, meetings, tasks etc.
Bulk Export All Exchange Mailboxes: Select desired Exchange mailboxes & export multiple mailboxes to PST file
User-controlled Extraction: Flexible "Skip This" option grants a powerful control to interfere converson process & skip selected mailboxes.
Firstly Try Freeware, Secondly Buy Full Version
It is recommended to all customers to download freeware trial version of testing the software attributes. Freeware is limited to convert 15 items from EDB to PST. Afterward purchase online full version of the software to transfer Exchange mailbox to new server only at $ 299.